With Dirk dagger and Felton arrest, Knicks sink to new lows
With their sixth loss in seven games and the arrest of point guard Raymond Felton, the Knicks have sunk to new lows while Carmelo Anthony's free-agent clock continues to tick.
More NBA: Felton facing gun charges | Knicks lose again
NEW YORK -- About 90 minutes before tipoff Monday night at Madison Square Garden, Leon Rose met Knicks general manager Steve Mills on the court. The two men walked under the stands and disappeared.
Thirty minutes later, Rose emerged and shook hands with Knicks executive Allan Houston. They strolled together through the tunnel leading toward the Knicks' locker room.
These meetings involving the highest levels of the Knicks' brass and Carmelo Anthony's agent came after two straight excruciating losses. Using the same tired, predictable and ineffective defensive schemes, the Knicks had squandered double-digit leads in Orlando and Atlanta while going about the excruciating business of wasting one of Anthony's finest seasons. The Knicks, with their nearly $90 million payroll, entered Monday night's game against the Mavericks 14 games under .500 and fading fast from the Eastern Conference playoff race -- in a season when perhaps two teams will make the postseason with sub-.500 records.
Then came the bad news.
Anthony was brilliant again with 44 points against Dallas, including a tying 3-pointer with 50 seconds left -- only to be victimized by a wildly caroming buzzer-beater from Dirk Nowitzki at the other end that gave the Mavs a 110-108 victory. After the Knicks' sixth loss in seven games, point guard Raymond Felton was arrested on weapons charges -- only hours after seldom-used backup point guard Beno Udrih was granted a buyout.
As they say, you can't make this stuff up.
It would be hysterical to suggest that Rose wanted to approach Mills and Houston again after this latest debacle and request the same buyout treatment for his client. But it should be noted that Anthony, who has held his head high as this Knicks season has crumbled around him, openly wondered after the game if all of his efforts have been for naught.
"You kind of ask yourself, 'Is it worth it?'" Anthony said.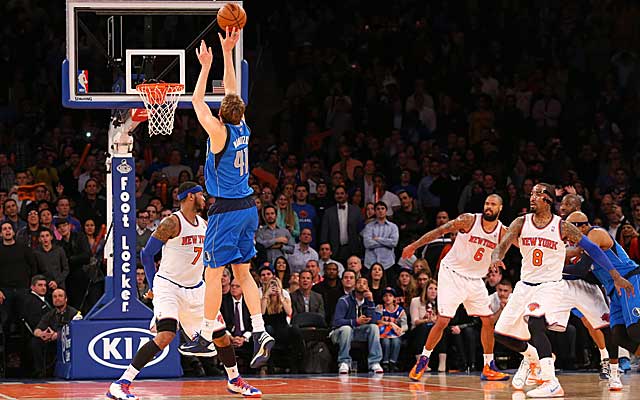 Felton, whose shoddy play has crippled the Knicks as much as coach Mike Woodson's schematic stubbornness, was due in court later Tuesday. I am not here to comment or speculate on the details surrounding his arrest, which resulted in two felony counts of criminal firearms possession and one misdemeanor, according to reports. 
But even before this latest on- and off-court double-whammy, the Knicks' calamities have been more than sufficient to inspire the requisite ridicule, and more important, uncertainty about Anthony's future.
No one connected to the Knicks believes Anthony is leaving when he opts out of his contract this summer and becomes a free agent. And truth be told, his future cannot be tied to a devastating loss, or even a series of them -- nor can a straight line be drawn from Felton's embarrassing postgame arrest and Anthony's free-agent fate.
The strong ties between Rose's agency, CAA, and the Knicks' front office is well known. But as for the conversations involving Rose, Mills and Houston before Monday night's latest indignity, there are only three people who know and none of them is likely to be forthcoming with the play-by-play.
What we do know is that in his previous 10 seasons, Anthony has never missed the playoffs -- never had a losing season. He is often maligned for venturing out of the first round only twice, but such a record of winning and postseason participation should not be diminished. It's a streak that not even LeBron James or Kevin Durant can match.
As such, nobody can know for sure how Anthony will react when his vision of competing for a championship in New York this season will not only fall short, but crumble in a spectacular avalanche of embarrassment. During the current era of wandering NBA superstars, starting with LeBron James bolting Cleveland for Miami in 2010, every such star has given lip service to sacrificing money for the sake of winning. Only one actually chose a shorter deal to leave -- Dwight Howard, who turned down five years with the Lakers and took Houston's four-year deal this past summer.
Everyone else has been able to force his way to a new team and get the maximum contract length, and in most cases, maximum dollars, on top of it -- including Anthony, who engineered the extend-and-trade from Denver to the Knicks, a provision that is no longer available under the 2011 CBA. (The sign-and-trade route by which James and Chris Bosh got their six-year deals in Miami also has been stricken for teams that are over the tax.)
Anthony stated recently that he'd be willing to take less money to help the Knicks attract some championship-level talent -- an admirable goal. But the question of Anthony taking less to stay in New York isn't really the one that should be asked at this point.
The question, increasingly, is whether this season in New York has been so unbearable that Anthony would consider taking less to leave. The reality is, the Knicks' salary-cap squeeze next season is as bad as the mess that Donnie Walsh unraveled before Anthony arrived -- with $90 million in committed salaries and the Knicks' lottery pick likely headed to Denver, the final dagger from the trade that brought him here.
None of this can be defined by the events of the past 24 hours, or even the past 72 or 96 or however far you want to dig into the depths of the Knicks' despair. All that is certain is that many more conversations like the ones between the Knicks' brass and Anthony's representatives must take place before anyone can know for sure how this will turn out.
LeBron appears to be one of the two team captains for the 2018 All-Star Game

We've got all the scores, highlights and news for Thursday night

Arron Afflalo was involved in an altercation with Timberwolves big man Nemanja Bjelica on...
Fergie and Canadian rock band The Barenaked Ladies will sing their respective national ant...

Based on Gentry's tongue-in-cheek price, Boston is highly unlikely to acquire the big man

Larry Hartstein is 22-11 in ATS picks for or against the Timberwolves and has a play for T...