With Doc Rivers' full complement of players, Clippers dominate Game 2
The Los Angeles Clippers' rout of the Golden State Warriors 138-98 reminded us just how dangerous this Clippers' roster can be.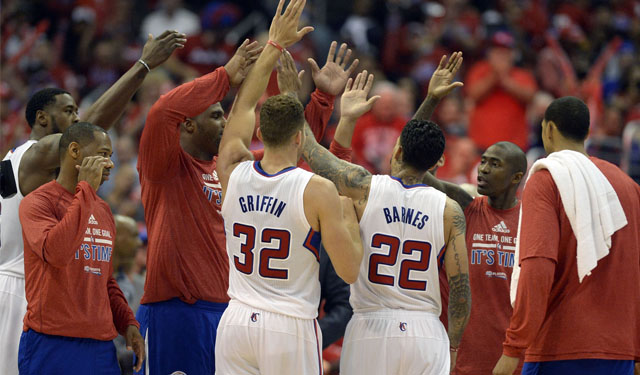 More Playoffs: Schedule | Threat Matrix | Previews: East | West | Picks
Let's say you're playing a basketball video game and you're trying to come up with the most impossible team to beat. You want to dominate out there and if you have your full complement of weapons, nobody can take the controller from you.
You would want to start things off with a killer combination of a point guard who can do it all with an athletic freak of a power forward. You can run pick-and-rolls in your virtual world and have the defense at your mercy. But you're going to need to spread the floor, so you add a deadeye shooter. You're going to want a wing player who can play some defense, run the floor and hit the occasional 3-pointer. You're going to want a fun reserve backcourt that will be able to push the tempo and make fun plays. Throw in an uber-athletic center who can swat shots and control the boards.
This kind of team feels like it would dominate most times. Have your opponent take one weapon away and another one is sitting there, waiting to be unleashed. In a way, it feels like what Doc Rivers has created in less than a year with the Los Angeles Clippers. He came into a good situation with a majority of the weapons already in the armory, but he still found pieces like J.J. Redick and Darren Collison to add to the mix while figuring out how to hone everything at his disposal. 
In a Game 1 loss to the Golden State Warriors, the Clippers didn't get to unleash their full arsenal of what they can throw at an opponent. Blake Griffin got into silly foul trouble that was both in and out of his control. Once the Clippers' MVP from the regular season was relegated to the bench, it was on Chris Paul to lead the show. He did an admirable job of it, but the full attack was stilted. The Warriors were able to make the match-ups weird and uncomfortable for the Clippers.
In Game 2, the Warriors didn't have the luxury of a mostly Griffin-less game. With Golden State missing Andrew Bogut, they didn't have a rim protector and had to rely on backup Jermaine O'Neal and David Lee to set the tone inside. Small ball lineups don't really work when the opposing team's star power forward runs like a gazelle and handles the ball like a 2-guard. You can try being physical with that team, but if they aren't afraid of you then all it does is fire them up. When a team like this is fired up, their mission is to embarrass you.
That's what happened in Game 2 and it was highlighted perfectly by a play in the second quarter. With the Clippers up 19, O'Neal fouled DeAndre Jordan on the perimeter while jockeying for position. Doc Rivers took exception to the tactics and play of O'Neal and started jawing at him about what he was doing. O'Neal jawed back and it went on until both the coach and the Warriors' center were issued a double technical foul. Immediately, the Clippers ran a post-up play for Jordan.
Jordan took the ball down into the right block, put up a shot against O'Neal, and scored it. The message was sent. The Clippers didn't get to flex their muscles in Game 1 and they were headhunting in Game 2. Talk trash to the Clippers and they were coming at you right away. Stephen Curry kept trying to find a way to break down the deficit in the third quarter and the Clippers played physical with every earned basket. If he was going to the hoop, he was taking a hit.
This is the mentality the Clippers need to have if they're going to be serious title contenders. When you're at full strength, you crush your opponents who aren't at full strength. For each weapon the defense tries to take away, you unleash two more in that time. You keep coming at the other team in waves.
In the first half of this game, nine different Clippers scored. By the end of the game, 12 of 13 Clippers scored in the game, led by Griffin's playoff career-high of 35 points. Seven players for the Clippers scored in double figures. Nine players scored at least nine points. They made 56.6 percent of their shots, 48.0 percent of their 3-pointers, and went 32 for 35 from the free-throw line.
That's how you get a 40-point win -- a total team effort.
If you were building a video game team, you'd probably end up with a roster a lot like the Clippers. Give Doc Rivers the controller and he'll know how to properly utilize his full complement of weapons. We don't know if it makes them a true title contender just quite yet, but it certainly makes them an extremely entertaining playoff team.
LeBron has a player option for next season, and is expected to opt out and become a free a...

Keep it right here for all of the news, notes, scores, and highlights from around the Asso...

The Pistons will be looking to snap a five-game losing streak when they host the Celtics on...
Bryant offers some advice for Ball and other rookies about having a sense of urgency in the...

Burks has stepped up in a big way for the Jazz, averaging over 20 points per game since Rodney...

Nooooooo James Harden don't do Noah Vonleh like that