With Harden and Lin jelling, Rockets are picking up steam
Sometimes, two players just don't work together. There were those fears with Jeremy Lin and James Harden in Houston, but now they're finding something that works.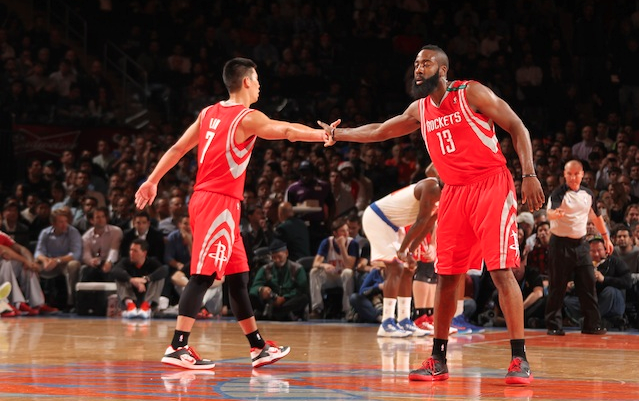 Linsanity and Beardsanity are finding some sanity.
(Getty Images)
Sometimes, two players just don't work together. Whether it's their skill sets, their mind-sets, their attitudes or whatever, sometimes two talented players don't make sense together.
There were fears that would be true with James Harden and Jeremy Lin in Houston. And warranted fears, too.
Beardsanity was devouring Linsanity. With Harden's explosive offensive domination, Lin's talents -- primarily found in the pick-and-roll -- were being marginalized. His usage rate was down (currently 19.4 percent compared to 27.0 percent with the Knicks last season) and he really was more of a well-paid spot-up kickout option for the team's real point guard, Harden.
The issues were so obvious and so real, there was legitimate chatter the Rockets needed to do one of two things: bring Lin off the bench or trade him. Tom Haberstroh of ESPN.com wrote a little more than a week ago on those two ideas.
This insistence to play them together is a problem once you take a whiff of Lin's putrid numbers while playing next to the Beard. On a per-36-minute basis, Lin has averaged 10.7 points, 6.5 assists and 4.3 rebounds with a ghastly 46.5 true shooting percentage (TS%) to go along with a 12.1 player efficiency rating, according to the NBA.com's StatsCube tool. You know who else has a 46.5 percent TS%? B.J. Mullens.

But look what happens to Lin's numbers in the 106 minutes he has played when Harden hits the bench: 19.7 points, 7.5 assists, 5.1 rebounds with an above-average 55.4 TS% and a 17.7 PER.

That's pretty darn good. If those numbers look familiar, there's a reason for it. Check out Lin's per-36 minute stat line in New York last season: 19.6 points, 8.3 assists and 4.1 rebounds. 55.2 TS% and a 19.9 PER.
Really, it was hard to argue with that. The only counterpoint to be had is that Lin and Harden just needed more time. Some time to sort each other out, some time to get used to playing together. Because they had only been on the floor together for 20-some games or so.
Things have changed, though. It started with Lin's return to Madison Square Garden on Dec. 17, when he finished with 22 points and eight assists in 39 minutes. Harden, playing almost exclusively next to Lin, finished that night with 28 points. Something appeared to click.
Over the last six games, the Rockets are finally finding some chemistry between their two building blocks. Lin's averaging 17.3 points and 7.5 assists per game. Harden's continued his effortless, efficient scoring by putting up 30.2 points and 5.6 assists per game on 58.8 percent shooting. And more important, Houston is 5-1 in that span with the lone loss coming Friday against the mighty Spurs in an offensive shootout.
Over the last five games, Lin's become much more involved in the offense, using 22.6 percent of the Rockets' possessions, a season high. Having Harden and Lin jell means letting the two play off each other, instead of just stuffing Lin in a corner and letting Harden run everything.
When Lin signed with the Rockets for about $25 million, it was easy to be critical of the deal. To some, especially New York fans, there was a sense of validation to be found when looking at his numbers.
But what I think is obvious is the expectation if Linsanity erupting isn't realistic, at least when Harden is on the floor. To think Lin is only validated if he recaptures the magic of last season is crazy. He's not a 30-point scorer. He can be, but his job, his role, his wish is just to fit. Fit in in order to win. And with a talented pick-and-roll scorer like Harden next to him, Lin isn't on the hook to score 30 a night.
Against the Spurs a couple weeks ago when Harden was out, he gave us a little Linsanity refresher. He went for 38 in an overtime loss. But that's not the plan. The plan is to feature Harden, with Lin playing a complementary sidekick.
(Sidebar: Offense really hasn't been that big a problem this season for the Rockets. They ranked first in points per game and eighth in points per 100 possessions at 105.3  -- the Rockets play at the fastest pace in the league. Where they've struggled is on the defensive end where they rank 18th while allowing 103.4 points per 100 possessions. The next question for the Harden-Lin duo is if they can defend opposing backcourts. But alas, next time.)
The Rockets seem to be trending in a positive direction and even with the setback against the Spurs on Friday, they can feel good about their two stars appearing to turn a corner. They have their work cut out for them Saturday at home, though, taking on Harden's old mates from Oklahoma City.
In the first meeting against the Thunder, Harden and Lin were completely swarmed by OKC, which held the two to a combined 23 points on 6 of 23 shooting. Harden struggled mightily as the Thunder clearly focused on bracketing him and Lin wasn't there as a second option.
But again, that was then, this is now. Lin and Harden have something working and when they take on the Thunder this time, they expect things to be different. OKC obviously knows how to defend Harden, so if that happens again, can Lin be there to pick up some slack? 
That's the plan.
Mayo was suspended for two years last summer for violating the league's anti-drug program

The NBA broke its silence with a statement related to the Lakers-Paul George tampering cha...

The Clippers big man thinks LeBron will reunite with the banana boat crew at some point
Have the Clippers reportedly found their next GM?

The NBA stayed to the point in their response to the Greek basketball federation

The Pacers believe the Lakers tampered with Paul George before they traded him