With LeBron James off to Cleveland, where do Heat go from here?
A look at the Miami Heat's options in the wake of the Decision 2.0.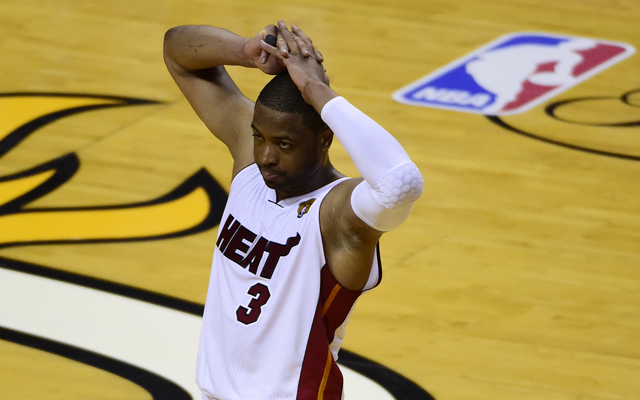 LeBron is gone. 
After LeBron James announced Friday his decision to return to the Cleveland Cavaliers as a free agent, the Miami Heat entered a new world. A dark, scary, post-apocalyptic wasteland where their title contention, assured the last four seasons, has disappeared in a cloud of Comic Sans celebration. So now the inevitable question they've been dreading has arrived. 
How do you start over when the best player on the planet leaves?
Miami is facing one big question after Chris Bosh agreed to return to Miami on a five-year, $118 million contract. Dwyane Wade is expected to follow soon after. 
How Do They Build Around A Big Two?
So the Heat bring back Wade and Bosh. Where do they go after that? 
They're likely to bring back Udonis Haslem for around a reported $12 million over three years. They have an agreement with Josh McRoberts and Danny Granger which you assume will still stand. (Players almost never back out on these deals after agreeing to them.) McRoberts gives them a tough, veteran player who can stretch the floor and pass. Granger... has almost nothing left in the tank after knee injuries robbed him but sometimes shows life. 
They have Norris Cole who's learned a lot about big game situations, can get to the rim and is a defensive pest. And they have Shabazz Napier, who they moved up to acquire in an effort to bring James back. That's awkward. 
And that's it. 
They can overpay for Trevor Ariza or Luol Deng, and add some veteran players like Emeka Okafor and Drew Gooden. They can just sign young players and start another rebuild, tanking to try and contend. 
They do have a few options to try and remain relevant, though. They have max cap space to offer Eric Bledsoe and Greg Monroe, impact restricted free agents. They can theoretically make a big swing on one of them. Bledsoe is likely to be matched by the Suns, but Monroe is attainable. The problems is the Heat don't have any players to send back in a sign and trade to make the move worth it for the Pistons. 
Tying up big money for one of those players seems short-sighted however, as they're not going to significantly raise the team to a contender. They can make the playoffs in the East, however. 
Really, this is a blank slate for Riley and there's going to be time for him to try and figure out what to do. He's tied up the money to veterans in McRoberts and Granger, but not enough to limit him. But the free agents aren't out there. There's no Plan B here. The Heat have lost the best player in the world, and could shortly lose another top ten talent. 
From here, Pat Riley faces the same struggle after the demolition of the 2006 team. It took him four years to come up with the masterstroke to land the Triad in 2010. Riley is 69. Does he really want to spend the last years of his career trying to piece something together with the leftovers? The Heat threw a party for four years. Now they're left with the empty bottles and confetti on the floor, wondering how to get the balloons down. 
But they can still pull a fourth-seed out and remain relevant. If the Cavs don't gel around a young roster with James, and if Indiana continues to implode, and if Chicago can't get Derrick Rose healthy, and if the Wizards don't take a step forward, and if Wade stays healthy... the Heat could sneak their way into a Finals appearance and then get waxed by an Eastern Conference team. 
The Heat with Bosh and Wade without James will be fine. They won't be great, but they'll be fine, and fine in the Eastern Conference is pretty good. 
Leonard's relationship with Spurs also reportedly strained because of how injury has been...

San Antonio hasn't missed the playoffs in 20 years, but the road is rocky this season

Last year's MVP finalist has missed all but nine games this season
The design for the patch is still being worked on

The explosive forward and upcoming free agent is having a career year

Cuban said on Dr. J's podcast that losing is Dallas' 'best option'