With Mike D'Antoni gone, where do Lakers go from here?
With Mike D'Antoni gone, the Lakers on Wednesday embarked on another head coaching search. Where does the team go from here?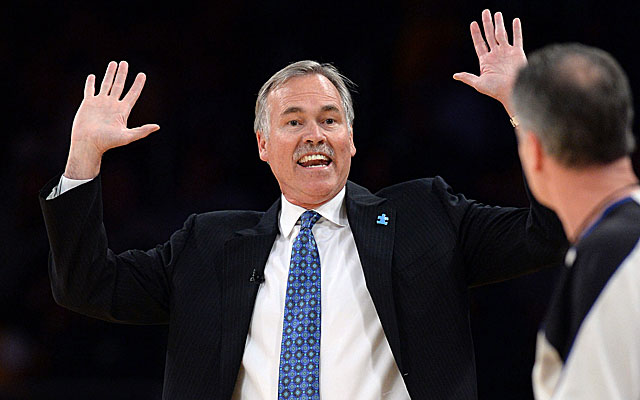 More NBA: D'Antoni reactions | Playoff schedule, results | Latest news, notes
Mike D'Antoni's two-year tenure as coach of the Lakers wasn't quite Showtime. It was a show, but not Showtime.
D'Antoni joined one of the NBA's storied franchises after a mostly miserable stint coaching the Knicks -- and after the Lakers had fired Mike Brown only five games into his second season as the team's head coach. The Lakers had acquired Dwight Howard and Steve Nash and installed the Princeton offense, but you didn't have to be a Princeton graduate to see that wasn't going to work.
Everyone in the NBA except Jim Buss thought the Lakers were poised to bring Phil Jackson back to coach a team that was built to win a championship. Buss hired D'Antoni, instead. And that is not to say what happened next was D'Antoni's fault. It just happened.
Howard clashed with Kobe Bryant, didn't agree with D'Antoni's perimeter-oriented offense and ultimately left to sign with the Houston Rockets. Bryant, 35, has played six games since Howard left -- and since signing a two-year, $48.5 million contract. Nash has played 15. 
"Given the circumstances, I don't know that anybody could've done a better job than Mike did the past two seasons," Lakers GM Mitch Kupchak said.
But it wasn't about the past two seasons for D'Antoni and the Lakers; it was about the next two. According to multiple league sources, D'Antoni in recent days had been pushing the Lakers to pick up the fourth-year option on his contract for the 2015-16 season as a stipulation of returning to coach the team next season. It's standard fare for established, successful head coaches in the NBA to secure some measure of job security entering the final year of your contract.
But the final year of D'Antoni's contract was fraught with questions. Bryant will be 36 and in his 19th season, having played only six games since rupturing his Achilles' tendon in the waning days of the 2012-13 season. The Lakers will have cap room and a lottery pick, which they could dangle in a bid to trade for Minnesota forward Kevin Love this summer. But there are no guarantees in the trade market or free agency, and there also are indications that the Lakers do not intend to venture into the luxury tax next season for the eighth consecutive season. 
The bigger opportunities to score in free agency come in 2015 and '16, and by ducking out of the tax next season, the Lakers would be very much in play by avoiding the repeater penalty next season. All of that would translate into another difficult season for the Lakers -- thus, D'Antoni's insistence on getting his '15-'16 option picked up.
So where does this leave the Lakers in their search for a coach, which the team said in a statement begins immediately? The best established candidates who have head coaching experience are Lionel Hollins, George Karl and Scott Skiles. Though Karl and Kupchak have the North Carolina connection, some in the coaching business believe Hollins actually would be a better fit. 
Now that Tom Izzo has stated he plans to stay at Michigan State, the hottest college coaching name is Iowa State's Fred Hoiberg, who has been linked with the Timberwolves' job.
Depending on how a couple of first-round playoff series turn out, Golden State's Mark Jackson and Indiana's Frank Vogel could be available.
As for Steve Kerr? By taking a patient approach to the Knicks' head coaching opening, Kerr could wind up having multiple jobs to consider. He's extremely loyal to Jackson, with whom he won three championships as a player, so that could hurt him where the Lakers are concerned. Also, Kerr isn't the type to string Jackson along. Coaching sources believe Kerr will either want the Knicks' job or he won't; he won't play the leverage game with Jackson.
The final piece -- and perhaps the most important one -- is what Bryant wants. Though he is nearing the end of a Hall of Fame career, Bryant's two-year, $48.5 million extension and his career-long service to the Lakers gives him unmistakable clout in the organization.
Any way you look at it, the Lakers are embarking on their third coaching search since Jackson stepped down after the 2010-11 season. As always, it's a hot job -- and a very hot seat.
The explosive forward and upcoming free agent is having a career year

Cuban said on Dr. J's podcast that losing is Dallas' 'best option'

The Mavericks owner took sole responsibility for keeping the writer on staff: 'It was a horrible...
The investigation detailed a corrosive workplace environment

Also, when -- or rather, will -- the Warriors flip the switch?

The versatile forward has one glaring weakness, but Toronto can see it turning into a stre...