With Steve Kerr out of the picture, where do the Knicks go from here?
Steve Kerr spurned New York. What's next?
• 3 min read
More Offseason Analysis: Coaching changes, news | Free Agency | Draft
Steve Kerr will coach the Golden State Warriors next season. He will not coach the New York Knicks. His respect for and relationship with Knicks president Phil Jackson, in the end, did not trump the talent and salary he'll get in Bay Area. With Kerr out of the picture, where in the world does Jackson go from here? Let's look at some head coaching candidates:
1. Phil Jackson: Let's get this out of the way first. Jackson and New York owner James Dolan both said that coaching was absolutely not the plan when he was introduced in March, though Dolan did say he initially did try to talk Jackson into it. There's a good argument that Jackson is the best coach on the market, but it's unclear how realistic it is for him to commit to the travel and the grind of an NBA season as a head coach. He has not publicly said anything about changing his mind.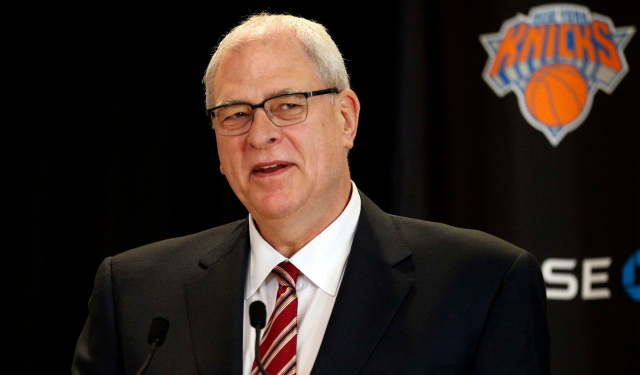 2. Jim Cleamons: Currently on Larry Drew's staff with the Milwaukee Bucks, Cleamons was an assistant under Jackson with the Chicago Bulls and the Los Angeles Lakers, and he would be able to install Jackson's beloved triangle offense. He also spent two years with the Knicks as a player in the late 70s, one alongside Jackson. Cleamons did not do well in his previous stint as a head man, though, compiling a 28-70 record with the Dallas Mavericks in 1996-1997 and 1997-1998 (he was fired 12 games into his second season). 
3. Kurt Rambis: He worked on Jackson's staff in Los Angeles and managed a 24-13 record as the Lakers head coach after Del Harris was fired in 1999. With the Minnesota Timberwolves, however, Rambis fared far worse, going 32-132 from 2009 to 2011 while forcing the triangle offense on a roster obviously ill-suited to it. He returned to Los Angeles last season, working under Mike D'Antoni. Like Cleamons, he's still close with Jackson but probably not someone Knicks fans would get excited about.
4. Brian Shaw: The problem here is Shaw already has a job. A former player and assistant coach under Jackson, the current head coach of the Denver Nuggets was once seen as Jackson's likely successor in Los Angeles before the surprising Mike Brown hire. A couple of weeks ago, Shaw assured the Denver Post that he had no intention of leaving Denver: "I'm not a disgruntled coach or anything like that," he said. "My loyalty to the Nuggets hasn't swayed at all." 
5. Mark Jackson: The recently fired head coach of the Warriors said on the radio last week that he had not heard from New York. He grew up there, though, and played for the Knicks, so his name is going to be linked to this situation. He has no relationship with Phil Jackson, and it's unclear whether or not he'd be receptive to running the triangle. While his team was successful over the past two years, Mark Jackson certainly did not have Golden State playing "system basketball." 
6. Bill Cartwright: No one other then Kerr and Cartwright has met with Jackson to discuss coaching in New York. Cartwright was discussing a job as an assistant, though, according to ESPN New York. He played and coached under Jackson in Chicago, but has a 51-100 record as the Bulls head coach. One other wrinkle: as the Phoenix Suns general manager, Kerr hired Cartwright as an assistant. Perhaps Kerr will want him to join his Warriors staff.
7. Derek Fisher: When the Knicks hired Jackson, Fisher waxed poetic on his blog about his former head coach's leadership and the impact he'll have on New York's culture. The 39-year-old is still playing for the Oklahoma City Thunder, but he's already said this will be his last season and he's the kind of guy everyone assumes will be a coach eventually. All the way back in late March, USA Today's Jeff Zillgitt reported that Kerr would be Jackson's frontrunner and Fisher could end up as a Knicks coach or executive. He's also been mentioned with regards to the Lakers' vacant coaching position.
Ingram has become one of the team's go-to players with Lonzo Ball sidelined with an injury

Giannis skipped EuroBasket last summer, and has missed four games this season with knee so...

Some of the best and worst from the league as we head into the home stretch of the season
Cuban acknowledged that tanking is 'brutal' and that he will no longer do that after this...

Cho has been the GM in Charlotte since 2011

Fergie: 'I'm a risk taker artistically, but clearly this rendition didn't strike the intended...