With the will of a champion, Rondo falls short against Heat
Even on an off-night for LeBron James and Dwyane Wade, the Miami Heat found away to win in the face of a 44-point onslaught from the Celtics' Rajon Rondo Wednesday night. With the indomitable Rondo playing every second of the game, the Heat beat the Celtics 115-111 in overtime take a 2-0 lead in the Eastern Conference finals.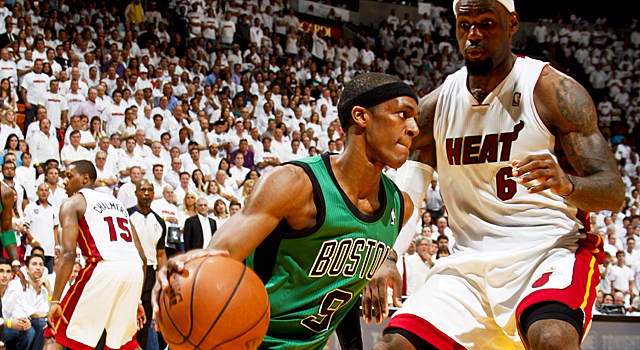 Rondo gives the Heat everything they could handle and more, but it still wasn't enough.
(Getty Images)
MIAMI -- He was cementing his place in this era of success for the
Celtics
, something he's done before but never quite like this. Once you've had your elbow dislocated and come back to finish a playoff game, it's nearly impossible to top that.
Rajon Rondo
was topping it Wednesday night -- minute by minute, second by second, until there were 53 minutes and 44 points next to his name on the stat monitors at American Airlines Arena. Rondo never went to the bench, not for a second. Taking this game from the Celtics -- Game 2 of the Eastern Conference finals -- was going to be every bit as hard as making Rondo stop.
More on Celtics-Heat
Related links
Video
Rondo wouldn't stop. He just wouldn't stop playing, wouldn't stop pushing the Celtics toward one more improbable stand in the Big Three era.
And it wasn't enough. Against the
Heat
, with
LeBron James
and
Dwyane Wade
learning how to win -- and win ugly -- instead of simply putting on a show in this postseason, it's hardly ever going to be enough.
"Rondo was absolutely amazing," James said after the Heat survived Rondo's onslaught for a 115-111 overtime victory to take a 2-0 series lead. "The performance he put on tonight will go down in the record books. He played the whole game, he made all the plays and tried to will his team to a victory. He showed tonight why he's an all-pro and one of the superstars in this league."
This era of greatness for the Celtics began with the trio of
Paul Pierce
,
Kevin Garnett
and
Ray Allen
. And with the Big Three era teetering on the brink as the series shifts to Boston for Games 3 and 4, that championship chip-on-the-shoulder was all over Rondo Wednesday night -- the way Rondo was all over the Heat. 
"He put the whole team on his shoulders," coach Doc Rivers said.
Rivers said it was a "read" he made during the game to leave Rondo out there until the bitter end. By "read," he meant that he couldn't take him out. Nobody could.
Rondo had 10 assists and eight rebounds to go with his career-high 44 points Wednesday night, and in the last quarter century, nobody else has done that in an
NBA
playoff game. The closest was James, who had 44 points, 12 rebounds and seven assists and 47 points, 12 rebounds and eight assists -- both in the 2009 playoffs.
The list of other names who've come closest reads like a who's who of basketball royalty: Magic Johnson, Michael Jordan, Hakeem Olajuwon, Kobe Bryant, Shaquille O'Neal, Patrick Ewing. Rondo was 16-for-24 from the field, was the only Celtic to score in overtime (12) and committed only three turnovers. 
"He really played his heart out, really carried the load offensively," said Pierce, who had 21 points but fouled out with 47.7 seconds left in regulation and had to watch the overtime period from the bench. "He shot the ball, did everything you could ask for. You just hate to see something like that really go to waste."
And that it did, in part because the Heat figured out to win an ugly game in which James and Wade were ordinary. And in part, if you ask the Celtics, because of two critical foul calls that didn't go their way.
Pierce's sixth foul came as he stepped in front of a driving Wade to contest his shot with the Heat leading 98-96 in the final minute of regulation. "I thought it was a good play," Pierce would say later. "Me straight up, jumping up -- it can go either way. It didn't go my way tonight, so I had to watch the rest of the game."
The other one was a backbreaker.
With the scored tied at 105, Rondo made one of his patented moves, crossing the lane and flipping the ball up for a reverse layup attempt on the other side of the rim as he soared through the paint with his back to the basket. Replays showed that Wade's hand came down on Rondo's face -- and perhaps his arm, too -- as he contested the missed shot. The miss led to a transition dunk by
Udonis Haslem
for a 107-105 lead with 1:28 left, and Rivers had to restrain an irate Rondo heading into a timeout.
"It was obvious," Rondo said. "I can't comment about that play in particular."
"We all thought he got hit," said Ray Allen, who'd sent the game to overtime with a 3-pointer with 34.3 seconds left in regulation. "I'll say it; he did. But what can you do about it?"
Nothing, except bring the same kind of suffocating halfcourt defense to Boston, and hope Rondo can somehow sustain the incomparable energy and sheer will he exerted on the Heat for at least two more games. 
If not, the Celtics face the cruelest of endings to their run of success since GM Danny Ainge united three Hall of Famers with a stubborn but talented point guard five years ago.
"It is what it is," Rivers said. "LeBron James took 24 free throws tonight, and our team took 29. Paul Pierce fouled out of a game where he was attacking the basket. It's just tough. But listen, we've got to keep playing."
Keep playing, keep fighting. Like Rondo.
"We feed off what he's doing now," Allen said.
James had 34 points, but was only 7-for-20 from the field and combined with Wade to miss seven free throws in the fourth quarter and overtime. Wade scored 23, all but two after the first quarter after starting 1-for-6 from the field. The Heat, showing vulnerability for the first time in five games since seemingly adjusting to life without
Chris Bosh
, would be going to Boston in a 1-1 tie if not for 13 points from Udonis Haslem -- including two clutch baskets in overtime -- and 22 from
Mario Chalmers
.
"It was grueling," Wade said. "You know, exhausting."
It was Rondo's incredible determination and athleticism that helped the Celtics survive a 35-point third quarter by the Heat and make this a fourth-quarter -- and overtime -- execution game. It was a game defined by the stamina and championship grit of the Celtics' unrelenting point guard -- and how the Heat found a way to overcome it.
"He's a unique player, an unbelievable player," James said. "He gave everything he had tonight."
The Celtics had better hope not. The Celtics had better hope Rondo didn't leave it all out there in Game 2 Wednesday night, because they need him to be the best player on the floor every night in this series. They need that from Rondo for as long as this lasts, in these waning days of an era when the headstrong point guard is pushing the Big Three along for one more ride.
And won't stop playing.
Fergie: 'I'm a risk taker artistically, but clearly this rendition didn't strike the intended...

Victor Oladipo had a successful R&B album over the offseason and Jamie Foxx is a fan

Klay Thompson makes sure he stands out during All-Star Weekend
There's no shortage of moments to choose from

The Trail Blazers almost traded for Charles Barkley, but when they didn't, it put them in debt...

The self-proclaimed ASG snub Williams may be bitter about Butler requesting to sit out Sun...