With two shots to knock out the Celtics, James and Wade both whiff
Dwyane Wade, laboring all night and called upon to bail out the Heat with LeBron James on the bench with six fouls, missed a 3-pointer at the overtime buzzer Sunday night as the Celtics held on for a thrilling 93-91 victory that evened the best-of-7 Eastern Conference finals at 2-2.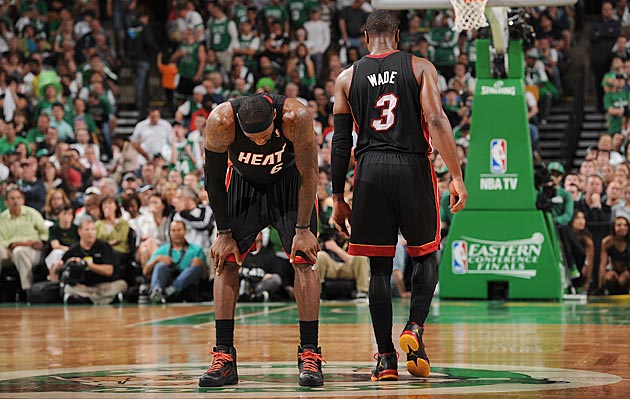 LeBron James and Dwyane Wade do nothing to enhance their reputations as closers. (Getty Images)
BOSTON -- They are two of the most feared players in the game with the ball in their hands, certainly the most feared duo in basketball. Each had a shot at finally knocking the Boston
Celtics
to the floor, knocking the Big Three out for good.
They both whiffed.
LeBron James
whiffed at the end of regulation, passing out of a double team to
Udonis Haslem
for a rushed, missed jumper. And with James on the bench with six fouls in the closing seconds of overtime, Wade had his chance.
More on Celtics-Heat
Analysis
Related links
Video
A wide-open look at a 3-pointer.
Clang.
Two shots, two chances to bury the Celtics. But with the tireless
Rajon Rondo
and their postseason mettle and knack for finding a way, the Celtics refused to go down.
Or perhaps the better way of saying it is this: James and Wade couldn't knock them down. The shots, or the Celtics.
The Eastern Conference finals are tied 2-2 as a result, after the Celtics survived Miami's 1-2 punch -- the most devastating 1-2 punch in the sport, except when those punches miss, or aren't thrown. As Wade's 3-point attempt rattled off the rim at the overtime buzzer, the Celtics walked off the court with a 93-91 victory that sent this series back to Miami in very different condition than when it left.
"It's great basketball and it's great competition," James said in the visiting locker room. "This is what it's all about. We didn't come into this series thinking we were going to sweep them, and I know they didn't feel the same way. We wanted to get at least one up here. We didn't, but we're headed home and we get an opportunity to play again."
Play a very different series than the one that was 2-0 the last James and Wade left South Beach behind.
"We've got to win a game in Miami, of course, but we have a chance to win this series," said 
Paul Pierce
, who fouled out for the second time in the series, missing all but 38 seconds of overtime. "It's not going to be easy. You know, a good old classic bar fight."
It was as tense and hectic a playoff game as you will see, with physical contact galore, off-the-ball fouls, another
Heat
comeback (this time, from 18 down in the second quarter and 16 in the third) and two of the biggest stars on the bench when it was decided. It was only the fourth time James has fouled out in his career -- and first time in the playoffs. For Pierce, it was the second time in three games and third in his last five.
"That's French," said the Frenchman,
Mickael Pietrus
, who drew James' sixth foul. "That's deja vu."
Heat coach Erik Spoelstra, speaking in English, said, "It's a shame. You hope that both teams have their guys, and may the best team win."
"You rarely see that," Pierce said, "when you've got two star players fouling out."
It might never have come to that -- Pierce and LeBron fouling out and Wade missing at the overtime buzzer -- if the Heat had been able to execute their final play of regulation. It was designed for Wade to set a screen for LeBron to get him open for a potential game-winner with the score tied at 89-89.
"I slipped down and D-Wade hit me on the left wing," James said. "Most everybody else was on the whole right side. I had a one-on-one until K.G. came and decided to double the ball. I heard Rondo calling, 'Double the ball.'
"I dribbled the ball middle, and I saw U.D. circling underneath," James said. "And K.G. got a hand on my wrist when I tried to make the pass to U.D., and I didn't get off a good look. Hopefully we can execute a little bit better in a late-game situation like that when we have the opportunity."
Let the banter begin about whether LeBron should've shot or passed. Whatever the case, the opportunity was gone.
So was Pierce in the first minute of overtime, and James with 1:51 left and the Celtics leading 92-91. James was trying to post up Pietrus, who went down in a heap with James on top of him.
"I know how I play the game of basketball and I don't need an advantage of holding somebody or pushing somebody down the court, but whatever," James said. "... I don't foul out. I don't foul out. Sometimes, if I'm going to foul out, I wish I could've earned it where it would've actually been a foul. But whatever."
I don't know how you say "flopper" in French, but Pietrus made a point of saying that he wasn't one.
"I'm not a flopper," Pietrus said. "I don't play that kind of game. ... I was just trying to stay behind him and he came to me and I was just trying to win the basketball game. I'm not playing this flop game or all that kind of stuff, because that makes you weak."  
With Pierce and James out of the game -- "They took our queen, and we took their queen," 
Ray Allen
said -- Pietrus did come up with two key offensive rebounds on the Celtics' next possession after James fouled out. Boston didn't get a basket out of it, but Pietrus' dirty work ran another 20-30 seconds off the clock.
And then, it would come down to Wade, the other half of a dynamic duo who was once again having a rough night. Reminiscent of his 2-for-13 meltdown in Game 3 against the Pacers, Wade was 7-for-21 when James went out. Spoelstra called timeout with 14 seconds left after the Celtics used a foul to give.
"When Bron went out, I had to do a little more," said Wade, who played the entire second half and overtime.
Wade got the ball at the top of the key and tried to sort out the havoc created by
Shane Battier
's screen. He shook
Marquis Daniels
, stepped back behind the 3-point line, and missed.
"The shot was good, man," said Wade, who finished with 20 points on 7-for-22 shooting. "It was on line. It just missed. ... It's a 50-50 shot when it goes up. It doesn't always go in, but I'll shoot 'em again."
Earlier, after Pierce had fouled out, Rondo had looked at Garnett and said, "It's time. We have to take the game over."
What they ended up doing was surviving. Surviving the way the Celtics so often do. Surviving two knockout punches from the Heat, one that whiffed and one that never arrived.
Larry Hartstein has his finger on the pulse of Kings basketball and just released a play for...

One reported proposal has seeds 7-10 playing for the final two spots in each conference

The longtime Maverick says he's disappointed by all the negative news surrounding his beloved...
Larry Hartstein has nailed 17 of his last 22 NBA against the spread picks and locked in a play...

The NBA is reportedly entertaining the notion of a play-in tournament for the postseason

Cuban has had multiple interviews since the investigative report on the organization surfaced...