With Woodson gone, Steve Kerr could be best option for Knicks
With Knicks president Phil Jackson firing coach Mike Woodson on Monday, the path was cleared for Steve Kerr to reunite with the Zen Master in New York.
UPDATED 3:58 p.m. ET
More NBA: Knicks can Woodson | Adelman retires | Latest news & notes
To no one's surprise, the first coaching search of Phil Jackson's executive career began Monday when the Knicks fired coach Mike Woodson and his entire staff.
Steve Kerr, please pick up the white courtesy phone ...
It has been known for weeks that Jackson is interested in approaching one of his favorite former players to measure his interest in leaving the TNT broadcast table and taking a stab at coaching the Knicks. That desire has been complicated by two factors: 1) Kerr having a job, and 2) the Knicks having a coach.
The biggest impediment to those talks progressing, No. 2, has been resolved.
Kerr loves his job and is very good at it, but league sources say he is intrigued with the idea of coaching. If Kerr were to leave his enjoyable and relatively low-stress existence as a top-flight TV analyst and "get back in the meat grinder," as one source put it recently, it would have to be a very big job and the circumstances surrounding it would have to be the right fit.
Coaching the Knicks is a very big job that, based on the $12 million a year the Knicks are paying Jackson not to coach, would provide a very comfortable salary. As for the circumstances, executing Jackson's vision on the bench -- just as he did on the floor as a player for three of Jackson's championship teams in Chicago -- would seem to be pretty ideal.
On the show he co-hosts on SiriusXM NBA Radio on Monday, Kerr acknowledged, "I do anticipate talking with Phil Jackson at some point." And Kerr went into some detail about how he's remained close with his former coach over the years.
"Since he retired from coaching, even while he was coaching the Lakers, I would often have dinner with him on the road if I was playing for another team even, just to catch up," Kerr said. "I went to his daughter's wedding a few years ago in Montana. We've been very close.  And so I've known for years that Phil wanted to do this -- not necessarily in New York, I thought he was going to end up in Seattle last year if the Kings had moved to Seattle to become the Sonics -- but I knew that he was done with coaching [and] that he was more interested in being a team president and building a franchise.  And I think he'll be very good at it.  It's going to be very interesting and obviously my name is being thrown around.  I do anticipate at least being part of the conversation and we'll see where it all goes."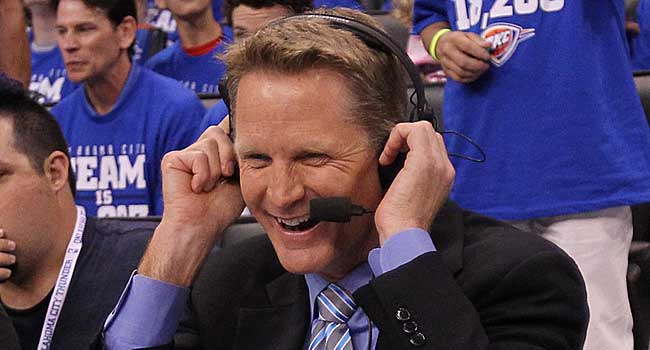 Toward the end of the regular season, Kerr was doing a TNT game between the Mavericks and Spurs in Dallas. Speculation about Kerr possibly coaching the Knicks had already been rampant for a few weeks. Before the game, Kerr spent a good 30 minutes behind closed doors with Spurs coach Gregg Popovich, with whom Kerr won two more championships as a player. Oh, to have been a fly on the wall.
Presumably, Popovich warned Kerr about some things that he already knows, such as the life of an NBA coach is not nearly as glamorous as the life of an NBA broadcaster. Also, it involves a great deal more work and stress, and at Madison Square Garden, it requires the surrendering of your soul.
But keep in mind that Popovich and Jackson are more alike than they are different. Like Popovich, Jackson believes first and foremost in strong relationships and likeminded vision. In the most successful organizations, the top basketball executive and the head coach are on the same page, building the same culture and speaking the same language. So it is with Popovich and R.C. Buford in San Antonio. So it would be with Jackson, Kerr and whomever is brought in to serve as the day-to-day GM in New York. League sources say Jackson is expected to hire a right-hand man in the front office as well, with GM Steve Mills remaining with the organization but not in that role.
As other coaching candidates emerge, we'll of course keep you apprised. (One could imagine beloved ex-Knick Mark Jackson, if let go by Golden State, entering the fray.) But until Kerr says he isn't interested, it's difficult to fathom a more sensible choice. What better way to find your way as a head coach in the NBA than with the most decorated coach in the history of the sport working behind the scenes and serving as your daily sounding board? What better way to persuade Carmelo Anthony to stay than to add five more championships to the 13 Jackson has won as a player and coach?
Hey, if you're Kerr and you're going to mess up your glorious life as a basketball broadcaster and climb back into the rat race, you might as well do it in the rat capital of the world.
Eventually, with common vision and a rare dose of stability, the Knicks might actually be known for having a winning basketball culture again. The pairing of Jackson and Kerr would be a step in that direction, for sure.
Russell was awarded the Presidential Medal of Freedom in 2011 by Barack Obama

T.J. Warren gets paid big money by the Suns in a four-year deal

Melo didn't hold back on his feelings about President Donald Trump and urges for help in Puerto...
The Wizards star says the NFL won't change until important players like Brady and Rodgers speak...

Popovich spoke at length about sports, race, culture, and politics during Spurs media day on...

Carmelo Anthony finds the idea of coming off the bench very funny