Without Parker, Spurs get past Thunder for another chance in Finals
The Spurs don't miss a beat without Tony Parker, and no one should be surprised. Now this veteran group gets a chance to make things right in the NBA Finals.
San Antonio 112, Oklahoma City 107 (OT) | Spurs punch their ticket
OKLAHOMA CITY -- The classic game we'd been waiting for in the Western Conference Finals was all but over, the ear-splitting noise slipping out of the building and into the night. The Spurs had done it, somehow winning on the road to clinch a return trip to the NBA Finals without their engine -- without Tony Parker.
Heartbreak ensued for Kevin Durant and Russell Westbrook, who checked out, one by one, with 5.8 seconds left in the Spurs' 112-107 victory on Saturday night. First came Westbrook, out of the game and to the sideline -- but first, to the Spurs' sideline.
Gregg Popovich was waiting there, and Westbrook shook his hand. Then came Durant, his own trip back to the Finals canceled by the Spurs -- the MVP trudging off into a longer-than-expected summer. A quick embrace and a tap on the waist from Popovich, and Durant was gone. As Pop spun around, his look said it all -- like a father, heartsick for a son.
"They'll certainly be back doing great things, without a doubt," Popovich said.
Not this year. This was the Spurs' year in the Western Conference, which greeted San Antonio with as dangerous a minefield as they could've imagined after the heartbreak that befell them against the Heat last June. A Game 6 on the road had gotten away from them in Miami a year ago, a fifth championship of this incredible era of greatness was lost. 
In training camp, they buried it. In the eight months since, there was only one salve that could cover their wounds.
"All we did was to get to this point again," Manu Ginobili said, "to have another shot."
Another shot. This is what the Spurs have been striving for since the very first time Popovich gathered them on the practice court for training camp, when he told his team that what happened against the Heat last season was gone; a new journey was beginning.
"The first speech that Pop gave starting in preseason was, 'OK, we had a shot last year, we didn't do it, but we've got to go back there,'" said Boris Diaw, who was brilliant in Game 6 Saturday night with 26 points off the bench as the Spurs got past the Thunder 4-2 in the series. "'We've got to go back there and get another shot.' Those were things that fueled us all season."
Parker, the artful point guard, has fueled them most of the way. But unbeknownst to the world, there were serious doubts in the Spurs' locker room before the game that his engine would make it to the final horn of Game 6.
As it turned out, he didn't make it to the third quarter.
Parker had hurt his ankle in Game 4 and tweaked it in Game 5, Popovich revealed after the game. One hundred eighty seconds before tipoff, Popovich came to Ginobili with the surprising developments.
"Three minutes before the game, Pop told me to be ready in case I had to play point," Ginobili said. "I looked at him like to say, 'Why?'"
"Because Tony might not play," Popovich told him.
"Three minutes before the game," Ginobili repeated.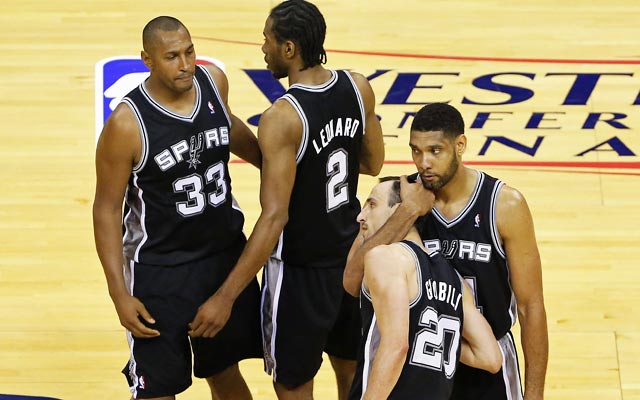 Parker tried, managing only eight points on 3-for-6 shooting in 18 minutes in the first half. Popovich told Cory Joseph -- whom he'd praised after a blowout loss in Game 4 for his "take-no-prisoners, bunker mentality" -- as he headed out to the floor for the third quarter that he was starting. Parker was done for the night.
"I started warming up hard to get my body ready and get my mind ready," Joseph said.
This is what the Spurs do; they move onto the next play, the next quarter, the next game, the next guy on the bench. They run the same plays whether it's Tony Parker or Cory Joseph or Patty Mills with the ball in his hands. 
So indifferent are the Spurs as to who's on the floor and who isn't that the shockwaves that spanned the nation at the sight of the little-known Joseph running the point instead of Parker didn't even register with Parker's backcourt mate, Danny Green.
"I didn't even know, to be honest," Green said. "That's how much I'm in my own world. I'm thinking TP's getting some work done on him, maybe he's a little hurt and he's gonna take his time and play some limited minutes. Either way, we've got to play a basketball game."
And what a basketball game it was. After five straight blowouts, each one dominated by the home team, the Spurs and Thunder gave us a classic -- the best game of the 2014 playoffs, which is saying something.
Redemption for the Spurs, and a bitter ending for Durant and Westbrook.
Where to begin?
In Parker's absence, Joseph helped spark a 37-20 third quarter for the Spurs, who took a 79-69 lead into the fourth. After the devastation of Ray Allen's corner 3-pointer in Game 6 in Miami last June, the Spurs found themselves in another cauldron of uncertainty. Popovich talks constantly about how all these things that determine basketball games are random, and as this one cascaded to its wild finish, you started to finally understand what he means by that.
Durant tied the game at 97-97 with two free throws before Serge Ibaka appeared to get away with a goaltend at the other end -- swiping Ginobili's layup attempt off the glass. Whether the officials saw it this way in real time or not, the rule book states that a defensive player cannot swipe the ball off the glass on a field goal attempt "which has a chance to score." Ginobili's attempt was demonstrably short.
Anyway, Brooks called timeout as Durant sized up the defense in transition, and Durant was furious -- glaring at Brooks and slamming the ball down with both hands. Brooks' timeout produced an open look for Durant, who dropped in a finger roll to make it 99-97 with 32 seconds left in regulation.
Then, boom, a crushing screen by Tim Duncan on Derek Fisher -- so crushing, it staggered Duncan and doubled him over. The Hall of Famer may have gotten away with a moving screen that freed Ginobili at the top of the floor for a 3-pointer that gave the Spurs a 101-99 lead with 15.9 seconds left.
Westbrook had been unstoppable going to the rim, but it was Durant's turn now. With Kawhi Leonard smothering him at the top of the circle, Durant tried to cross him over and slipped. Turnover. What a way for the MVP to go out, if that's indeed what was happening.
It wasn't. Not yet.
A missed free throw by Ginobili left the door open for Westbrook to break loose again, and he got fouled and knocked down two free throws to send it to overtime, tied at 101-101.
Five more minutes to redemption for the Spurs. Five more minutes to heartbreak for Durant and Westbrook.
"It's tough losing like this, man," Durant said. "There's not much more I can say."
Nothing Durant could've said would've changed the outcome.
Duncan, somehow still able to assert himself as he closed in on 39 minutes at age 38, went to work in the post -- punishing the Thunder for switching with an undersized lineup. 
They traded baskets and leads until the great Duncan gave San Antonio a 108-107 lead with two free throws. Then a chaotic sequence, the kind of randomness Popovich always talks about: A block by Ibaka against Ginobili, and a block by Leonard against Westbrook in transition at the other end. Chaos, coming down to the wire.
Duncan finished off the Thunder with a turnaround jumper for a 110-107 lead against Reggie Jackson in the post, leaving 18,000 people in white T-shirts -- and millions watching elsewhere in unknown attire -- wondering what Reggie Jackson was doing on Tim Duncan in the post. 
The Thunder will be wondering all summer; they wouldn't score another basket. It would end with Durant missing a 3-pointer out of the next timeout and with Westbrook heaving one off the side of the backboard on the trip after that.
Then came the most painful trip for Westbrook and Durant -- to the sideline, to congratulate Popovich. 
"Russell and Kevin are class acts," Popovich said. "I mean, they know how to lose and they know how to win, and I say that in a complimentary way."
You thought at that moment of the face Pop had made when Durant broke away from him, how much he hurt for Durant in that moment -- because he's been there, too. And not so long ago. 
"Of course, they're feeling badly," Popovich said. "We've been where they are before. We've all won and lost."
The Spurs got this one, and with it, a rare chance to go back in time and make something right.
We've got you covered for all the scores and highlights from Sunday's NBA games

The Cavs superstar compared Kaepernick to Martin Luther King Jr. and Muhammad Ali

The Warriors coach isn't surprised that the president and LaVar Ball are in a war of words
Kyle Kuzma is tired of how his teammate Lonzo Ball is being treated

The Warriors used a huge third quarter to come back from a 23-point deficit to get the win

Three takeaways from Golden State's 24-point rally past the Sixers