Without Westbrook, can the Rockets upset the Thunder now?
The Thunder are down their second-best player and will have to play without their emotional leader. Are they shell-shocked enough for Houston to pull the upset now?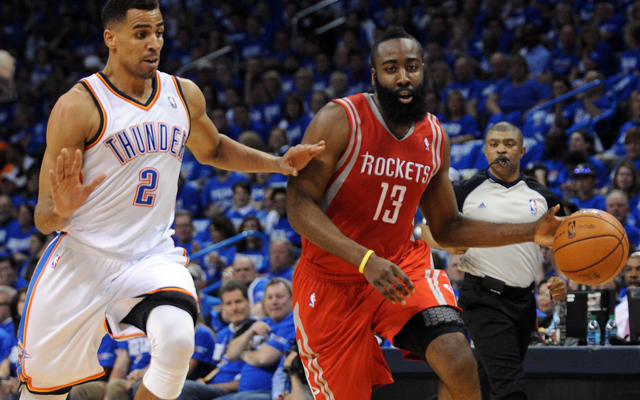 As the dust began to settle on Russell Westbrook's injury and all of our immediate shock began to finally wane, we all were left asking the big question: Can the Thunder still make it back to the Finals without him? Can they beat the Grizzlies or Clippers, and then the Spurs (or Nuggets/Warriors)?
But maybe we're all asking the wrong question. Or at least asking about the wrong team. Because although the Thunder hold a 2-0 lead over the eighth-seeded Rockets, they still have to win two more to advance. And they have to win two without Westbrook.
So let's rephrase things and keep locked on the immediate task at hand for the Thunder: Is the door open now for a Houston upset?
I can't help but relate things to last postseason, when we were all left trying to pick up the pieces after Derrick Rose went down late in the fourth quarter of Game 1 against the 76ers. Like this Thunder-Rockets series, that was a No. 1 vs. No. 8. After Rose went down, the Bulls lost all momentum and eventually fell in six games to the Sixers. Westbrook and Rose are good friends and play the game in similar styles. Hard not to see the similarities and maybe a chance of history repeating here.
However, there are the stark differences between those situations: 1.) Rose was his team's go-to player, their alpha dog. Rose had no Kevin Durant because Rose was Kevin Durant. 2.) Rose's injury happened after the Bulls took a 1-0 lead. The Thunder have a 2-0 lead. 3.) Psychologically, Westbrook's injury isn't as devastating in a literal sense. A meniscus is serious but not serious like an ACL. Westbrook won't return this postseason, but the long-term effects should be minimal. 
Still, there's no denying what the Thunder face now. They might be up 2-0, but this postseason road now feels like a long, winding road rather than a quick jaunt to the next road.
Westbrook's credentials as a superstar are well known. Three-time All-Star. Two-time All-NBA second team. Freak of nature, athletic savant, all-together ball of fire and energy. One of the league's 10 best players if not five.
He's all of that to the Thunder, too. But he's also their heart and soul. The Thunder didn't just lose a great player. They lost more than that. Westbrook has never previously missed a game in his NBA career, and that's a credit to his incredibly special toughness and spirit. But he's going to miss his first basketball game in something like 10 years. 
The way the Thunder begin games is by design. Durant takes a back seat as Westbrook explodes up and down the floor. Westbrook is one of the league's top first-quarter scorers, and it's a straightforward plan from OKC: Let him start the engine. Westbrook's fiery, emotional energy is a constant through his 40 minutes on the floor, but it's especially evident in those first six minutes while everyone else around him is trying to feel their way into the game.
On the floor, the absence of Westbrook will be obvious. His reckless style of play has made him maybe the most polarizing player in the league, and the anger and emotion that he plays with make him enemy No. 1 for 29 other fanbases. It's who he is, and most anyone who has watched him with any regularity knows that it's not changing. Quit your griping, because Russell Westbrook is Russell Westbrook. Deal with it.
Despite the discussion that hovers around every contested mid-range jumper that he takes, Westbrook is a brilliant basketball player. Actually, let me do that again. Westbrook is a brilliant basketball player. That's right. I went with the italic-bold-underline triple emphasis move. His relentless style of play is what makes him great as he puts constant pressure on defenses. There's never a dull moment in the arena when Westbrook is playing. For the opponent, for the fans, or for Scott Brooks' heart. Westbrook is maybe the most physically gifted player in the league not named LeBron, and he can overwhelm people with his athleticism. And, best of all, Westbrook plays athletic. There are a lot of great athletes in the NBA. Westbrook is atop the list, and he plays like it.
But it's not just what the Thunder are now missing without Westbrook's 23.2 points, 7.4 assists and 5.2 rebounds a game. That stuff is most important, for sure, but Westbrook is truly the Thunder's heartbeat. His effort and intensity embodies everything an NBA player and team claims to be. While Westbrook's style grates on some outside of Oklahoma City, he is beloved not just by the Thunder fan base but by his teammates.
"A lot of people may not like what he brings to our team, but inside we love what he does," Durant said Friday. "You know he's a different player, a different person you know, but we love what he brings and it's unfortunate that he can't compete at the highest level of basketball, which is the playoffs."
Honestly, the exterior criticism of Westbrook really was a good thing for the Thunder, because it only made them closer. The team has always rallied around Westbrook and pledged unyielding support for him. His play and reckless intent often ticks off teammates in the heat of battle, but his teammates can't deny his competitive spirit, and they absolutely adore him for that. They love Russell Westbrook.
Then there's the fact the Thunder have literally never played a game without Westbrook. Durant has always had him by his side. Of course there are a handful of minutes each game where Durant plays without Westbrook, and in terms of plus/minus, the Thunder have been successful. Durant is easily good enough to carry a team on his own, but he's only had to do it a few minutes at a time. It's not that he can't; it's that he's never had to.
So take all of the factors into consideration here: The Thunder just lost their heartbeat and, depending on their emotional state, might not bring it for Game 3. If the Rockets can even the series at two games and take a 2-2 tie back to OKC for Game 5, the Thunder will be reeling and filled with doubt. It's vital the Thunder take one of two in Houston.
And, there's the mental challenge for the Thunder not to look across to the other sideline and wonder what might have been with No. 13 still on their team. The Thunder chose to trade James Harden before the season. He conceivably would be the next man up that the Thunder need. Except instead, Durant is left to go in on this without his two primary running buddies.
Then again, look at it from the other perspective. Even without Westbrook, the Thunder still have Durant, followed by a bunch of talent behind him. Serge Ibaka, Kevin Martin, Reggie Jackson, Derek Fisher (just kidding).
Assuming the Thunder can regain their composure and overcome the emotional shock of losing Westbrook, they should be fine. The Rockets have to beat them four out of five to win this series and have to win at least once in Oklahoma City. Westbrook or not, that's a hefty task for the Rockets.
Because while the Thunder don't have Harden anymore and won't have Westbrook, they still are the team in this series that has Kevin Durant. And that's probably all that matters.
Trump rescinded Curry's invitation to the White House after Curry said he wasn't interested...

Silver said he was hoping Warriors would get chance to share their views directly with the...

Along with the Thunder, those were the three teams most involved in the Anthony trade talk...
LeBron said he was frustrated by the President's recent actions

A look at the various actors and elements in the latest sensational blockbuster trade in the...

Blockbuster deal doesn't change the Thunder's projected finish in the West