Without Westbrook, Durant humbles defending champion Miami
The Thunder didn't need Russell Westbrook to send a message to the defending champion Heat on Wednesday night. Kevin Durant was plenty.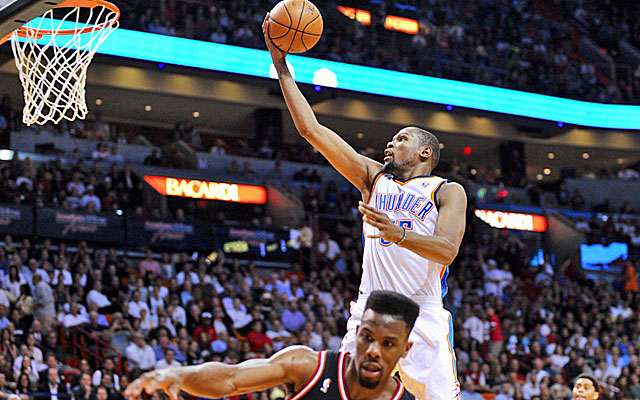 In some ways, the first matchup of the season between the Heat and Thunder was meaningless. Sure, it was LeBron vs. KD, but with Russell Westbrook absent, what would this January confrontation really mean?
As it turned out, it meant a lot.
And it meant a lot for precisely the reason the game appeared to lack meaning in the first place: With no Westbrook, the Thunder not only beat the two-time defending champions. They eviscerated them.
LeBron James had Dwyane Wade back in the starting lineup with Chris Bosh, to little avail after the first seven minutes of the game, when Miami ran out to a 22-4 lead. Kevin Durant ... well, all he needed was Kevin Durant.
He needed Kendrick Perkins to sit down, too, and once Perk did, the Thunder beat the Heat soundly at their own game: small ball.
But there was no small significance behind Oklahoma City's 112-95 victory over Miami on Wednesday night. Though James played him to a statistical standstill, Durant clearly is in control of this MVP race with the All-Star break almost upon us. With his 12th straight 30-point game, Durant owns the third-longest such streak in the past 30 years.
More than that, Durant (with help from Serge Ibaka, Jeremy Lamb and Derek Fisher, who hit five of OKC's 16 3-pointers) out-Big-Threed the Big Three with the most important member of his supporting cast missing. Durant (33 points, seven rebounds, five assists) is on such a roll that when Westbrook comes back, there will be those who will foolishly question whether KD is better off without him. Nonsense.
What the Heat should be thinking is this: How badly would the Thunder beat us in June if they beat us this badly in January without Westbrook?
The Heat actually have bigger problems than that. Their age is starting to show. Wade can no longer be relied upon to consistently perform at an elite level. Their biggest weakness is their lack of size, and the Thunder sat their size on the bench for 44 of the game's 48 minutes and trounced the Heat anyway.
James put up numbers on Wednesday night; well, he put up a number, as in 34, the number of points he scored. But while Durant has blossomed into an unstoppable scoring force from anywhere on the floor, the beauty of James' game is its diversity and how he makes everyone around him better. Given that, you have to ask yourself how much his teammates have regressed if he can't lift their games on a night like this. When nothing is clicking for the Heat, James looks more and more like he did in his final weeks and months in Cleveland, trying to do it all. That's not his game.
So while the Heat put off their problems for another day by beating the Celtics, Lakers and Spurs after a 2-4 road trip, those problems were exposed once again by the Thunder. With poor body language and 21 turnovers, the Heat looked a lot like the team that a couple of weeks ago lost to both New York teams and the Wizards in a span of seven days. They lost everywhere they played during that stretch except the White House.
Did OKC's 16-for-27 shooting from 3-point range -- compared to Miami's 3-for-19 -- have something to do with the outcome on Wednesday night? Of course. Did Westbrook's absence matter as much or more? It should have, but it didn't.
All of this should have the Heat wondering if the conclusion so many will draw -- that they don't stand a chance against the Thunder if both make it to the Finals -- actually is a moot point. The Heat have to get there first.
Check in throughout the night for the latest news and highlights from NBA games

The Lakers legend details why the NBA popularity will continue to rise

SportsLine's Mike McClure, a DFS pro with more than $1M in winnings, gives optimal lineup...
If the Thunder forward doesn't know the reason, he has a very short memory

The 76ers star doesn't see a bright future for Jon Snow

Valanciunas played professionally in Lithuania before joining the Toronto Raptors