Witness testifies real estate scam involved Heat players as victims
A witness in areal estate fraud case testified this week that the scheme targeted Mike Miller and Rashard Lewis among its victims.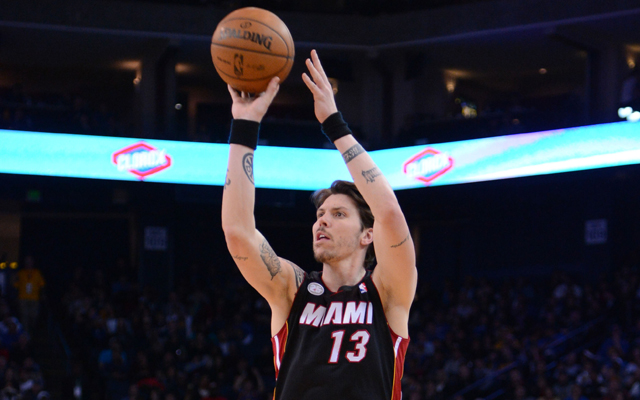 From the AP: 
A witness who testified against a man accused of operating a multimillion-dollar real-estate fraud told a federal judge the man also ripped off Miami Heat basketball players.

The testimony came Thursday in federal court in Columbus, where U.S. District Judge Edmund A. Sargus denied bond to Haider Zafar. The judge determined Zafar is a flight risk and a danger to the community.

"The longer the potential sentence, the greater the risk of flight," the judge said, according to The Columbus Dispatch.

Zafar, who used to live in Ohio but now lives in southern Florida, is awaiting trial on wire fraud and other charges. His 135-count indictment describes a scheme it says he used to swindle Washington, D.C., businessman Patwinder Sidhu out of $10 million between 2008 and 2010.

Zafar pleaded not guilty last month to all charges. His attorney, Samuel Shamansky, on Friday said they will continue to challenge the accusations.

A criminal complaint says Zafar, a Pakistan native and U.S. legal resident, used questionable documents to solicit the funds from Sidhu for real-estate ventures in Pakistan.

The complaint accuses Zafar of telling Sidhu that his uncle was Pakistan's defense minister and was responsible for buying property for that country's government. It says Zafar told Sidhu they could buy land in Pakistan and later sell it to the government for a profit.

The basketball players aren't mentioned in the criminal complaint.

The witness who testified during Thursday's hearing, international-investment attorney Andrew Fine, said some Heat players, including former forward Mike Miller, and other Florida residents invested $8 million with Zafar. The other players are forward Rashard Lewis and guard James Jones, a person with knowledge of the case told The Associated Press. The person requested anonymity because it is an active investigation.

The Heat, in a statement Friday, said the team remains in "constant contact" with the authorities handling the investigation.
via Witness: Heat players scammed in real estate fraud | NBA.com.
Miller was waived using the amnesty provision last July. He signed with the Grizzlies as a free agent. Rashard Lewis is set to make ust over $1 million from the Heat in the last year of his contract with the Heat. 
Wade is having a rough start to his first season playing in Cleveland

Greek Freak scores career-high 44 points and reaches scary level to finish the game

It was an ugly finish as the Warriors fell to 1-2 on the season -- both Curry and Kevin Durant...
Mirotic was hospitalized with facial fractures after an altercation with Portis during pra...

Irving had some choice words for a fan who heckled him in Philadelphia

Several teams were reportedly interested in Nelson after he was waived by the Nuggets