Wizards-Bulls Game 1: Bulls pay for lack of firepower
Chicago plays hard, which is great, but they've got to make shots or they'll struggle in the playoffs like they did vs. Washington in Game 1.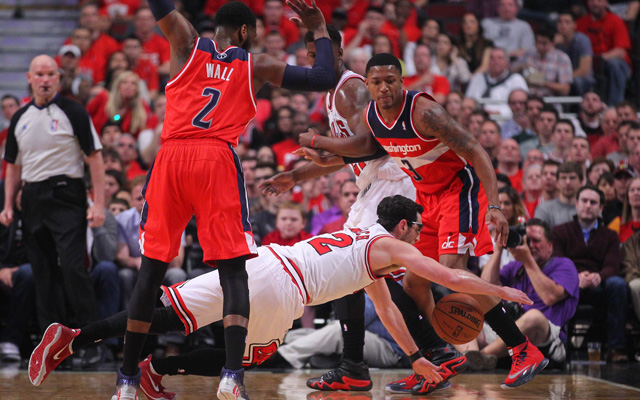 More postseason coverage: Playoff schedule, results | Court Vision insight
Throughout the course of the season, the Bulls became the darlings of the league. Traditional columnists flocked to their story like it was gold. The scrappy, no-nonsense, no-Hollywood blue collar team survives the loss of its star in Derrick Rose to another injury and thrives with hustle, heart and grit. 
They weren't the NBA team full of superstar egos, commercials, free agency drama or brand goals. They just played ball. 
Unfortunately, this cuddly narrative overlooked a big element. They can't shoot. They were 30th in effective field goal percentage (which factors the benefit of 3s) this season. Their offense is largely, "Run at the rim, throw the ball at the rim, get the offensive rebound, outwork the other guys and score." That works great until you hit the playoffs and the other team can match you or beat you for long stretches in energy. I wrote about the "gear problem" for Chicago earlier this season.
Against the Wizards in Game 1, the Bulls built a lead by just that strategy. They had 15 points on second-chance opportunities to the Wizards' nine through three quarters. But in the fourth, the Wizard grabbed three offensive boards for four second-chance points to the Bulls' two boards and two points. It's less about how many the Wizards grabbed and more about how many they didn't let the Bulls have. 
It's one game and there's no reason to panic. The Bulls are a more consistent team, a more disciplined team and a more experienced team than Washington. But if they're going to even the series and regain control as this series goes on, they're going to have to make jumpshots. D.J. Augustin, Mike Dunleavy, Kirk Hinrich, all three shot poorly in Game 1. 
Joakim Noah can have a better game, the Bulls' defense can have a much better game. But it won't matter if they can't find a way to execute. As inspiring as narrative-hunters may find Chicago, if you want to survive in the playoffs, you have to play defense and be able to beat it. In Game 1, Chicago didn't have the firepower to back up the engines.
Trump rescinded Curry's invitation to the White House after Curry said he wasn't interested...

Silver said he was hoping Warriors would get chance to share their views directly with the...

Along with the Thunder, those were the three teams most involved in the Anthony trade talk...
LeBron said he was frustrated by the President's recent actions

A look at the various actors and elements in the latest sensational blockbuster trade in the...

Blockbuster deal doesn't change the Thunder's projected finish in the West