Wizards complete trade for Andre Miller in three-team deal
Jan Vesely goes to Denver while Philadelphia absorbs Eric Maynor and two second-round picks.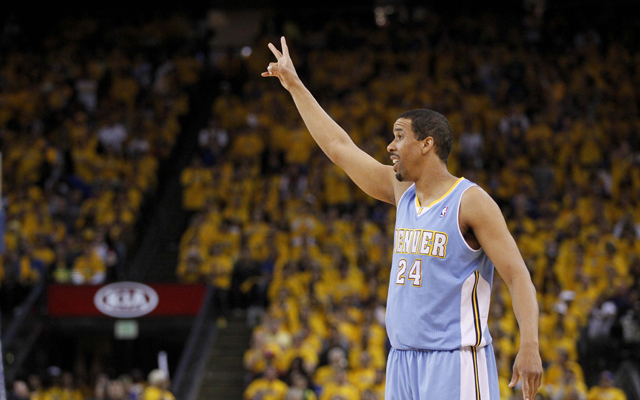 Update 12:42. p.m. The deal is done. Andre Miller goes to the Wizards, Jan Vesely goes to the Nuggets, and Eric Maynor and two second-round picks go to the Sixers, who are going to be drafting the entire second round. 
Wizards get Andre Miller from Denver in three-team deal with Philadelphia, league sources confirm.

— Ken Berger (@KBergCBS) February 20, 2014
Wizards send Jan Vesely to Denver and Eric Maynor plus two second-round picks to the Sixers in Andre Miller trade, sources confirm.

— Ken Berger (@KBergCBS) February 20, 2014
The deal was first reported by the Charlotte Observer. The Nuggets are reportedly now acquiring Beno Udrih from the Knicks for Jordan Hamilton.
The Nuggets have to move Andre Miller. They've signaled their willingness to just buy him out if it comes to that, but to prevent him signing with Miami or the Clippers instead, a few teams are pursuing him. The latest is Washington, who "moved ahead" of the Timberwolves, according to reports. The Wizards are looking to deal off some flotsam for the veteran, including Jan Vesely and Eric Maynor. 
Wizards, Wolves lead the chase for Andre Miller, per league source.

— David Aldridge (@daldridgetnt) February 20, 2014
Denver, Washington talks serious on sending Andre Miller to the Wizards for Eric Maynor and Jan Vesely, league sources tell Yahoo Sports.

— Adrian Wojnarowski (@WojYahooNBA) February 20, 2014
Washington frontrunner for Andre Miller, Minny needs to move JJ barea b4 getting him.

— Chris Broussard (@Chris_Broussard) February 20, 2014
Strong signs that Wizards have indeed pulled ahead of Minnesota in pursuit of Andre Miller, I'm told.

— Sam Amick (@sam_amick) February 20, 2014
There's apparently a desire to find a third team to send Maynor to.
Wizards guard Eric Maynor probably won't end up in Denver in Andre Miller proposed deal.

— Marc J. Spears (@SpearsNBAYahoo) February 20, 2014
Miller fits well in Washington and Vesely is a project who has shown some signs of life this year. He's still a long way from being useful, but the Nuggets' issues with bigs have been so problematic it's worth taking a flier on him. The Wizards get a reliable, veteran point guard to help with their playoff push and give them a spark offensively off the bench. Maynor had a tremendous first two seasons but hasn't been the same since an ACL surgery.
We've got all the scores, highlights and news from all of Sunday's games

The Rockets beat the Warriors 116-108 on Saturday night

The Cavaliers gave up 148 points in their loss Saturday afternoon to the Thunder
Blatt made the comment before coaching in the All-Star Game in Turkey

Is this rock bottom for the Cavaliers because it sure feels like it is

Wade, as he's done so many times in his career, threw it up to LeBron for the thunderous f...