Wizards' John Wall believes he's the best point guard in the NBA
John Wall just signed a max deal to be the Wizards franchise player of the future. He also says he's the best point guard in the NBA based on the future.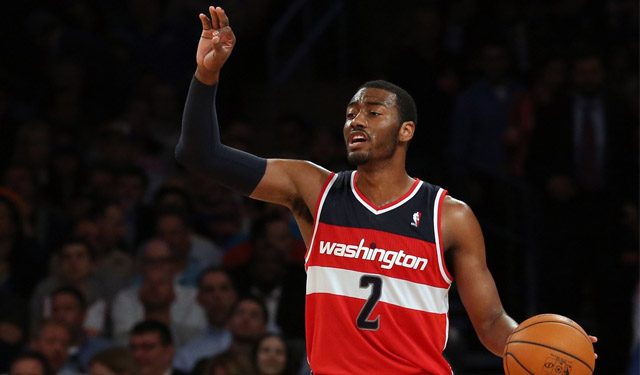 We tend to freak out a bit when players deem themselves to be the best at their position in the NBA and it's not an obvious choice. If Chris Paul were to come out and say he's the best point guard in the NBA, nobody would bat an eyelash, except for a few fans that probably fall more on the "homer" end of the bias spectrum. However, when Mario Chalmers says he believes he's a Top 10 point guard, basketball fans can't help but laugh at his confidence.
Washington Wizards point guard John Wall just signed a max contract that will pay him roughly $80 million over the next five years. He had somewhat of a breakout year this past season when the Wizards fell apart completely in the first 33 games in which he was absent with a knee injury and became a pretty dangerous team immediately when Wall returned to the lineup. When asked on the Dan Patrick Show by guest host Chris Mannix on where he ranked among NBA point guards, John Wall had a pretty interesting answer. Via HoopMixTape.com:
Chris Mannix: Where do you rank among NBA point guards?

John Wall: I rank myself the best.

Chris Mannix: Number one?

John Wall: Yeah, I rank myself the best.

Chris Mannix: Are you basing that on past accomplishments or are you basing that one what you can do in the future?

John Wall: Just basing it on what I can do in the future.
Here's what I find interesting about this type of discussion and the fallout from Wall ranking himself as the best point guard in the NBA:
First, we tend to get mad at players for having confidence in themselves, and sometimes having supreme confidence in their abilities. It's looked at as irrational or egotistical. What's interesting about that is NBA players have to believe in themselves to an excessive degree in order to beat the odds of making the NBA. Genetics and talent have a lot to do with it, but rarely does a player get to the NBA without having incredible confidence in himself and his ability to make the league.
From there, to be able to be one of the better players in the league, you have to think highly of yourself and your abilities because you're now competing with the world's best players and all of those players have a similar level of over confidence. For John Wall to believe he's better than Derrick Rose and Chris Paul and Russell Westbrook and others right now is kind of ridiculous, but doesn't he need to feel that way in order to have a chance of making that a reality?
Secondly, I think the reasoning for him believing he's the best point guard in the league is fascinating. He's not pretending he's proven himself already, even after getting the security of an $80 million deal at the age of 22. But he believes he'll continue to improve and that his potential and future accomplishments show that he's the best player at the point guard position in this league. It just seems like a different way of looking at the situation. Some guys could come out and say that their talent is the reason, but he decided to go with what he'll do in the future. 
It sort of falls in line with the idea of giving him a max contract extension. The Wizards weren't paying him for what he's done but for what they believe he'll do. Even if it sounds ridiculous to most basketball fans now, at least the thought process and reasoning makes some sense. 
Thomas took to Twitter to let the Celtics know he doesn't want to ruin Pierce's night

The Hall of Famer's jersey was retired by the Celtics in 1982

It's rare to see a legit punch in an NBA fight, but this was definitely one of them
We've got all the scores, highlights and news from an NBA Tuesday

The former Slam Dunk Contest champion will take his talents to Tri-State

Do NBA players have look-a-likes from famous paintings? We found out on the new Arts & Culture...