Wizards-Pacers Game 3 Preview: Capitol gains
Roy Hibbert dominated in Game 2. Can the big man keep it going? Will the Wizards find a way to activate John Wall?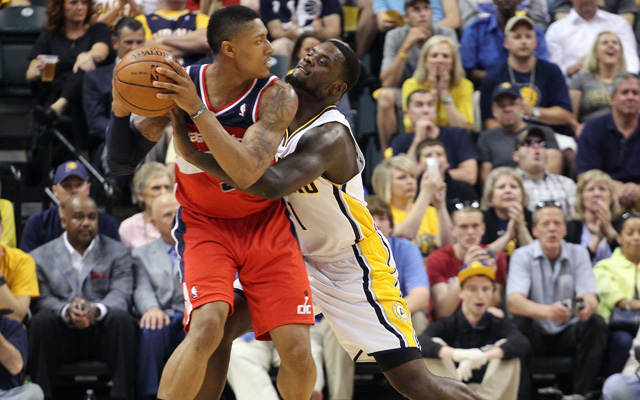 More postseason coverage: Playoff schedule, results | Latest news, notes
Previewing Game 3 of the Wizards-Pacers first-round series.
1. Where We Are: Headed back to D.C. with a split. The Wizards got the split they needed and had a chance to take Game 2. They even led at halftime. The Pacers didn't look better, they just looked good enough to beat the Wizards. Was that because the Wizards were off, or because the Pacers' defense got back into its rhythm? 
There were some adjustments the Pacers made, but really, the big key was the adjustments the Wizards didn't. They decided to let Roy Hibbert go at them and dare him to score 30 points; he scored 28. That's a sound strategy that just didn't work out for them. If Hibbert gets going in Game 3, that might force Randy Wittman into a decision.
The Pacers have followed up a win with another win exactly once since March, their Game 7 win over the Hawks. Can they do it for a second time in a week on the road against a Wizards team that has to still like its chances? 
2. The Big Number: Minus-15. That's the point differential from Game 1 to Game 2 for the Wizards in points from 3-point land. In Game 1 they shot 10 of 16, and bombing from the outside like that forces the Pacers to try and keep up while having to go two-points-versus-three on possessions. But in Game 2 the Wizards shot even more from the outside -- and shot just 5 for 21. 
So what's the best strategy here? Keep launching and hope it evens out into a 40-percent-ish clip? Or peel it back, focus on good looks, but don't rely on the 3-ball? That's maybe the biggest factor in this series: how the Wizards shoot from deep. The Pacers are going to struggle to score. Washington has to balance maximum production per shot vs. efficiency. They'll talk about finding "good" looks but that definition changes with personnel and shot. 
3. Key Adjustment: The Pacers have been sliced and diced by Bradley Beal. They've tried a multitude of things in the pick and roll: going under, going over, and actually, Beal hasn't murdered them in that set. Beal has found points all over the floor. You wonder if the Pacers might be tempted to put Paul George on Beal to try and slow him down, and risk Lance Stephenson winding up in foul trouble in the post vs. Trevor Ariza. Ariza was huge in Game 1, and nearly silent in Game 2. 
Whether the Pacers switch which Wizards they're willing to live with scoring will be big in this game. Beal has been fantastic so far. 
4. The Big Story: When is John Wall going to show up? Wall has been phenomenal defensively, making big plays and finding ways to attack and cause turnovers. But offensively, he's struggling. He's 6 of 27 through two games of this series for just 19 points. Will the Wizards' superstar leave his mark on this game in front of the home crowd? The Wizards got the split even with Wall strugglng. 
What happens if he has a breakout game? 
5. The Facts: 8 p.m. ET. Nene is a go after tweaking his ankle in Game 2.
Fergie: 'I'm a risk taker artistically, but clearly this rendition didn't strike the intended...

Victor Oladipo had a successful R&B album over the offseason and Jamie Foxx is a fan

Klay Thompson makes sure he stands out during All-Star Weekend
There's no shortage of moments to choose from

The Trail Blazers almost traded for Charles Barkley, but when they didn't, it put them in debt...

The self-proclaimed ASG snub Williams may be bitter about Butler requesting to sit out Sun...