Wizards-Pacers Game 4: Don't blame the Wiz kids, blame team execution
The idea that inexperience cost the Wizards Game 4 is false. They had veteran players in the fourth during their collapse, and no one pulled them out of it.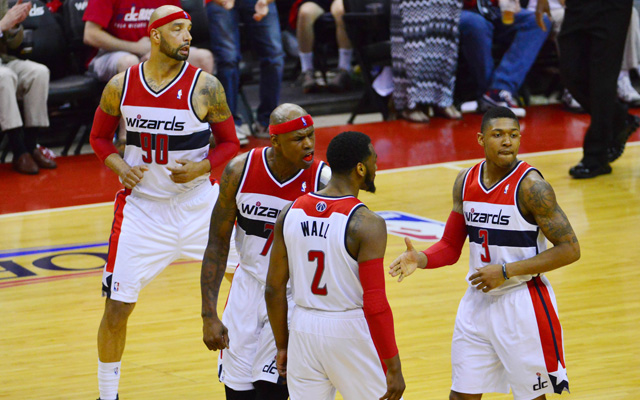 More postseason coverage: Playoff schedule, results | Latest news, notes
Here's a handy-dandy narrative: The Washington Wizards lost Game 4 in D.C. to the Indiana Pacers Sunday night 95-92 thanks to Washington's youth and inexperience costing them the game late. The Wizards blew a nine-point fourth quarter lead because they were too young for the moment. 
Stop. 
Stop, stop, stop, stop. 
Let me break this down for you. In the fourth quarter: 
Drew Gooden, ten-year vet, 10 minutes, 17 seconds. 
Trevor Ariza, nine-year vet, five minutes, 14 seconds. 
Al Harrington, 15-year vet, 10 minutes, 13 seconds. 
Andre Miller, 14-year vet, six minutes, 46 seconds. 
Don't get me wrong. The Wizards' young guys, Bradley Beal and John Wall, were bad in the fourth, with Wall logging a minus-9 in just five minutes and 14 seconds of time. He passed up a big three that he should have shot. Beal was 1-of-5 in the fourth. But those two weren't the only players on the floor, nor were they focal point many times. 
Randy Wittman leaned on his veterans, and the veterans, along with the younger players, failed to execute. That's what Game 4 came down to for the Wizards: a lack of execution combined with a lack of effort and a superior coaching performance from Frank Vogel. The Wizards were tentative when they should have attacked, and impatient when they should have focused on execution. 
The killer possession? Down three with a chance to tie, Trevor Ariza missed Bradley Beal coming off of a screen on the inbounds. Maybe Beal's route wasn't correct for the play. But Ariza, the nine-year vet, missed on the pass. Turnover, game over. 
On a one-second inbound play out of a timeout, Drew Gooden was forced to heave a desperation three. It was an airball. 
Nene played just three minutes and 26 seconds, and Marcin Gortat didn't play at all in that fourth quarter. 
It's definitely true that the "geezers," as they're called, on the Washington bench helped build the lead in the third quarter. They finished with strong overall games, but to point to just Wall and Beal -- who honestly were the only young players on the Wizards to get time on Sunday -- as the reason they lost is a misnomer. The Wizards lost because the Pacers outplayed them, out-executed them, out-hustled them. 
Wall's inexperience and decision-making was challenged just as Harrington, Nene and Miller's athleticism was. It was a cumulative effort that spanned veterans and young guns that lead to a collective failure. 
History says that the Wizards will rue this game, and look back on that fourth quarter where their playoff run truly ended. But don't let people tell you this was about a young team learning the hard lessons of playoff play. The Wizards aren't a young team, they're a veteran team with two young players (three if Trevor Booker, who was great for them in the first round, gets to play). They had veteran leadership to lean on in Game 4. 
It wasn't enough. 
We've got all the scores, highlights and news for Thursday night

The Sixers big man got his first All-Star selection -- and maybe some revenge -- on Thursd...

It appears some players are not entirely taking the All-Star voting process seriously
There were some weird discrepancies between the fan, media and player votes

LeBron and Steph will be the captains for the 2018 NBA All-Star Game

Arron Afflalo was involved in an altercation with Timberwolves big man Nemanja Bjelica on...