Wizards-Pacers Game 5: The vicious return of the real Pacers
Indiana seems to be back, but can the Pacers close out the Wizards in Indy in Game 5 to punch their Eastern Conference Finals ticket?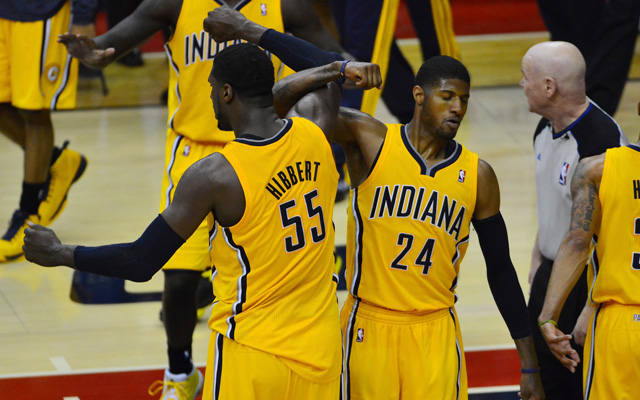 More postseason coverage: Playoff schedule, results | Latest news, notes
Previewing Game 5 of the Wizards-Pacers Eastern Conference semifinal series.
1. The Facts: 7 p.m. ET (TNT). Follow the action here. All players are expected to be available, except for Andrew Bynum, who is out with being some sort of spirit that causes basketball teams to fail. 
2. Where We Are: The Pacers seem to be back. They're 3-0 since Andrew Bynum was dismissed from the team, and in the games since have played Pacers defense, found scoring in Roy Hibbert and Paul George, and taken a commanding 3-1 lead over the Wizards. 
It wasn't that the Pacers outclassed Washington in Game 3, they out-executed them. They made the little plays. And this veteran team is still finding itself after becoming so lost, but there's every reason for confidence.
What's fascinating is that if there's one team that could close this thing out in five with four straight, it's the Pacers. And if there's one team that could let the Wizards come back to win this in seven, it's the Pacers. 
As for the Wizards' role in this? That's complicated. 
3. The Big Number: 34.4 percent. That's John Wall's field goal percentage in the playoffs. Going in, we thought it would be Wall who would lead the Wizards if they had a chance to advance. Instead it was Nene against Chicago and Bradley Beal through both rounds. In the second round Wall has 30 assists and 14 turnovers. That's not terrible, but it's not great. 
If the Wizards are going to get back into this series, Wall has to control his team offensively. He's played great defense, but he's got to start finding some sweet spots at the other end.
4. Key Adjustment: How do you solve a problem like Roy Hibbert? When Hibbert blew up in Game 2, the Wizards basically said, "Well, that's not going to happen again." 
It did. 
In the past three games, Hibbert is averaging 19.7 points, 7.7 boards and 2.3 blocks while shooting 65 percent. Are the Wizards going to bring the double? Has it come to this, that Hibbert, the laughingstock of the league for a month and a half, now demands a double-team? 
The other option is to let Hibbert get his. If the Wizards can contain Paul George, who went off in Game 4, and hope Hibbert is good-but-not-great, they can win this game with offense. But they have to make a decision on Hibbert and live with it. That's the big problem. They can't adjust if the strategy fails. When they've tried that, problems intensify. 
5. The Big Story: Even though it looks like the Pacers have returned to form, there's still doubt if they're really back. They won three games vs. a mediocre playoff team. So what? But closing out the Wizards at home is an opportunity to get at least five days' rest before the Eastern Conference Finals begin ... in Indy. 
A loss to the Wizards at home, and it's 3-2 going back to Washington and the whole thing starts over. If it's possible to play a must-win game when leading 3-1, Indy has found it. 
Greek Freak scores career-high 44 points and reaches scary level to finish the game

It was an ugly finish as the Warriors fell to 1-2 on the season -- both Curry and Kevin Durant...

Mirotic was hospitalized with facial fractures after an altercation with Portis during pra...
Irving had some choice words for a fan who heckled him in Philadelphia

Several teams were reportedly interested in Nelson after he was waived by the Nuggets

Cousins got into a heated exchange with a fan during the Pelicans' season opener