Wizards rookie Bradley Beal just needed a point guard
Bradley Beal was just a struggling rookie without much to build on util Jan. 12, 2013 . Then John Wall came back to the lineup.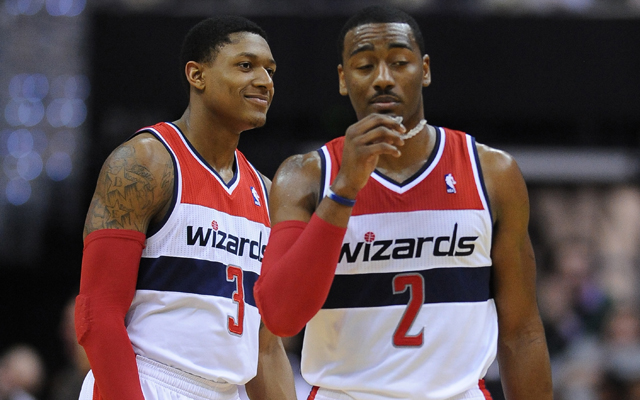 Bradley Beal is a different player with John Wall on the court. (Getty Images)
Bradley Beal is looking like a bust for the Wizards, just a couple months into his career. It's not fair to label rookies as busts or saviors after just a couple of dozen games into their careers, but in a results-based society like we have now, we tend to do jump to conclusions until the results get better.
The jumper everybody raved about heading into the draft -- and compared to the form of Ray Allen, the greatest 3-point shooter of all time -- doesn't yield any sort of respectable and acceptable production. If a shooting guard can't shoot and isn't finishing at the rim, it's pretty hard for him to have a positive impact. And that's what Beal has been failing to do so far in his rookie career. He can't affect the game in a positive way. Sure, he's just a rookie and it's only been a short start to his career, but there has to be a little concern with his play moving forward.
Up until Jan. 12, 2013, this analysis of Beal's first months in the NBA might have been dramatic, but it was pretty accurate. The shooting guard out of Florida was playing 31.3 minutes per game, scoring 13.1 points on 12.6 shots, and shooting 36.7 percent from the field and 32.3 percent from 3-point range. Any production out of Beal was simply a product of volume and necessity; there was rarely any sort of efficiency with him.
Then everything turned around for Beal. You could credit it to finally getting a taste for the pro game, or maybe it was due to the team figuring out how to utilize his skill set better. But really, what Beal needed was a point guard.
I don't mean to disrespect A.J. Price because he's fought hard to find his way into the NBA and into the rotation for NBA teams, but he's no John Wall. As much as people like to think of Wall as a bust or a disappointment because he hasn't set the league on fire, he's consistently found ways to set up his teammates for scoring opportunities.
And that's what Beal needed on the court; he needed a point guard.
Since coming back from a knee injury that kept him out the first 33 games, Wall has helped his team be a lot better and a lot more competitive. Not only is the team competitive since his return, but they're also winning. The Wizards are 13-9 in the 22 games since Wall has come back to the court, which is a stark contrast to the 5-28 record while he was injured.
Nobody is benefiting more than his rookie backcourt mate.
Beal's numbers with Wall on and off the court.
(NBA.com/Stats)
The improvement with Beal getting set up by Wall, as opposed to Wall not being on the court, is pretty staggering. He's making a more than a respectable 45 percent of his shots while taking one fewer shot per game. His assists go down because he's more the target of a scoring chance, rather than having to attempt to create something, but the team is just a lot better with these guys on the court together.
The biggest difference you notice though is Beal's 3-point shooting. Without Wall on the floor, he makes 35 percent of his 3-pointers. With Wall on the floor, that number jumps to a ridiculous 49 percent.
Left: Beal 3-pointers before Wall's return. Right: After Wall's return.
(NBA.com/Stats)
As you can see, Beal has improved his outside shooting in every zone behind the 3-point line. A lot of that has to do with how he's taking these shots. Beal wasn't having to create too many of his 3-point makes before Wall's injury, but he did have to do a good chunk of the work. 
In the first 33 games of the season, Beal was assisted on 95.5 percent of his corner 3-pointers and 85.7 percent of his above-the-break 3-point makes. Since Wall's return, every single 3-pointer Beal has made has been assisted. Every single one. Fourteen of Beal's 32 made 3-pointers have been assisted by Wall directly, and 26.5 percent of his made shots overall have been assists from Wall since the point guard's return. Previously, Jordan Crawford and Price were tied with assisting Beal on 11.1 percent of his makes before the turnaround.
There is a definite connection between Wall and Beal through their first 17 games together (Beal missed five games with a sprained shooting wrist), and that's with the duo's chemistry in its infant stages. Imagine what the they could do after a full training camp, preseason, or full regular season together. Could they become one of the best backcourt combinations in the NBA in a couple of years? 
We don't know yet, but we do know it's a lot more fun to wonder about that than to wonder if the Wizards made a mistake in selecting Beal with the third pick in the draft. Beal has his point guard partner and it looks like it's working.
The Pistons put out a long list of details regarding their new uniforms

The Pacers traded the forward to OKC for two former lottery picks who have yet to reach their...

Gilbert said what was expected, but didn't necessarily sound all that confident
Altman addressed the media about Irving during his introductory news conference

Toronto's center has an uncertain future; can we still talk about this 25-year-old's poten...

Oakley was vague with his response on when he'd attend another Knicks home game