Wizards sign coach Randy Wittman to multi-year contract
The Washington Wizards will reportedly sign coach Randy Wittman to a multi-year coaching contract.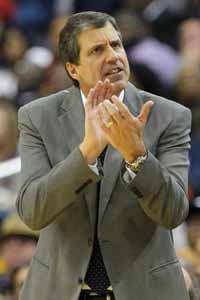 Randy Wittman approves this message.
(Getty Images)
Update:
The Wizards
made the announcment official
on Monday.
Taking care of business.
Just two days after the Washington
Wizards
learned their Draft Lottery fate on Wednesday night, the team has reportedly come to a decision regarding its coach.
Interim coach Randy Wittman, promoted from assistant when former coach Flip Saunders was fired
back in January
, will get the full-time gig.
Yahoo Sports reports
that Wittman will receive a 2-year contract.
The Washington Wizards are finalizing details on a two-year contract for interim coach Randy Wittman to become head coach, league sources told Yahoo! Sports. An announcement is planned for next week, sources said.
Earlier this week,
the Washington Post reported
that the Wizards planned to retain Wittman, although the decision hadn't yet been communicated to the coach. The paper also quoted owner Ted Leonsis speaking highly of Wittman.
"To a man, everyone thought that Randy did a fantastic job," Leonsis said. "So that gave me confidence that I should interview, and I had a quality day with Randy. And we're still talking through some things and I feel very, very comfortable that when Nene has been around and a John Wall, both say this was a coach that treated us the right way, respected the game and we listened to him." 
The Wizards hold the No. 3 pick in the 2012 NBA Draft. Washington shook up its roster at the trade deadline, shipping out center JaVale McGee and guard Nick Young and receiving Nene in return. 

Wittman, 52, has a career coaching record of 118-238 during stops with the Cleveland Cavaliers, Minnesota Timberwolves and the Wizards. Washington went 18-31 under his leadership after beginning the season 2-15 under Saunders. Washington finished 20-46 on the season, finishing in fourth place in the Southeast Division. 

Wittman played nine seasons in the NBA for the Atlanta Hawks, Sacramento Kings and Indiana Pacers, posting career averages of 7.4 points and 2.2 assists. 
The former Clipper apparently had some tricks up his sleeve after a chippy game

The Rockets were apparently looking for Austin Rivers and Blake Griffin after a chippy gam...

If they don't meet in the Finals again, let's appreciate every one of the 27 matchups since...
D-Wade picked up the steal and got creative on the fast break as the Cavs headed into half...

Despite the embarrassing hiccup, the youngest Ball had himself a pretty great day on the c...

The players were both ejected in the closing seconds, then continued their discussion off the...