Wolves agree to five-year deal with Nikola Pekovic
The Timberwolves have finally agreed to terms on an extension with center Nikola Pekovic.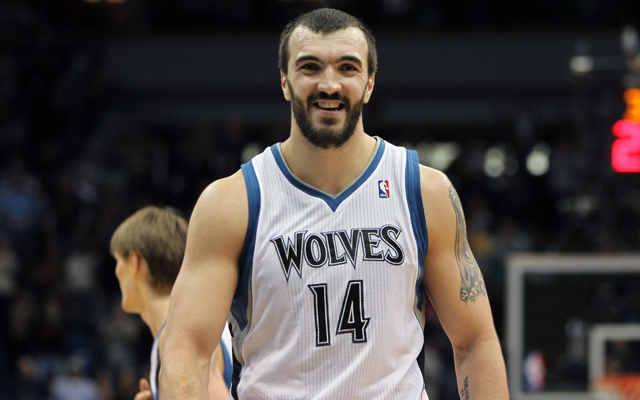 It's not too hard to believe that in a negotiation with Nikola Pekovic, the Timberwolves ended up blinking first. 
It took longer than expected, but announcing it on Twitter, Wolves president Flip Saunders tweeted the team has locked up Pekovic to a long-term deal. 
#wolvesnation. We have agreed to terms with Pek.

— Flip Saunders (@Flip_Saunders) August 14, 2013
According to reports, Pekovic's deal with for $60 million over five seasons. The 27-year-old center was a restricted free agent this offseason, but never signed an offer sheet with another team, instead apparently just focusing on getting the best possible deal to remain with the Wolves. 
In terms of market value, locking up Pekovic at $12 million per is a pretty nice deal, considering he averaged 16.3 points and 8.8 rebounds last season. At the center position, that commands big dollars and looking around the league, the Wolves have Pekovic for less per year than the Bobcats have Al Jefferson ($13.5 million per). 
According to ESPN.com, Pekovic's deal has around $8 million in incentives tied into his contract.
It's a little hard to figure what the big hold up on getting a deal was, but in the end, Pekovic gets paid and the Wolves keep their talented big man. 
The 31st overall pick in 2008, Pekovic has been in the NBA for three seasons going from a backup center into one of the West's premier bigs. With him and Kevin Love together in the Minnesota frontcourt for years to come, the Wolves have one of the more talented interior duos in the league.
Pekovic's signing caps a pretty stellar offseason for the Wolves, one in which they added Kevin Martin, Corey Brewer, two first round draft picks and re-signed Chase Budinger.
Irving has requested a trade away from the Cavaliers

The Lakers made a strong push for Rose, but he would have been a backup in Los Angeles

The small forward spent last season with the Sacramento Kings
Knight still has three years left on his five-year, $70 million contract

The Golden State forward is accused of assault, battery and making misleading statements

The Nets get their shooter a year later, and the Blazers reportedly will waive Nicholson