Wolves center Nikola Pekovic wants to stay in Minnesota
Minnesota Timberwolves center Nikola Pekovic says he likes playing in Minnesota and wants to remain a player there.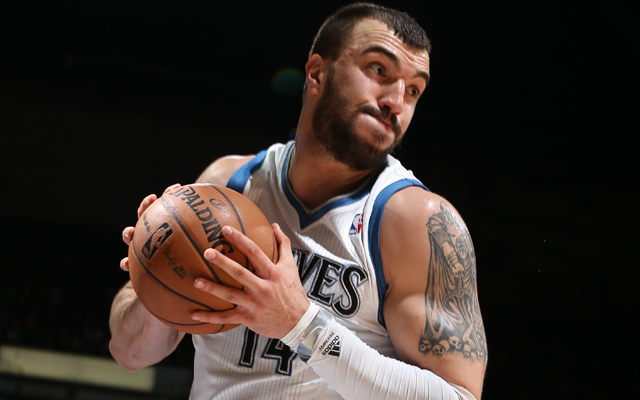 This Wolves center wants to stay where he is.
(Getty Images)
Minnesota Timberwolves center Nikola Pekovic is heading into restricted free agency this summer and is looking at a big payday coming his way. We don't know if he'll be worth the rumored max contract offer that could come from Portland (which is in need of a center) or even if he'll be worth the $11 million to $14 million price range that he's likely to command. What we do know is he is a big center who can score with his back to the basket and dominate the boards at times. 
Those guys always get paid. The Wolves will have the upper hand in deciding his fate because they can match any offer that he gets if they decide to keep him. But does he want to stay with Minnesota? Via the Pioneer Press:
The 6-foot-11, 281-pound center from Montenegro can become a restricted free agent after the season, but he said he definitely wants to remain in Minnesota.

"I like everything about Minnesota," Pekovic said. "First of all, I like the team. I think we can do a lot when we're healthy. I like the coaching staff."
This is encouraging news for Minnesota, but it won't stop his agent from playing the field and trying to drive up the price tag for his talent. And when the price tag gets steep, that's when the Wolves will have to decide just how much they believe in a Love-Pek front court for the future of this club. Are you comfortable tying up roughly half of your salary-cap number in these two big men? You get a lot of scoring and rebounding, but is there enough defense?
Pekovic likes the coaching staff here because they helped him get to a position of being a sought-after free agent. In his first season with the Wolves in 2010-11, he was one of the worst players in the NBA. He fouled constantly, he couldn't score like he did in Europe, his defense was a joke and he couldn't even rebound properly. The game seemed way too fast for him at the NBA level. 
When Rick Adelman and his coaching staff took over the next season, assistants Bill Bayno and Jack Sikma worked with Pekovic religiously. Within a month of the regular season starting, he had improved so much that he supplanted Darko Milicic (not exactly a banner accomplishment, but compared to the previous year quite impressive) as the full-time starting center. He ended up being one of the most improved players in the NBA, finishing third in Most Improved Player voting behind Ryan Anderson and Ersan Ilyasova.
Pek raised his PER from 11.2 to 21.4, led the NBA in offensive rebounding rate (15.9 percent) and dropped his fouling rate from 7.3 fouls per 36 minutes to 2.8 fouls per 36 minutes. This season, he has been the focus of the struggling Wolves' offense for most of the year, due to Kevin Love breaking his hand twice. The focus has been to get Pek rolling to the basket to punish the defense. His defense has also picked up quite a bit, and he has become really solid at closing off the lane.
All of these improvements lead to a 27-year-old center who can score, rebound and defend decently entering restricted free agency. The fact that he wants to stay in Minnesota is a good thing for the Wolves, but the price tag is going to become an issue at some point. With the future of the Wolves organization focused around putting a winning team around Love and Ricky Rubio, this could be a pivotal moment in the franchise's personnel decisions.
Westbrook's late layup gave the Thunder a 109-108 victory

LeBron became the seventh player in league history to reach the milestone

There were a few things that stood out from Tuesday's All-Star selections
Here are three players from each conference who had legitimate claims to make the game

LeBron achieved the milestone in the first quarter Tuesday

Here are the full lineups for the 2018 NBA All-Star Game