Wolves' Chase Budinger to have surgery on knee, out indefinitely
Minnesota Timberwolves' Chase Budinger has sustained a cartilage injury in his left knee and will need surgery. He missed 59 games due to the same knee last season.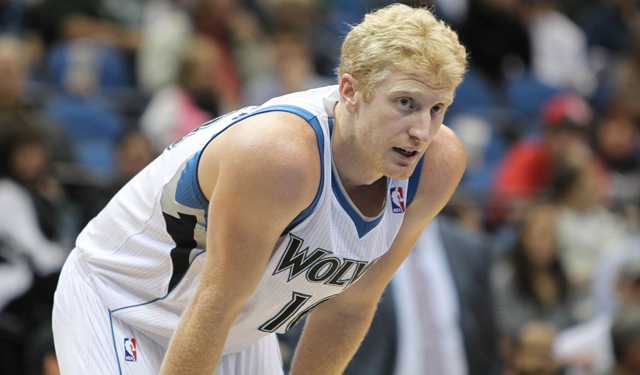 The Minnesota Timberwolves are supposed to have a fresh start after leading the league in games missed due to injury in the 2012-13 season. With everybody healthy and the team looking to be an offensive juggernaut if everything goes correctly, the Wolves are hoping to find their way into the playoffs for the first time since the 2003-04 season when they went to the Western Conference finals on the shoulders of Kevin Garnett. They had playoff hopes last season but those were dashed halfway through when the injuries just continued to pile up.
One of those injured players that missed significant time was Chase Budinger. He re-signed with the Wolves this offseason on a three-year deal for $15 million despite missing so much time with a lateral tear in his left meniscus. Budinger was supposed to compete for the starting small forward position this season, but it looks like that will be on hold. The Wolves sent out a press release about an injury Budinger sustained to his left knee.
The Minnesota Timberwolves today announced that forward Chase Budinger sustained a cartilage injury to his left knee. Budinger will visit Dr. James Andrews in Birmingham, Alabama early next week. An update to Budinger's status will be provided after that examination.
The Wolves also announced that Budinger will undergo surgery on the knee to either repair a more serious injury or scope the knee in hopes of helping bring it back to 100% health and strength. From Timberwolves.com:
The Wolves announced Budinger would need a procedure done after suffering a cartilage injury to that left knee before he is able to play this season. No timetable was announced, but Budinger will at least undergo a scope to try and once and for all get his knee back to full strength. 
The left knee is the same knee that caused Budinger to miss 59 games last season. While the severity of the knee injury isn't known at the moment, a trip to see Dr. James Andrews doesn't usually just happen so everything can be cleared as a scare and send Budinger on his way with a lollypop. 
Budinger made it through six games at the start of last season before tearing his meniscus. He didn't return until March 21 and was slow to work his way back into feeling confident on his leg. He averaged 9.4 points and 3.1 rebounds in 22.1 minutes last season in his 23 games. He shot 32.1 percent from 3-point range after a career-high 40.2 percent in the 2011-12 season.
Wade opted in to his $24 million player option earlier this summer

Barkley spoke to the NFL Today crew about the response the president received in his home...

The restricted free agent has a deal in place that will keep him with the Bulls after a st...
James' support continues his trend of social activism on social media

The newly-acquired All-Star thinks the addition of Anthony boosts the Thunder in the NBA's...

The Knicks were asking for the house in discussions for Carmelo Anthony