Wolves' forward Andrei Kirilenko out (quad) as team shuffles roster
With Andrei Kirilenko out and depth issues aplenty, the Minnesota Timberwolves have shuffled their roster to keep two 10-day contract players.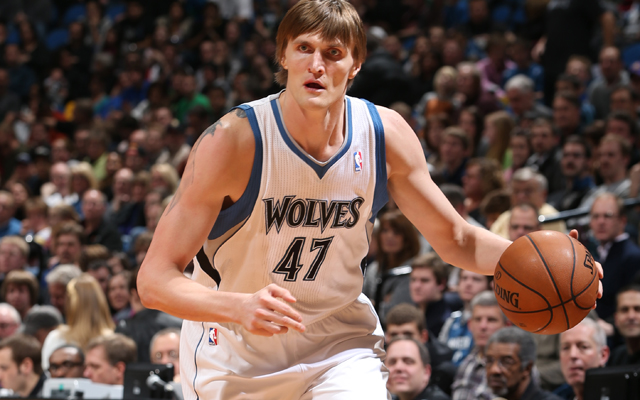 The Wolves' do-it-all forward won't play against the Knicks on Friday night.
(Getty Images)
After straining his right quadricep in the first half of Monday's game between the Portland Trail Blazers and the Minnesota Timberwolves, forward Andrei Kirilenko has missed the Wolves' next six quarters of action. Kirilenko never returned to the game on Monday, and he sat out Wednesday's 104-94 loss to the San Antonio Spurs with the quad injury.
The strain will keep him out at least one more night. He will not play against the New York Knicks in Minneapolis on Friday night, according to the team's PR Twitter account:
#Twolves will be without Andrei Kirilenko tonight who will miss his second consecutive game with a strained right quadriceps.

— Timberwolves PR (@Twolves_PR) February 8, 2013
With the Wolves missing three perimeter players already thanks to injuries to Chase Budinger (knee), Brandon Roy (knees) and Malcolm Lee (knee and hip), they've had to do some roster shuffling in order to maintain a decent balance between perimeter and interior players. The team announced Friday that they've waived power forward Lou Amundson and signed both Mickael Gelabale and Chris Johnson for the remainder of the season.
Amundson was working on a one-year deal with the team, so eating the rest of his veteran's minimum contract wasn't too much of a financial hit for owner Glen Taylor. Johnson and Gelabale's second 10-day contracts with the team are expiring, and the Wolves had 16 players on the 15-man roster due to the league granting them a hardship exception because of the multitude of injuries.
But the hardship exceptions are now gone and the Wolves had to either let Johnson or Gelabale go somewhere else if they decided to keep Amundson on the roster. Johnson has been an energizing force in limited minutes with the team, and Gelabale has provided much-needed depth on the perimeter. 
With Kirilenko out, they'll have Gelabale play quite a bit of small forward like they did against the Spurs on Wednesday. 
The NBA broke its silence with a statement related to the Lakers-Paul George tampering cha...

The Clippers big man thinks LeBron will reunite with the banana boat crew at some point

Have the Clippers reportedly found their next GM?
The NBA stayed to the point in their response to the Greek basketball federation

The Pacers believe the Lakers tampered with Paul George before they traded him

Among the questionable decisions by Jackson was signing Noah to a long-term, lucrative dea...