Wolves have no problem being patient with Shabazz Muhammad
As Shabazz Muhammad learns the ropes in the NBA, the Minnesota Timberwolves are focusing on him getting better and not his past reputation.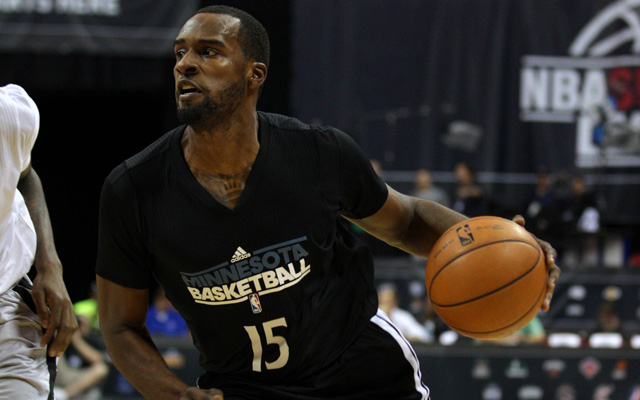 LAS VEGAS -- So much of the modern NBA has become a discussion of process vs. results. Is it more important to get the result you want or is it more important to get the process fine-tuned for later, more consistent success?
With a lot of rookies showing mixed results in the 2013 Las Vegas Summer League, the production is more and more being ignored, with decision-making and effort highlighted the most by coaches. The Minnesota Timberwolves and their project with developing Shabazz Muhammad have been no different. Muhammad, the 14th pick of the 2013 NBA Draft, has struggled with his shot throughout the week, but it's sort of by design that he's playing the way he is.
In the past, Muhammad has been pegged as a selfish scorer just looking for his own shots and points over team success. For a player that was discussing being a more unselfish player when he was introduced to the Wolves' fan base the day after the draft, it's safe to recognize that the criticism of his game was rooted in reality to some degree.
In the four games of summer league we've seen from Muhammad and the Wolves so far, you can tell he's trying to change that, even when the instinct to score starts to creep back into his mind. He's been trying to make the extra pass and that's come with mixed results, but seeing the process of him trying to grow as a player at the start of his career is what the Wolves want to see.
"It really is a 'let's get a feel for each other [type of environment],'" Wolves' summer league coach David Adelman said when asked about Muhammad going from summer league to training camp, "but the competition and guys wanting their spots, it's different. But that's good; that's good for him.
"I think the best thing about this for him is, let's stop talking about what happened the last four years for him. What's happening now is what's important and he's improving and that's all I care about."
What happened over the last four years involved meteoric high school hype surrounding a player who was considered one of the top, if not the top high school prospect in his graduating class. He had a rocky freshman year at UCLA, battling ineligibility from an NCAA investigation and later having it discovered that Muhammad was born a year earlier than had been passed off by his family and the UCLA media guide. He was actually 20 and not 19 years old.
Those red flags, coupled with the sense that he was a selfish basketball player with a bad attitude caused his draft stock to fall. And while it's easy to focus on a player's past, the Wolves seem much more concerned about the future of fitting him into a team that is expecting to compete for a playoff spot. 
Shabazz Muhammad is a scorer by nature. It's the thing he's best at doing on a basketball court, but the way he scores in the NBA will determine just how much success he'll have with his current team. The Wolves don't want isolation scorers that over dribble.
The Rick Adelman system, which has been loosely implemented into the summer squad's offense, is about ball movement and moving without the ball. The first part of that has been a problem for Muhammad over the last couple of years, but moving without the ball is a strength of his. He's really good coming off screens and he cuts to the basket with good instincts. Getting him on the court with the NBA regulars for the Wolves could turn him into a really important role player over the next few years. It's something Shabazz Muhammad is looking forward to working towards.
"Ricky Rubio, Kevin Love, there's a lot of good players, a lot of young guys," Muhammad said, "and I put myself in that mix with the rest of the team we have this year. I think I can give us some positive minutes and contribute to the team."
Contributing to the team will be more than scoring, though. Spreading the floor as a threat is the biggest key to the Wolves' offense, and it's something they struggled to accomplish last season when they had arguably the worst 3-point shooting season in NBA history. How does Muhammad look shooting the 3-point shot?
"I think with time [to shoot] right now, it's fine," David Adelman said after Muhammad scored 17 points on Wednesday. "Obviously, when we get to our league with the way people stunt and get back to the ball, you've got to catch it and get it off. But he's 20 years old. We've got a lot of time to work on that."
With Kevin Love, Nikola Pekovic, Kevin Martin and Chase Budinger on the roster, scoring won't be the concern and it hasn't been an emphasis for Muhammad or the coaching staff in summer league. Right now, they will take good scoring games, but mostly they want to see him make progress on the defensive floor and knowing where to be on both sides of the ball.
"The other part of that is I've seen a lot of first-round picks come here and light this thing up and then you never hear from them again two years later," the Wolves assistant coach explained. "Who really cares how many points he's scoring? I'm just glad he's improving. If he would have had 25 the first game and then today had seven turnovers and 10 bad shots, then that's a bad week. His week is going well. He's getting better and better. His shot fell tonight, which is great, but everybody's shot fell tonight. But I thought the other end was what's important."
And the other end is where Muhammad will have to make his mark. Rick Adelman has had plenty of talented forwards over the past two seasons, but they have not always received consistent playing time because defense was either inconsistent or an issue altogether for guys like Michael Beasley and Derrick Williams. With a powerful 6-6 frame and a 6-11 wingspan, the potential for defensive competence and even excellence is there for Muhammad. But he still has a lot to work on.
That's what the Wolves are concentrated on doing -- helping him work so he's an all-around player and not just pigeon-holed into being a certain type of selfish scoring reputation that followed him into the NBA.
"We don't want him to score 25," Adelman said. "We want him to be an NBA player."
LaVar Ball also made it clear he thinks his sons are being placed in 'a great situation'

The Thunder are just 12-14 on the season, despite the addition of Paul George and Carmelo...

The then-Heat teammates squared off during the 2011 ECF, but Erik Spoelstra put a stop to the...
SportsLine's Mike McClure, a DFS pro with more than $1M in winnings, gives optimal lineup...

Stephen Oh has his finger on the pulse of the Rockets and just made a pick for Wednesday night's...

Gasol doesn't seem opposed to the idea of a midseason trade