Wolves' Kevin Love is focused like we've never seen before
Minnesota Timberwolves star Kevin Love had a rough season both on and off the court in 2012-13. A new year is bringing about a new attitude and focus.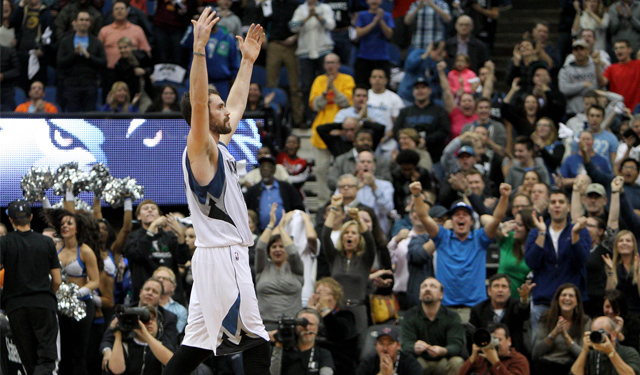 MINNEAPOLIS -- Next time you're watching a Minnesota Timberwolves game, check out Kevin Love on the defensive end. This isn't some snarky comment about a player who has a reputation of having a saloon door's resistance as a defender. It's only two games into the 2013-14 season, but we're seeing a different focus from Love that is actually permeating throughout his existence as the team's leader.
During the Wolves' 100-81 victory over the Oklahoma City Thunder on Friday that wasn't even that close, Kevin Love was playing tag in the paint while he was on defense. When he was defending a player around the key that didn't have the ball, he made sure to touch the arm or back of every Thunder player that came through the lane from one side to the next. A couple of times he even went out of his way to take several steps to the other side of paint in order to make sure he touched the arm of the offensive player who just cut through the lane.
The idea of big men bumping guys who venture into the lane is nothing new, but to make sure you beat them at a game of tag seemed weird. For Love, it's a way to remain "locked in" and focused on defense. As silly of a tactic as this may appear to be, it's something that's helped him play really good defense in the first two games. It's something that's helping him turn any dead ball opportunity on the court to discuss strategy and execution with Nikola Pekovic and assistant coach Jack Sikma.
"I've learned not to look too far into the future," Love said when asked about the potential success of the Wolves this season. "We just want to take it day-by-day. ... it's just two games. We just want to live in the present and continue to get better."
Heading into the Wolves' media day before camp started, Love refused to answer questions about his future or the past. He was matter of fact in the way he dismissed these subjects. He wanted to focus on the present and kept using variations of "get better every day" to sidestep questions looking for sound bites.
In the locker room after games since media day, we haven't seen the same jovial Love who's willing to let his filter take a few minutes off while answering whatever is thrown at him. Love has learned from last season when a Yahoo article with damning quotes about his faith in David Kahn and the direction of the organization turned him into a target for local media. He was suddenly the ungrateful "wannabe" who hadn't led a horrendous roster to the playoffs in his four years with the team.
Right or not, the local media pounced on Love and his attitude. He wasn't around much to defend himself or make his case through his play either. A broken shooting hand delayed him from joining his teammates last season and even when he was able to rush back from the injury, he couldn't shoot the way that was needed for him to make up for his poor defense. Another break in the hand after only 18 games sidelined him the rest of the season as the Wolves once again missed the playoffs and sustained key injuries.
Love's learned that the only way to prevent the hit his reputation took locally last season is to keep his mouth shut and focus on the floor. After games in the locker room, you can see the process of keeping his mouth shut is pretty regimented. He's looking down almost exclusively when answering reporters' questions. There's less personality coming from his lips. We're getting more clichés and discussion about remaining in the present to work on improving what needs to be improved.
Already the best power forward in the NBA when healthy before last season, he has the potential to halt any debate about his inclusion as a top 10 player in player rankings across different media platforms. If Love continues to stay locked in on defense via little tricks -- if he keeps taking charges, defending shots and staying in good help position -- his play finally will return his franchise to the playoffs.
From there, the team will have to continue to show him under the Flip Saunders regime that he's as important to the basketball scene in Minnesota as he wants to be. It will be a big part of making sure he doesn't bolt if he opts out of his contract in 2015. But, like Love, we're not talking about the future of this team right now. It's all about staying focusing on the present and getting better for Kevin Love.
The inaugural BIG3 season comes to a close Sunday with the championship game

Thomas was traded to Cleveland yet some fans are taking it out on him ... and his jerseys

The Celtics dealt the No. 1 pick to Cleveland as part of the Kyrie Irving-Isaiah Thomas tr...
Thompson was rumored to have been a point of discussion with the Cavs regarding Kyrie Irvi...

What the Celtics and Cavs look like after the Eastern Conference powers swap point men

Simmons was the No. 1 pick in the 2016 NBA Draft but did not play last season