Wolves owner Glen Taylor acknowledges Love trade demand
Finally, Glen Taylor has said publicly that Kevin Love wants a trade and the team will likely accommodate his request.
• 1 min read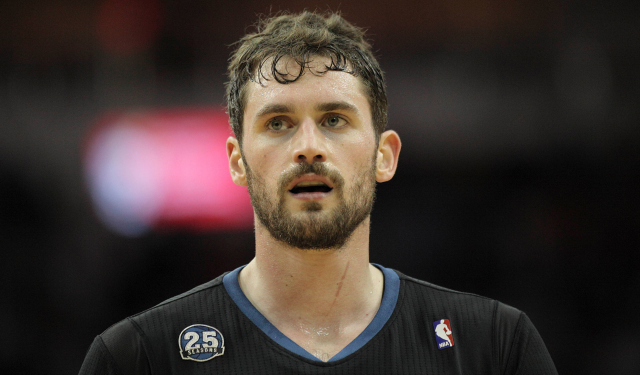 Offseason: Free Agency | Latest from Ken Berger | Rumors
As recently as a couple of weeks ago, Minnesota Timberwolves owner Glen Taylor said publicly that his preference was for Kevin Love to be on the roster when training camp begins. That sounded funny then, and it sounds funny now, as the whole NBA world knows that Love wants out and the Timberwolves have been talking to teams about trades.
The most likely scenario is that he'll be traded to the Cleveland Cavaliers sometime around Aug. 23, which is when No. 1 overall pick Andrew Wiggins is eligible to be moved. Speaking with Charley Walters of the St. Paul Pioneer Press, Taylor finally acknowledged what everyone else already knew:
"I'm saying it's most likely because Kevin has made it pretty clear that that's what he wants to do," Wolves owner Glen Taylor told the Pioneer Press.

…

"I think when you move somebody like Kevin, who's been an all-star, that you've got to get a number of players on your team that have the potential of replacing him," Taylor said. "Flip(Saunders, Wolves president) has looked at this team and offensively, he's got a pretty good team. Defensively, it's got to be better, so I think that's where some of the areas will be replaced."
We could unpack this statement a little bit -- the Wolves, without Love, were far from a good team offensively last season -- but it's not really worth much thought. It's clear where things stand now. Love wants to play with LeBron James, and James wants to play with Love. A package centered around Wiggins is the best return the Wolves could have hoped for, and it looks like that's what they'll get. Nothing can happen for three weeks, but there would have to be a pretty major development between now and then to steer this off course. 
Kidd was fired by the Bucks on Monday afternoon

We've got all the scores, highlights and news from an NBA Monday

Leonard was recently shut down again to rehab the nagging quad injury
Durant, who joined the Warriors, says that Capela, the league's most efficient player, has...

Jason Kidd's firing gets the celebratory balloon treatment on Milwaukee's Twitter page

Milwaukee has parted ways with its coach in the middle of his fourth season