Wolves' owner Glen Taylor wants to wait a year to admit Love mistake
Minnesota Timberwolves' owner Glen Taylor wants to wait one more year until he's ready to admit not offering Kevin Love the five-year max was a mistake.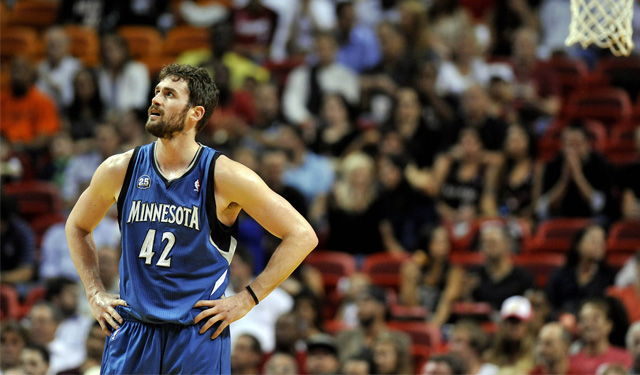 More NBA: Power Rankings | Expert Picks | Latest news & notes
"The free agency clock on Kevin Love is ticking."
This is undoubtedly the line you'll hear from almost every NBA pundit for the next 15 months because Love can become an unrestricted free agent on July 1, 2015. He also will most likely exercise that opt-out in his current contract because it makes the most sense for him maximizing his earning potential while also finding the best spot to spend the next phase of his NBA career. That spot for 2015-16 and 2016-17 could have been locked in with the Minnesota Timberwolves had the organization offered the five-year max extension Love was seeking during his contract negotiations.
David Kahn was running the show at the time and didn't want to offer him the five-year max to Love (although the rumor that it was being saved for Ricky Rubio is inaccurate). As a consolation prize to Love, he was given a four-year deal with an opt-out after the third season. Owner Glen Taylor agreed with Kahn's decision at the time and doesn't want to call that agreement a mistake just yet. From the Star Tribune: 
Love has repeatedly declined to talk about his future, saying only that he's focused on the present and wants to play for a winner, in Minnesota or elsewhere.

"He's not unusual, he wants to be on teams that are competitive," Taylor said. "I think that's how he'll make his decision. If we play well and we show him we're moving ahead, I don't think he'll leave us just to leave us. A lot of players look at teams and, if they don't see a future there, they'd prefer to play on one of the best teams. That's the challenge we have before us and it's consistent with what I want to do anyway."

Taylor was asked if he now considers that decision a big mistake. He paused before answering.

"Let's wait one more year to answer that question," Taylor said. "I think it's a good question to ask at this point because Kevin has played as well as we hoped, and maybe even better. To have him tied up long probably would be better than not, but we still have one more year and we'll see. My hope is it doesn't make any difference, that Kevin can get the money one way or another and we're in position to do that."
It's very possible Taylor will end up being correct here. While the outsiders of this organization are convinced Love is gone the second he hits free agency, the Wolves are building (slowly) a good thing with him and can offer him the most money possible. They're hoping to use that, plus his ties with the community (not to mention he just helped them design the new practice facility) to convince him the Wolves are the only organization for him.
However, even if all that goes well for them, it was still a massive mistake to not offer Love a five-year max extension during a time when the league was figuring out how to give middle market and small market teams an even playing field to keep their stars. The rumor of Love going to the Lakers eventually are just rumors but still decent educated guesses on what will happen.
Perhaps the biggest problem in this whole situation is the respect factor for Love. Whether or not you believe he's worthy of a superstar status in the NBA, some team is going to say he is and that team could have a real shot at wooing Love in 2015. The Wolves weren't willing to do that during his initial contract negotiations and the owner is indirectly not giving Love that same respect now by refusing to admit it was a mistake. You can still come out on the good side of mistakes if you learn from them, but that doesn't seem to be the case here.
As Flip Saunders keeps trying to clean up the mess Kahn left him when he was let go, getting the owner to go against the decisions of a front office he's always trusted, no matter who is involved, instead of showing the player extended signs of respect would probably go a long way. Apparently, we have to wait another 15 months to know if that respect was needed or if it should just be gifted because that's what you do when you build/repair relationships.
We'll find out soon enough because Love's free agency clock is ticking. That's what clocks do.
LeBron achieved the milestone in the first quarter Tuesday

Here are the full lineups for the 2018 NBA All-Star Game

We've got all the scores, highlights and news from an NBA Tuesday
Players reportedly challenged Love for leaving Cleveland's game against OKC early

The Cavaliers are reportedly very close to acquiring the 10-year veteran point guard

Kobe Bryant is now an Oscar nominee. Here's how you can watch his short