Wolves' Ricky Rubio: 'I would like to be on a winning team'
Minnesota Timberwolves point guard Ricky Rubio isn't the only Wolves' player wanting to play for a winning team when he becomes a free agent.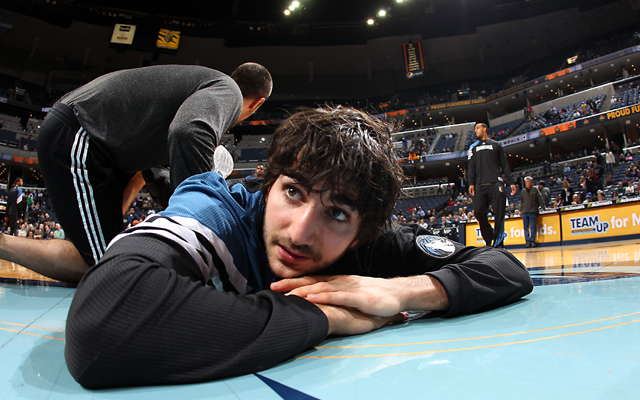 More postseason coverage: Playoff schedule, results | Latest news, notes
The Minnesota Timberwolves have been trying to climb up the standings ladder for 10 years now. With their current core of Kevin Love, Ricky Rubio, and Nikola Pekovic, the team had its most successful season that didn't involve Kevin Garnett in franchise history. But they're about to fall back down that ladder with Love looking to be on his way out sometime in the next year. It would send the Wolves into another rebuilding process.
If that's the case, Rubio might not be far belong Love on his way out. Via Marca.com, Rubio said that when he becomes a free agent he'll likely want to be on a winning team and not a team that still isn't fighting for a ring and winning. 
"The most important thing for me is winning. If I were a free agent my preferences would be a team that had a project with me involved. If that happens when I'm a free agent and I'm not yet on a project that is fighting for a ring and to win ... I would say that I would like to be on a winning team."
This could be troubling for the Wolves if they start finding a mass exodus of talent from the current roster once Love leaves and the team because truly terrible again. While Rubio hasn't been the star point guard many people projected him to be, he only now just completed his first full NBA season after spending his first two years suffering an ACL injury and then returning from it.
The Wolves were atrocious without Rubio on the court last season. The defense was 0.8 points per 100 possessions worse without Rubio but the offense was 11.2 points per 100 possessions worse with him on the bench. Rubio improved his jumper and finishing around the basket, but it still needs a lot of development to make both options acceptable weapons for Rubio and the team he's playing for.
He's eligible for a contract extension this offseason and if he and the Wolves can't agree on one then he'll be a restricted free agent next summer. He'd realistically not be able to leave the Wolves on his own accord until the summer of 2016 if he wanted to leave via free agency without the Wolves being able to match an offer sheet. Or he could try to force a trade if it doesn't look like he can get away from a losing situation. There's plenty of time for it all to work out, but Flip Saunders has his work cut out for him if he wants to keep any of his top players.
Is this rock bottom for the Cavaliers because it sure feels like it is

Wade, as he's done so many times in his career, threw it up to LeBron for the thunderous f...

The Warriors coach added there should be no shame in being picked last since everyone's an...
We've got all the scores, highlights and news from all of Saturday's games

The two teams have reportedly not had any substantial discussions to this point

Oladipo may be getting most of the shine, but this second-year big man has been phenomenal...