Woodson says J.R. Smith has 'to grow up and do the right things'
New York Knicks coach Mike Woodson says that J.R. Smith has "got to grow up" and stop doing things that get him a five-game suspension.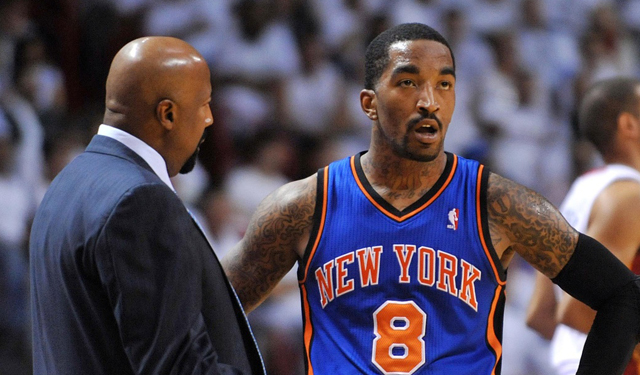 New York Knicks guard and reigning Sixth Man of the Year J.R. Smith is still recovering from a knee injury that could keep him out until late November. On top of that, once he's healed and returns to action, he has to sit out another five games due to a violation of the NBA's substance abuse policy. It's very possible and likely probable that we may not see Smith playing for the Knicks until we're into December, meaning the 54-win team from last season will be without one of its top scoring options.
Coach Mike Woodson isn't pleased with J.R. Smith's decisions that will end up delaying his return by five games, but he's also not abandoning his shooting guard because of the suspension. According to Brian Mahoney of the Associated Press, Woodson just wants Smith to do the right thing and believes his player has to grow up to continue to do the right things for himself and his teammates.
Woodson said he was disappointed in Smith's actions, but would continue to support him.

"I'm not going to throw him out to the pasture," Woodson said. "My job is to coach him and make sure something like what happened doesn't happen again. That's what we do as coaches, and I expect his teammates to show him love. But at the end of the day he's got to do the right thing by J.R. and his teammates, and me as a coach and this organization and the fans that support him. I mean, that's what it's all about.

"He's got to grow up and do the right things."
Considering the Knicks invested nearly $18 million (over three years) in the 2013 Sixth Man of the year, it would behoove everybody if Smith was able to avoid mistakes like this that end up costing him and his teammates. Even with the bad shots and the antics on the court that keep some fans and pundits from buying into his game, Smith's ability to score the ball and put pressure on the opposing defenses from 30 feet out is something the Knicks benefit from greatly.
Once Smith returns to the Knicks and serves his suspension, he'll be able to put this stuff behind him for good and focus on helping the Knicks climb up the standings in the Eastern Conference and continue the trash talking with Paul Pierce, Jason Terry, and the rest of the Brooklyn Nets as they fight for the right to run New York City. 
Here's how to watch Team Stephen vs. Team LeBron in the 2018 NBA All-Star Game

Jimmy Butler is resting during the All-Star Game and that's kind of weird

The 2018 NBA All-Star Game introductions were just too much for Twitter to handle
Cousins is out for the season with a torn Achilles tendon

Twitter roasted Fergie's rendition of the national anthem, and even Draymond couldn't contain...

LeBron James, who fell two assists shy of a triple-double, was named All-Star Game MVP