Young Guns: 10 breakout wing candidates for 2013-2014
Jimmy Butler, Kawhi Leonard, Jeff Taylor and more on this list of players who could take big steps forward in 2013-2014.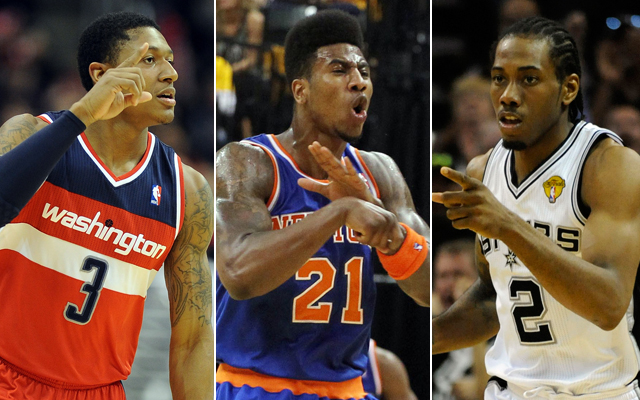 The "3 and D" player is all the rage in the NBA right now. The reason? A combination of evolving athleticism for guards and small forwards, and the fact that nailing corner 3s and deterring perimeter penetration are two sure-fire ingredients in succeeding in a modern NBA possession. Throw in the fact that without shot-creation-off-the-dribble tendencies these players tend to be cost efficient, and you have a flood of interest in these kinds of players.
But some players go one step beyond that. Able to make the most of opportunities given, they then learn to make a few opportunities on their own.
Who are the young wings who could make a real name for themselves with the basketball-watching-public? Here's a brief list of candidates in line for breakout years. Bear in mind that "breakout" means different thing for different players. Kawhi Leonard is looking to become a star, while Jeff Taylor just wants floor time. But these are players, 25 and younger, who could change their career trajectories.
Jimmy Butler, SG, Chicago Bulls: Usually a 3-and-D candidate in his third season is missing either the 3 or the D, but in Butler's case, he has both. He's a tough, physical defender in man situations, able to body big small forwards and get right up underneath explosive wings to pester them. He's also a superb help defender, aware of passing lanes and how to attack angles. Stunningly, he's also a terrific spot-up shooter, shooting 38 percent last season from three in only his second season.
The Bulls are loaded but there continue to be questions about if they have enough firepower on offense. Butler can answer those questions without sacrificing Chicago's defensive tenacity.
Kawhi Leonard, SF, San Antonio Spurs: Leonard's coming out party on the national stage was a pretty big one: the NBA Finals. But putting someone on the map requires more than a handful of incredible performances. (Jeremy Lin is the exception here.)
But, seriously, did you see Leonard's rebounding work in The Finals?
Gregg Popovich doesn't hype anything or anyone. He puts everything in tepid terms, dismisses any attempt at promotion and generally answers everything about Tim Duncan, arguably a top-five player of all time with nothing more than a wry comments and a smile.
And yet Pop talks about Leonard like he's Don King. He's upping his reputation and has said very plainly that Leonard will be a star in the mold of Tony Parker, Manu Ginobili, and Duncan. To jump there this season, Leonard needs to take over more of the perimeter defensive assignment and work on his ability to create his own shot. He doesn't need much of it, the modern star can be great just by nailing corner threes and making great cuts.
But he does need to add a few things use when Duncan or Parker is resting. Ginobili doesn't have it anymore. Leonard was a sweet bonus the past two years. Now he's expected to legitimately carry part of the load.
Nicolas Batum, SF, Portland Trail Blazers: Superb at times and kind of absent others -- he was a major plus overall last season. Batum was rising in prominence just as the floor gave out beneath the Blazers in the late 2000s.
But he's only 24 and with the Blazers loaded up for a playoff run, Batum can be a major figure on a dangerous team. He suffered a wrist injury last year and if he can stay healthy, he could get back to what he did in February, scoring 12-5-5 with a 44-42-85 shooting split line.
He's long, athletic, versatile and a playmaker. That last part may be where he needs to do the most and getting his assist rate up to near 7 per game would help quite a bit. He's got weapons to throw to now. Batum doesn't need to sparkle, he just needs to tie the room together like Lebowski's rug.
Gordon Hayward, SF, Utah Jazz: Great candidate for "This guy's having a monster year for a bad team" status. Hayward needs to be a better passer on a team with poor weapons and needs to develop his all-around game. Hayward is just barely too good for 3 and D status and not quite good enough for bonafide star status. That's a tough spot to land in.
Can you win a championship with him as your best player? No. Second-best? Probably not. But third best? That's here he needs to go, and he has the skills to get there. The kid is super athletic and makes plays. He jumps on opportunities and yet plays within himself. That's why figuring out where to improve is hard to put words to for him. But he's going to have the opportunity to explore that work this year.
Klay Thompson, SG/SF, Golden State Warriors: Do you know what happened to most of Danilo Gallinari's defensive numbers last season? They improved substantially to extremely high figures before his injury. Why? Playing next to Andre Iguodala meant that Gallinari never had to take the toughest defensive assignment, turning him from an above-average defender faced with the toughest challenges to a great defender locking down secondary perimeter weapons.
Thompson is set to benefit much in the same way, except that he's also a better perimeter shooter than Gallinari. Igoudala's drive-and-kick abilities will draw attention and set him up well, and with the Warriors set to become the new trendy team in the league as they were in the playoffs, Thompson will get a lot of attention. Thompson's weaknesses will be hidden on this Warriors team, and his strengths accentuated. Big year for the 23-year-old.
Jeff Taylor, SF, Charlotte Bobcats: I know what you're asking. "Who?" Taylor was a 20-minutes-per-game player last season for one of the worst teams in the league, both last year and of all time. He shot 43-34-73 last year with nothing in the way of spectacular advanced stats.
But this guy can play. The Swedish-born wing out of Vanderbilt is a tough, physical defender with great athleticism. He has a nose for the ball and great size (6-foot-7, 225 pounds) for his position. He won't be a name average fans know next year, but he's going to make for a player the Cats will get trade calls about come February.
Quincy Pondexter, SF, Memphis Grizzlies: It wasn't hard to stand out as a shooter for the Grizzlies in the playoffs last season, especially since Pondexter was one of only three Memphis players capable of making a jump shot. But he is the best small forward on a Finals contender.
Pondexter has shown good defensive principles and understands what a good shot is. He focuses on corner threes and attacking the glass. He was the fill-in after the Rudy Gay trade when Tayshaun Prince was unable to make an impact. But Pondexter still has the potential to be a difference-maker if he can keep stretching the floor for a team whose offensive imprint is the size of a tea kettle.
Bradley Beal, SG, Washington Wizards: Kid can shoot. John Wall can pass. Beal's numbers once Wall got back indicate the kid could be an absolute monster with second-year improvements. If the Wizards make any noise, expect Beal to be start of the amplification.
Dion Waiters, SG/SF, Cleveland Cavaliers: There has been little to any sign that Waiters has developed the skills I thought he needed to (working off-ball, spot-up shooting, playing within himself), but there is every sign that he's stronger, faster, and more confident with his shot-creating abilities.
Waiters can be a terrific offensive weapon and a tremendous defender. Finding the balance for his ball-dominant tendencies alongside Kyrie Irving and Jarrett Jack will be key.
Iman Shumpert, SG, New York Knicks: Shoots well from the corner and defends like the dickens. If Mike Woodson would just start him, Shumpert can be a major difference-maker for a contending team.
The Rockets beat the Warriors 116-108 on Saturday night

The Cavaliers gave up 148 points in their loss Saturday afternoon to the Thunder

Blatt made the comment before coaching in the All-Star Game in Turkey
We've got all the scores, highlights and news from all of Sunday's games

Is this rock bottom for the Cavaliers because it sure feels like it is

Wade, as he's done so many times in his career, threw it up to LeBron for the thunderous f...