Young Guns: 13 breakout power forward candidates
Can Serge Ibaka become a star? Can Thomas Robinson find a home? Is Anthony Davis ahead of schedule? We look at the traditional and stretch fours alike under 25.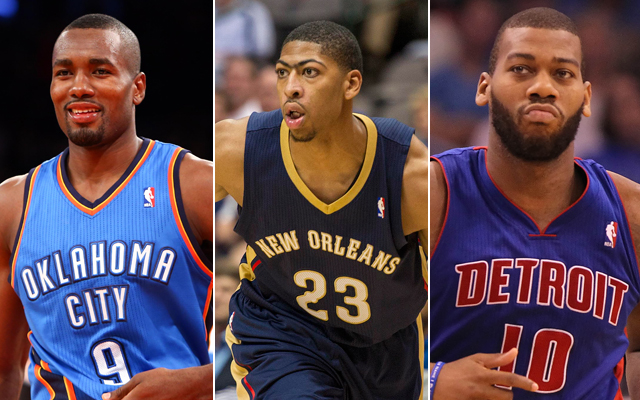 Power forward is an evolving position in the NBA. The traditional model is being phased out, while the stretch four is all the rage. Still, the best players at the position represent some mix of range and inside size. And it's become an incredibly important position, both to stretch the floor and create spacing for the offense. 
Who are the young players who could come out of the shadows and make a real name for themselves with the basketball-watching-public at the power forward spot? Here's a brief list of candidates for power forwards to have breakout years. Bear in mind that "breakout" means different thing for different players. Serge Ibaka is looking to become a star, while Thomas Robinson just wants floor time. But these are players who could change their career trajectories this season.
(Note: Age cutoff for this post is 25 years old.)
Serge Ibaka, age 24, Oklahoma City Thunder: I've gone 360 on Ibaka. In 2010, when I saw the Thunder coming together as a legitimate playoff contender, I was huge on him. I shouted to the heavens about how good he was, under the radar. Then the world found out about him and he started getting Defensive Player of the Year votes and I went all hipster on him. "He was better before he was popular." But while he has been defensively overrated on account of his block rate, he's also a superb defender. But the real improvement has been on the offensive end. 
Last season, without James Harden, was Ibaka learning about what it's like to be the third option. It's not dissimilar to how Paul George excelled in 2012, before his 2013 season put him on the NBA map. I expect the same from Ibaka, who has learned to stretch the floor all the way to the perimeter, and has an evolving skillset which could legitimately boost the Thunder to title contention, ruining the narrative about the Harden trade being a fatal mistake forever. He doesn't need to improve in any focused area, he just needs to continue his natural improvement, and Ibaka's not going to be a bit player, but a legitimate star in this league. 
Ryan Anderson, age 25, New Orleans Pelicans: Anderson enters his sixth NBA season, and yet so few know who he is. His play style is not distinctive; he doesn't dominate in the post or explode to the rim from the outside. Instead, he's the rare modern NBA forward, able to defend and rebound at exceptional rates and stretch the floor all the way to the perimeter. His field goal percentage hides a brutally efficient effective field goal rate (factoring three-pointers which make up the bulk of his shots). He was one of the few bright spots in New Orleans last season, and with their substantal upgrades, could be in line for another push as Sixth Man of the Year. Anderson is a pure shooter who doesn't force you to sacrifice on the defensive end. 
He's in many ways what the league is evolving to, and the Pelicans may provide him a chance to teach the revolution to the casual fan. 
Anthony Davis, age 20, New Orleans Pelicans: Davis is tearing up the preseason. It's preseason, sure, whatever. But on Wednesday night, Davis logged 29 points in 31 minutes, with nine rebounds, and four blocks. Davis' numbers, taken out of context, put him ahead of Damian Lillard last season, the Rookie of the Year. But his impact wasn't as great. Now there's every reason to believe that with another year of development, strength training, and the chance to finally be healthy which he never was in 2012-2013, Davis can be even more of a monster than he was that freshman year at Kentucky.
The Unibrow is coming, and while many of us thought it might take three or four years for him to make a significant leap, there have been whispers and indications that Davis does not intend to wait as long as we thought to start dominating. 
Greg Monroe, age 23, Detroit Pistons: Monroe has quietly been one of the better centers in the league the past three years, stuck on a bad team going nowhere. Now he moves to power forward, which may be a more natural position despite his old-school set of post moves, and finally has a stacked roster around him. Yes, Brandon Jennings and Josh Smith are going to take shots from him. But with his passing ability (he hasn't used nearly enough) and the attention drawn elsewhere, Monroe could be in line to quietly be the underrated part of the Pistons' big-name core. 
Gotta work on that defense, though. 
Ed Davis, age 24, Memphis Grizzlies: Davis took his trade from Toronto hard. Most players would rejoice at the chance to join a serious contender after being stuck on an also-ran, but Davis had made a home in Toronto. He was close to teammates and felt comfortable in the locker room. He chaffed with coach Lionel Hollins last season and was punished for being the prize jewel of the Rudy Gay trade Hollins never wanted management to make. 
Now he has a new coach, and the team has cleared out the reserve power forward ranks to give Davis room. Davis has excellent inside ability, the makings of a decent jumper, and good instincts and effort. He has the confdence of management, and if you talk to his teammates, they rave about him. If he's willing to let the past go, Davis can be a monster for a team badly in need of frontcourt depth. 
Tristan Thompson, age 22, Cleveland Cavaliers: Thompson averaged 12 and nine per game last season on 49 percent shooting. I was stunned when I saw those numbers. This, in his second year as a long-term project on a terrible team with lots of perimeter gunners. Thompson may have his minutes screwed with this year; the Cavs drafted power forward Anthony Bennett and signed free agent center Andrew Bynum. But we all know about Bynum's health, and Thompson will be given the chance to play his way into the rotation. 
If he keeps developing, there's no way the Cavs can keep him off the court, no matter what their roster says. 
Derrick Favors, age 22, Utah Jazz: For years, Favors has wanted a team to just commit to him. First in New Jersey, then Utah where he was stuck behind Paul Millsap. Now he has the team's frontcourt all to himself, except for center Enes Kanter, and will be featured prominently. Favors has absurd athleticism, but what's impressed has been his savvy and developing skillset.
At the same time, going from a 23-minute-per-game player expected to clean-up and take advantage of opportunities is wholly different from being expected to be a primary offensive option. His defense is coming along nicely, but teams are going to start scheming for him at both ends of the floor. That's a big adjustment.
The Jazz are expected to be pretty terrible. Favors will determine a lot on that front. 
Patrick Patterson, age 24, Sacramento Kings: You know where Patterson would look awful nice? Stretching the floor as the starting power forward for the Rockets. They got Francisco Garcia, who seems like a quality rotation player for them along with Thomas Robinson who they jettisoned to get Dwight Howard, but I'm just saying, Patterson would fit nicely with this Rockets team. 
Instead, Patterson wound up on the West Coast Wizards, the team where talent goes to wither and die. It's been extremely hard for talent to develop in the messed up situation the Kings have been operating under, but with Mike Malone and Vivek Ranadive (along with new GM Pete D'Alessandro), Patterson has a fighting chance now. He could also wind up moved by the end of the year. 
But keep in mind he shot 39 percent from three last season. He needs to get his rebound rate up, but not by much, but overall, Patterson is the kind of new stretch four you want on your team. If the Kings can find any traction of success, Patterson could benefit in a big way.
Derrick Williams, 22, Minnesota Timberwolves: Williams has lost a huge amount of weigh this offseason and appears to be headed more towards a small forward spot, but he'll also likely spend some time at the four in smallball lineups. 
Williams has slowly showed a lot of what you want to see. The thing with Williams is that he's never been bad, per say, he's just never shown enough to have a lot of emphasis put on him on a team with Kevin Love. Again, for the millionth time, David Kahn should have traded the pick. He brought his 3-point percentage up to 33 percent last season, a pretty healthy jump from the year before, and established chemistry with Ricky Rubio. Williams isn't going to jump to being an All-Star, but he could be a difference maker for Minnesota. 
Tobias Harris, age 21, Orlando Magic: Harris was randomly buried in Milwaukee before being sent to Orlando in the J.J. Redick trade. Then, kaboom. Harris averaged 17 points and nine rebounds with a 17 PER in 27 games for the Magic and looked like a star in the making. He's an effortless scorer with muscle who should only improve in the essentials. Orlando's not going anywhere big this season, but there will be more talent to share the load and open up things for Harris this season. Another big season and he'll be an established name in basketball circles at least. 
John Henson, age 22, Milwaukee Bucks: Henson showed a lot of good things for the Bucks last season and figures to play more in their gameplan this season. He has a surprisingly good mid-range jumper to stretch the floor, ridiculous length, and good basketball IQ. He had some health concerns the first season, but this season should be able to build himself into an established frontcourt player alongside Larry Sanders. 
Terrence Jones, age 21, Houston Rockets: Despite Jones' offseason trouble, he's the most likely candidate to take over the starting power forward spot next to Dwight Howard. Omer Asik will likely be used off the bench, Donatas Motiejunas is up and down, and Greg Smith has been dealing with injury. Jones can hit from the outside better than expected, and can attack the rim as well. If he improves as a help defender, he could establish himself as the stable option at an unstable position for Houston the last few seasons. 
Thomas Robinson, age 22, Portland Trail Blazers: Robinson is mad. So mad he was ejected from a preseason game Wednesday night. He's playing with a huge pick on his shoulder after being a top-five pick traded twice inside of a year. He struggled in Sacramento, was sent to Houston and it was supposed to be a new start for him. But he couldn't crack the rotation there, either. Then Houston cleared the decks to get Dwight, sending Robinson to Portland for nothing. Now Robinson will likely get minutes. But he seems unrefined in areas he was supposed to and limited in the areas he was supposed to be coming into the draft. 
So why is Robinson on this list? Because he's still extremely athletically talented, a big burly pile of muscle, and his fit in Portland is really good. They need depth, he provides it. They need a bruiser, he can focus on it. But he's also the one player on this roster who you start to worry about their career if he flames out for the third time in two years. And God help him if he's traded again. 
Carmelo Anthony is hoping for Kristaps Porzingis to see success on his own

Bill Reiter and Reid Forgrave break down the debuts of Lonzo Ball and OKC's new big 3, plus...

The world's No. 1 sports dad fired back at the Clippers guard
Frank Vogel was the Pacers coach when Paul George suffered a similarly severe leg injury

It was one possession on each end in OKC's opener, and they tell you everything you need to...

Beverley handcuffed Lonzo on the court, and the emotion carried into the locker room