Your LeBron James Decision 2.0 Internet Crazy-Pants power rankings
Seven things (and counting) that are completely nuts about the chase of Decision 2.0.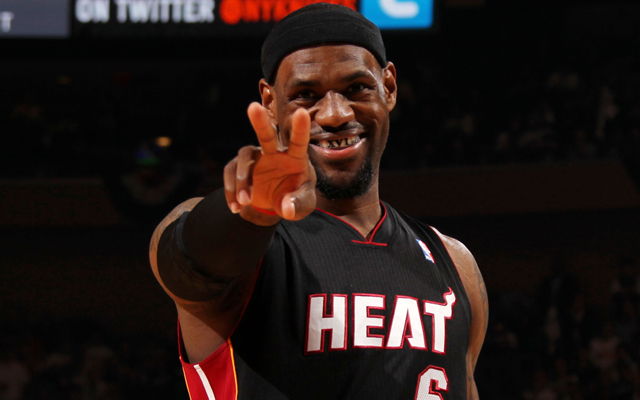 More on LeBron: James' free agency page | Doyel: NBA revolves around LeBron
So... this whole thing has gotten out of hand. 
The Decision 2.0 has taken over the world, or at least the internet, like some sort of hysteria virus. We're not at rioting-in-the-streets, but give it a few days. Sources, reports, speculation, percentage chances, all of these things are tame compared to the "signals' being spread on the streets of Miami and Cleveland. Things were tense but James was widely expected to return to Miami until Sunday, when word broke that the Cavaliers were back in the hunt.
And once you get Cleveland's passionate, excitable fanbase engaged... there's no coming back. We're in a vortex now of depraved sports desperation. Battles have raged in my Twitter mentions between people arguing about whether or not a plane was the site of a secret meeting between Dan Gilbert and James, about the importance of website colors, of what his dinner with Wade meant.
So what are the craziest things that have gone in in this warped, post-common-sense nightmare? Let's break them down.
1. The Cupcake Shop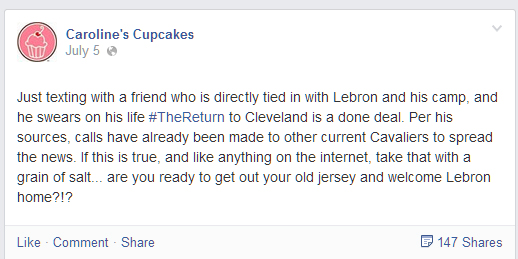 That's from Caroline's Cupcakes, a local bakery on Saturday. It was shared 147 times. 205 people liked it. It was written about on Cleveland.com. To run this down, a cupcake shop is now breaking important news. The phrase "per his souces" appeared on a bakery Facebook page. Where are we? What is happening?
Alternate theory from FriendBear.com: 

I picture a backroom behind the boxes of cupcake wrappers, a secret room with an old-timey ticker tape as it relays secret messages from the Cleveland sports scene. It's here, tucked away from the Ken Bergers and Brian Windhorsts that the real news comes to light and power brokers share this information with a mix of glee and resignation that yes, all of these stories about Cleveland are insanely depressing. 
Again... a cupcake shop. Winner, winner, cupcakes for dinner. 
2. That Time Cavs Fans Started Stalking The FAA
We broke down the story here, but to recap: 
Radio guy says Cavs owner Gilbert is flying to Cleveland. 
Gilbert denies it with a Twitter sneer as he sips his Corona Light (I'm speculating) in his backyard next to the Lilly of the Valley. 
And then:
@FearTheSword pic.twitter.com/DRBwNDqiRt

— Ryan M. Salty (@Ryebread8D) July 6, 2014
That plane is owned by a partner company of Gilbert. So it's "his" plane.
COMMENCE COMPLETE CHAOS. 
It go so bad, Gilbert (or someone) requested the removal of the plane's public tracking: 
Ha ha ha, I saw Dan Gilbert's plane was at Dulles earlier. And now: pic.twitter.com/l8briq1OMo

— Brian Floyd (@BrianMFloyd) July 7, 2014
So someone had to request that a plane NOT be tracked in connection with "secret flights" to meet LeBron James.
I'm not denying the possibility that this was actually a meeting. I'm just confused as to how a person thinks to themselves "Well, let's look at all the flights going in and out of South Florida (not just Miami mind, you but Fort Lauderale executive airport as well) to see if Dan Gilbert is telling the truth or if this is just a smokescreen." How does one arrive at that point in one's life?
3. The Personal Trainer Who Would Be God
From Cleveland.com: 
"Natn'l media is about five steps behind on the whole story," said Joshua Teplitz, in a July 4 Twitter post.

Perhaps. But, um, one question: Who is Joshua Teplitz?

His Twitter profile says, "Personal Trainer, Owner of TPLTZ Fitness. Street wear model."

To Cavs fans, he's become a hoops guru, at least since July 3. That's when Teplitz started laying out his scenario for James' return to the Cavaliers. In tweet after tweet, the Cleveland resident and hoops junkie spelled out the hows and whys.

At first, he received a good deal of mockery, mixed with gloomy cynicism and blind hope – two traits that define the desperate and down-and-out Cleveland sports fan.

"I started slowly, because it's risky coming out with all this info," says Teplitz, via phone. "Especially when you have the national media saying there's no way that Kyrie Irving is even going to sign with Cleveland – let alone LeBron coming back."

Teplitz is referring to comments by ESPN writer Brian Windhorst that Irving wanted out of Cleveland. Instead, Irving agreed to a five-year contract extension as soon as free agency started, on July 1.

"I'm a personal trainer and I'm downtown a lot, with a lot of Browns and Cavs players and I train with someone close to LeBron and his family," he says. "I'm not a reporter, but athletes are more apt to confide in a regular person than someone in the media."
via LeBron's return to Cleveland Cavaliers a done deal, say cupcake maker and fitness trainer as media war pits underdogs vs. ESPN | cleveland.com.
Wait, wait, wait. Personal trainer is one thing 
"Street wear model?' 
And the media are the ridiculous ones? 
Again, this isn't about whether or not James is going back to Cleveland. Many (but not all) indications are that he is at this point. It's about the fact that a personal trainer and "street wear model" is somehow more conneced than not only the media, but every other person on the planet. 
And maybe Teplitz does have the skinny, is in the know, is ahead of the game. But if that's the case? Maybe we should just go ahead and burn down communication of any kind throughout the world and we can all live as we die: alone. 
4. Exotic Car Moving Is A Thing
The movers have already arrived. This thing's a done deal. 
@luisXIII511 @cch1125 that's LeBron's house... And LeBrons car. pic.twitter.com/UtuxtxPbpE

— Alex Musibay (@ANM90) July 9, 2014
Two Exotic Auto Transport Trucks outside of LeBron's home have just left after loading cars. pic.twitter.com/V6fmN8L6kW

— Jorge Sedano (@SedanoESPN) July 9, 2014
So, I mean, that's it, right? Why would he be moving if he wasn't leaving? PANIC IN THE STREETS OF MIAMI WHEREVER THEY'RE NOT SITTING ON A PATIO UNDER A FAN WITH THE WATER SPRAYING THROUGH IT WHILE WEARING FASHIONABLE CLOTHES AND EATING CEVICHE, BY THE WAY HAVE I MENTIONED THAT CEVICHE IS SURPRISINGLY DELICIOUS?
Wait, hold on. From Bleacher Report: 
The moving trucks that were supposedly taking his cars and possessions from his house to Bath, Ohio, for good, even though that summer transport is actually his regular custom.
via Clues and Questions Pile Up as LeBron Leaves Meeting with Heat Without Decision | Bleacher Report.
Oh. Yeah. That's right. LeBron vacations in Akron every single year. 
Again, it's possible he's getting a head start on packing up to move out of Miami (which by the way, why wouldn't he keep the stuff down there and just buy new stuff?). But there's also a perfectly reasonable explanation for this. Additionally: 
Forget what it means. Just think how awesome it would be to be someone who requires Exotic Car Transport services. Multiple trucks, even.

— Andrew Schnitkey (@RockWFNY) July 9, 2014
5. An Owl Predicts Where James Will Sign. No, Really. 
Via WKYC HT: Bleacher Report: 
So the question is: 
Whooo are you? Whoo? Whoo? Whoo? Whoo?
6. Harry Potter and the Palette of Chaos
A new contender that could siginificantly rise up the charts. Word started to percolate over the weekend that James could announce his decision on his website, LeBronJames.com. (That's his name, if you couldn't figure it out.)
And so on Thursday morning: 
Web developer friend's take on the http://t.co/dXsyYmTPNh stuff: pic.twitter.com/3d8UPEXrTj

— Matt Borcas (@mattborcas) July 10, 2014
Regrettably:
So, we sat here and tried to find this code hidden in LeBron's site with a dev here, couldn't find it. Anyone else actually seen it?

— Chris Littmann (@chrislittmann) July 10, 2014
So maybe you have to have the right browser or something. I run into that problem all the time. Or maybe... he's outside the Matrix. LeBron is the One.
7. The Great Mike Miller Instagram Easter Egg
So that's James' Cavaliers jersey down there. He was supposedly being recruited by James on Wednesday. 
What does it mean??!!
The answer entirely depends on how much lithium you've been prescribed. Hey, here's one. Why would Mike Miller ever, possibly, under any circumstances, be intentionally dropping hints of what he's going to do, much less what James is going to do? 
8. Savannah James' Instagram Love For Akron Means Something, Anything
That's James' wife, Savannah Brinson James' instagram, before the family departed for their Akron vacation. Now, she grew up in Akron, she loves Akron, she and the kids stayed there the first year James was in Miami. But um, this isn't a sign, unless you're the kind of person who finds religious messages in bread.
10. The Phantom Billboards
Rumors started spreading on Tuesday night about how Nike was putting up billboards all over Cleveland. Or taking some they had up down. Or something. It spread like wildfire. 
And then, you know, people called and that wasn't true, because why would it be. Nike's smart enough not to tip their hand even if James has tipped his to them. 
By the way, anyone else notice that all of these crazy rumors are about Cleveland? You can say that says something about where James is leaning, or about how completely crazy-cakes nutso the people there are about sports. I choose to believe both to be true. 
Sadly, for both the author and the sake of humanity, this page will update. 
It sounds like the Cavaliers are going to be active before the NBA trade deadline on Feb....

We've got all the scores, highlights and news for Friday night

George Hill, who is unhappy in Sacramento, could be a solution to Cleveland's backcourt si...
Shaquille O'Neal and Sir Charles cruise to an easy victory over some hot peppers

If Charlotte indeed moves its star guard, there's going to be more people impacted than just...

Trading Kemba Walker (and dumping salary in the process) may be harder than expected for C...