Zach LaVine approaches surprise point guard role with confidence
Minnesota Timberwolves rookie Zach LaVine is being asked to fill in for the injured Ricky Rubio.
MIAMI -- Prior to making his first start in the NBA, Minnesota Timberwolves' rookie Zach LaVine had logged exactly 12 minutes and 55 seconds of NBA basketball. He was being thrust into the starting point guard role over 12-year veteran Mo Williams, even though the Wolves were on the road on a back-to-back and hadn't had a practice to prepare the 19-year old rookie. It's that kind of lack of preparation or the gravity of being asked to replace the heart and soul of the Wolves in Ricky Rubio that could shake the confidence of any young player.
LaVine's confidence didn't waver one bit.
Much like the growing legacy of guards from the Seattle, Washington area, LaVine has an almost unbreakable belief in himself that is homegrown. It's as much as a Seattle guard tendency as it is something he got from his father, Paul LaVine, who played in the USFL and the NFL in the 1980's.
"Yeah, I guess it is," LaVine answered when asked if his confidence came from his Seattle roots. "I got it from my dad though. My dad was a professional athlete so he instilled that in me. All the greats are really, not to say cocky, but confident. I want to be great, so I guess I have that mindset."
The reason for Flip Saunders starting the 19-year old LaVine over Williams at the point, as Rubio nurses a "significant" ankle sprain that will keep him out indefinitely, is about balance. Saunders wants to limit Williams to around 25 minutes per game, and it's easier to manage that allotment of minutes by bringing him off the bench. The Wolves don't want to run Williams into a wall, physically, as they can't afford to lose another guard with their limited options. Saunders also wants to start LaVine with the other veterans on the team so there's a better balance and pace to LaVine and the team's game.
"I think we're going to play, feel [out his playing time] as Zach gets more comfortable," Saunders said following the loss to the Heat on Saturday. "What he does bring you is he brings you great pace in the game. As he gets more comfortable being able to give you pace and maybe become a decision-maker, his minutes might get extended. We didn't want to give him too much too quick and overload him too much.
The other thing is I wanted him to be with our main guys. I thought that was better than him coming in with the second unit where he maybe had to do too much."
The task of replacing Rubio is much more daunting than you may assume. The Wolves were only five games into the season, but in Rubio's 144 minutes on the floor so far, Minnesota is simply a different team than when the Spanish point guard is on the bench. The Wolves' defensive effort is spearheaded by Rubio's pestering defense at the top. His wingspan, quick feet, and quicker hands allow him to deflect and pressure the ball at all times. With Rubio not in the game, the Wolves' defensive rating drops from 98.7 points per 100 possessions to a sieve-like 105.9.
Offensively, the Wolves are in even worse trouble without Rubio directing Saunders' tailor-made offensive system to maximize Rubio's strengths. They were putting up 110.0 points per 100 possessions with Rubio on the floor, and that drops to an anemic 91.9 with him not in the game. Granted, these are very small sample sizes, but they're also fairly in line with the impact Rubio had on the team last season when they sported one of the least productive bench units of all-time.
They won't ask LaVine to play like Rubio; that wouldn't play to his strengths. What they will ask him to do is take care of the ball, curb his shot tendencies when it comes to making plays, and push the pace of the game for the Wolves. They believe they can utilize his ability to push the ball up the floor and make plays with his insane athletic ability. 
"You know, I'm someone that likes having the game fast," LaVine said following Rubio's injury and his eight-minute stint in Orlando. "That's my type of play. My main thing was to go in there and just try to be a point guard. My first mentality is to score the ball, so I just tried to play more of the point guard role. Go out there and have coach tell me what to do. Just run the team."
The onus of the Wolves trying to be successful doesn't fall completely on LaVine. Saunders will have to adjust what the team does on offense and hope the veterans playing alongside LaVine will take more of the playmaking responsibilities. They have a match-up advantage in the post most nights with Nikola Pekovic. Thaddeus Young has been a very effective scorer early on in the season. Kevin Martin is still one of the more efficient shooting guards in the NBA. They have weapons to use, but they need their rookie guard to learn on the fly how to use them and set his teammates up.
"We'll have to simplify things with what we do when he's on the floor," Saunders said. "He does have the ability of one this is he can make a play and just make a play on his athletic ability. We want him to try to stay aggressive. He's going to go through some learning situations. I'm sure my hair will get grey and I'll lose a few more hairs over the course of things.
The biggest thing on him is will he stay aggressive? What you always wonder is when you put a young player in that situation, will they all of a sudden lose their aggressiveness? And I don't think he'll do that."
The aggressiveness shouldn't be a problem for LaVine, whether he's pushing the pace for his teammates or looking to score. That's his style of play -- something he didn't necessarily get to showcase at the point guard position in his year at UCLA when he was asked to be a scorer. But they need more than an aggressive player; they need someone who produces the proper balance between scoring and playmaking. That's something LaVine has to still prove as a rookie moving forward.
"Every time you step on the floor, you want to try to prove yourself," LaVine said. "I'm someone that's a very confident person. I want to go out there and prove myself every time I step on the floor."
For the next four-to-eight weeks while Rubio's ankle heals, he can.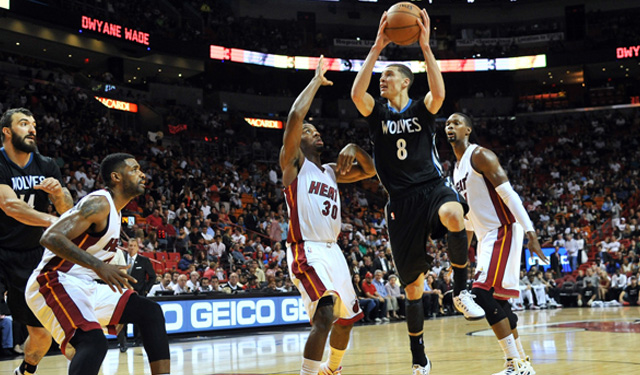 Kris Dunn somehow took a chunk of the Bulls court out with his teeth, but didn't lose any in...

The fallout from the Rockets-Clippers tussle continues; no Clippers were disciplined

DH12 is picked for free throws after a teammate gets ejected. He makes both, and lets Scott...
Bell was injured defending a Robin Lopez dunk and had to be taken off the floor in a wheel...

Trevor Ariza and Gerald Green are reportedly both suspended two games

We've got all the scores, highlights and news from Wednesday night