Zach Randolph 'hurt' by trade rumors
Grizzlies center accepts the business side of basketball but wants to retire in Memphis.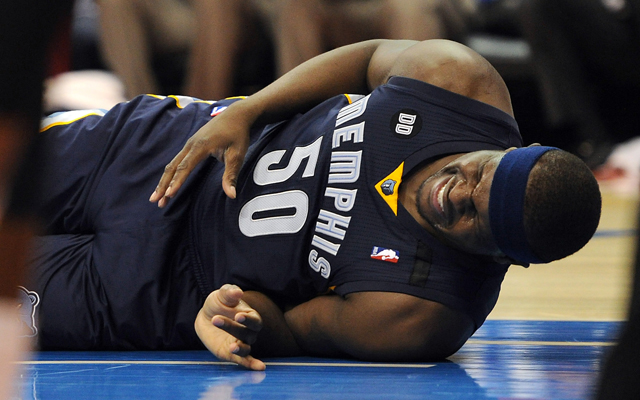 Memphis forward Zach Randolph loves Memphis. He was always considered a locker room issue, and a guy who put up numbers and couldn't win until he got to Memphis. In Memphis, he not only became an All-Star and playoff leader, but he ingratiated himself with the community. He loves Memphis, they love him. He understands their blue collar background, they love his toughness and how he keeps it real. 
With trade rumors swirling this week about the team considering moving him, Randolph's not exactly thrilled with the new front office that is considering moving him. 
"Go figure," Z-Bo said following the Grizzlies shootaround at New Orleans Arena on Friday. "Memphis is a place that I've come to love and call home and it's where I would definitely like to retire. I haven't made any secret of that. Everybody out there knows how I feel.

"I look at it like this: I understand it's a business. I really do understand that. This is a small market team and money plays a factor. I understand all that. It's different now. I don't know if it's just changes in (salary cap) rules or just a change in the way of the world. Like I said, it's a business.

"But yeah, it bothers me. It hurts a little bit. I can't deny that. But it goes to show you that there ain't no loyalty in this game. It seems like you only get loyalty in certain organizations. You see it in winning organizations like the Spurs, the Lakers, the Heat.

"The truth is there ain't no loyalty or love, except in certain organizations where they keep players around, value them. Only a very few organizations seem like they want to keep players around to retire there. Hey, everybody gets traded. It's part of the league, part of the life. I've been traded a bunch of times."
via Z-Bo On Trade Rumors: "There Ain't No Loyalty Or Love" « Hang Time Blog with Sekou Smith | NBA.com.
That's tough. 
What's remarkable is that there was a lot of bad blood about the prior ownership held by Michael Heisley and managed by Chris Wallace. They always seemed to make poor decisions or not want to pay for a contender. But when the Grizzlies built a playoff team, Heisley paid for extensions to Mike Conley, Marc Gasol, and Randolph. 
When the new ownership group came in and installed a more progressive, analytics-focused front office last year, there started to be rumblings of dischord between the front office and coach Lionel Hollins. Hollins was not retained this summer and Dave Joerger was promoted. The results haven't been good, but injuries have also mounted. 
Multiple outlets have reported that neither the Pelicans nor Grizzlies say the report of talks of a trade are accurate. But this isn't the first time Randolph has been mentioned in talks. Randolph is on the books for $18 million this season and has a player option for next season at $16 million which he's a lock to opt in for. 
That's just a lot for a player whose physical style has also meant injuries in the playoffs the past two years, and will be 33 next season. Memphis likely likes the All-Star and wants to retain him, but at that price, they have to consider getting return on value. 
Hopefully no matter what, Randolph can return to the team when he's ready to be done and retire there. It's been the one place he's found a home. Change is difficult but necessary. You just hope that the Grizzlies' front office are able to deliver on some of their plans. Because the city is watching a team it finally bought into start to disintegrate very quickly. 
Keep it right here for all your Friday NBA scores, updates and highlights

The Celtics have won 14 games in a row

Shaq posted a picture of his 'Broken Rim Tree' to Instagram
SportsLine's Mike McClure, a DFS pro with more than $1M in winnings, gives optimal lineup...

Paul may be getting a late start in Houston, but he promises to unlock some key role playe...

Lonzo doesn't want to throw away money for a tech, which isn't a great look for the rookie