BOSTON -- LeBron James walked out of the interview room and down the long, noisy corridor toward the exits, out of another nightmare and into a new day. The clock had struck midnight in the East, and on his season, and maybe on his career with the Cleveland Cavaliers, too.
Forklifts rumbled this way and that, moving seats and pieces of equipment in the bowels of TD Garden, the beep-beep-beep they make when they're backing up seeming to punctuate LeBron's exit from another lost season. Wearing red shoes on his feet, black pants and a white Nike pullover -- the signature Jordan colors -- he wasn't looking back. He was moving ahead, walking into the future with what he called, "My team."
Technically, LeBron's team is the Cavaliers until midnight on June 30, which is 48 days away. Forty-eight, like the minutes in a basketball game. It was more than an hour after his season had ended with a 94-85 loss to the Boston Celtics, a loss that so closely resembled the other three in this astonishing Eastern Conference semifinal series.
And already, when LeBron was talking about "my team," he wasn't talking about the 11 other guys who had lost with him Thursday night in Game 6. He was talking about Team LeBron, which walked in a phalanx out of the Garden, into the night.
With a game plan to execute, as LeBron had so cleverly put it.
"A friend of mine told me today after the game that I guess you have to go through a lot of nightmares before you finally accomplish your dream," LeBron had said in the interview room. "That's what's going on for me as an individual, for myself right now."
Five hundred miles away in Cleveland, a city groaned -- a city already in mourning.
"I'm going to approach this summer with the right mindset," James said. "With me and my team, we're going to figure out what's the best possibility for me. I love the city of Cleveland of course -- the city and the fans. It was a disappointing season to say the least, but at the same time we had a great time together. So we'll see what happens."
Wherever James is going, at least he didn't go out with a whimper, the way he did in Game 5 at home, when his injured elbow and Nike-only-knows what else caused him to be a spectator as the Cavs' championship aspirations were flushed down the toilet in a 32-point loss. True to his all-around gifts, James went out with a triple-double -- 27 points, 19 rebounds and 10 assists. He missed 13 of his 21 field-goal attempts, though -- still something wrong, something he won't admit -- and almost made it a quadruple-double with nine turnovers.
The only sign of the breathtaking force that James can be came with back-to-back 3-pointers that made it 78-74 Celtics with 9:34 to play. Back-to-back treys, and the building gasped, and the Celtics called timeout. But there No. 23 remained, stuck on 23 points for more than six minutes as the season slipped away.
"I had opportunities to do things that I wanted to do," James said, "and it just didn't fall for me."
Earlier, Celtics coach Doc Rivers stood in the hallway beneath the stands and emitted the sigh of all sighs, feeling fortunate to have dodged the freight train he had felt coming. Rivers had looked on with horror as James was ridiculed, criticized, challenged and turned upside down over the previous two days. This 2010 firestorm, a controversy LeBron himself created and never tried to tamp down, along with his passive performance in Game 5, was going to create a time bomb in Game 6. Rivers just knew it.
"My wife calls me this morning yelling, 'What the hell's going on? They're just making this guy mad,' " Rivers recalled. " 'It's gonna be a volcano eruption tonight. Stop it.' I said, 'It's too late. It can't be reversed.' I was really concerned about our team because everyone was so concerned about the 'after,' nobody was talking about the actual game. Everybody was talking about, 'What if we win, what if Cleveland wins, what happens with LeBron?' And I was just very concerned that we were going to start focusing on the 'after' and you've got to win the game."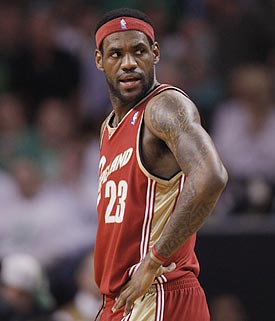 In the frenzy leading up to Game 6, it had been open season on LeBron. He had searched for the words to explain an epic playoff failure, yet failed even to do that. He feigned ignorance of the notion that basketball reputations are built in the playoffs, and you wondered if it had finally hit him as he walked out of another dismal defeat Thursday night. One thing he did right this time -- he shook hands, avoiding the embarrassment of last year's snub of the Magic in Orlando. But with his seventh season over, James stands 0-4 in postseason elimination games on the road.
He was Jordan losing to the Pistons again Thursday night, except that by his seventh season, Jordan had his first title.
"I thought it was madness what happened to him over the last 48 hours," Rivers said. "People don't realize how good he is. And he's human. He had a bad game the other night. Tonight wasn't one, I can tell you that. I personally hope everybody stays, but I don't know. I think that's what makes it so intriguing. I think we'll be talking about this until July 1. He's a great kid, he's everything you want. And if someone else gets him, they're the luckiest team in the league."
One aspect of the LeBron hysteria that fed into this game, and spilled into it, made Rivers laugh. It was a first for the Boston Garden, for any version of it -- a "New York Knicks!" chant every time LeBron went to the free-throw line. Somewhere, Red Auerbach choked on his cigar smoke. Rivers usually tunes out the crowd noise, but this was a chant no one could miss. He turned to associate head coach Tom Thibodeau, the defensive guru and former Knicks assistant who had turned James into a mortal in this series, and said, "Well, this is freakin' strange."
"It's funny, I never hear anything," Rivers said. "I didn't hear the MVP chants [for Rajon Rondo] the other night. But I actually heard that. That was funny. ... Boston fans are pretty smart."
Not as smart as Boston coaches were in this series. Rivers, Thibodeau and their staff orchestrated an evisceration of the team with the best record and best player in the league. They pulled it off by not only exploiting every weakness, but by focusing especially on the ones that would cause chaos in the Cavs' huddle and locker room.
The plan was so good, it kept working even after the series was over. After repeatedly praising the Celtics' game plan, James was asked what he thought of the ones put together by his doomed coach, Mike Brown.
"I think we had good game plans going into the game," James said. "I think sometimes we could've made some better adjustments throughout the course of the game. But for the most part, we had good game plans and we tried to go out and execute them. Did it always work? No. Did it work sometimes? Yes."
But that was not the game plan on James' mind as he answered the final question of the night, at the end of what might have been his last postgame news conference as a Cav.
"First of all, I want to win," James said. "That's my only thing; that's my only concern. I've always prided myself on becoming a better basketball individual and then taking that onto the court. It's all about winning for me, and I think the Cavs are committed to doing that. At the same time, I've given myself options to this point. And like I said before, me and my team, we have a game plan that we're going to execute and we'll see where we'll be at."
His team was waiting in the hallway -- friends and marketing people, people from Nike, Wes Wesley and Leon Rose. There they were, LeBron's teammates, with a game plan to execute and 48 days to finalize the details.