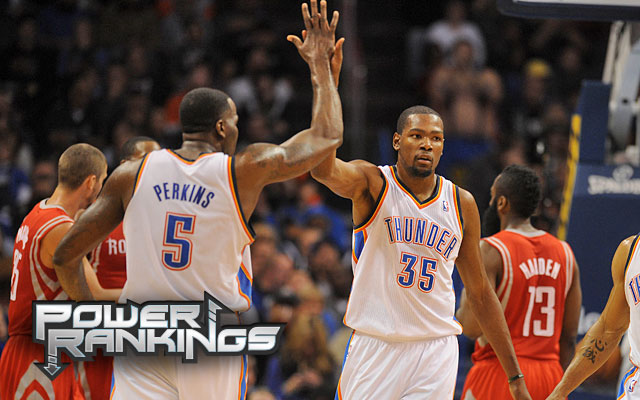 This week marks the end of 2013. Looking back on the year that was in power rankings, you're left with one indelible idea: Change is constant in the NBA. Many teams suffered wild swings this year.
The Wizards have been the worst team in the league (early 2013), a dangerous team on the verge of making the playoffs (spring 2013), a team on the rise (summer 2013) and now are back in the middle. The Warriors went from "nice team that could be good eventually" (early 2013) to "is this team a title contender?!" (spring 2013) to "Expectations are tough" (winter 2013).
Don't even get me started on the Knicks' or the Nets' rollercoaster years.
As with anything, the best teams are those that are consistent. The Heat and Thunder have appeared in the top five in all but a handful of editions. Along with the Spurs, they remain the class of the league. Of course, you have to be consistently good. What's maybe surprising is that there isn't a consistent bottom feeder. Last season's trash teams have gotten considerably better, just as you should expect the Sixers to be better next year than now.
It's a credit to Oklahoma City that despite Russell Westbrook having missed so much time that it ends the year No. 1. You have to have more than just Kevin Durant to pull that off (though Kevin Durant helps).
The middle, naturally, is filled with the inconsistent teams. And if I were handing out such awards, here's who would win.
Most Consistently Good: Miami Heat
Most Consistently Bad: Sacramento Kings
Most Consistently Inconsistent: Cleveland Cavaliers
Even with all the injuries, the class of the league remains strong, even in a season that's shaping up to be defined by disappointment. Here's to fewer injuries, and more consistency, to all the teams in 2014.
With that, here are this week's power rankings: