2014 NFL mock draft: Bortles rises, Bridgewater drops after pro days
Blake Bortles' pro day goes well, and he goes to the top of this mock draft. Teddy Bridgewater's does not, and he falls, which benefits Johnny Manziel greatly.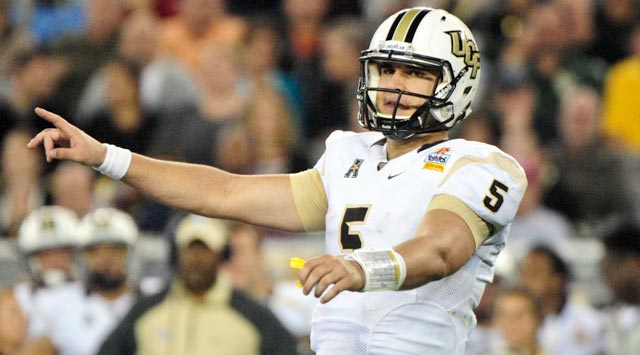 More NFL offseason: Mock Drafts | Prospect Rankings | Pro Days | Top free agents
1. Houston Texans -- Blake Bortles, QB, UCF: He's the prototypical quarterback in this draft and his pro day was just another strong piece to the Texans' decision. I spent some time with him at the Combine and right after his pro day, and he has the football knowledge and personality to be a success in the NFL.
2. Oakland Raiders (Mock trade from St. Louis via Washington) -- Jadeveon Clowney, DE, South Carolina: Oakland moves up and St. Louis drops to No. 5. Clowney is too good to pass up at this point in the draft, and the Raiders will get a veteran quarterback before the draft. The Raiders solved their left tackle situation by signing Donald Penn.
3. Jacksonville Jaguars -- Greg Robinson, OT, Auburn: Some believe Robinson will be the highest-graded player in the draft. Coach Bradley will draft a quarterback in the second round if he goes in this direction.
4. Cleveland Browns -- Johnny Manziel, QB, Texas A&M: The Browns need a quarterback, and after the Bridgewater workout, it's up in the air about which one to take. I wouldn't be surprised to see them take a wide receiver here and a QB later in the round.
5. St. Louis Rams (Mock trade from Oakland) -- Sammy Watkins, WR, Clemson: The Rams could take an offensive tackle here but Watkins is a game-breaking wide receiver and will do more to help Bradford.
6. Atlanta Falcons -- Jake Matthews, OT, Texas A&M: The Falcons need a pass rusher, but first, they finish the project of protecting Matt Ryan. Matthews is a plug-and-play athlete who will play for 12 years.
7. Tampa Bay Buccaneers -- Taylor Lewan, OT, Michigan: Six-foot-eight tackles with athletic ability and a nasty streak are hard to find. Tampa Bay already signed DE Michael Johnson, so no need to draft Khalil Mack. Lewan is facing an off-field issue, but I don't think it will affect his draft status.
8. Minnesota Vikings -- Teddy Bridgewater, QB, Louisville: Two weeks ago, Bridgewater was gone by this point in the mock draft, but his pro day put some doubt in people's minds. He might not be the type Norv Turner likes to coach, and Bridgewater might slide even more by next week.
9. Buffalo Bills -- Khalil Mack, OLB, Buffalo: The local kid who wanted to stay home for college gets to stay home for pro football. The Bills could move Mario Williams over to the left side on passing downs and plug Mack in on the right side. Now they should be able to get after Tom Brady.
10. Detroit Lions -- Darqueze Dennard, CB, Michigan State: The battle for the top cornerback is between Dennard and Justin Gilbert. After talking with Michigan State head coach Mark Dantonio, I was impressed with all the intangibles and leadership qualities Dennard has to offer besides being a top athlete.
11. Tennessee Titans -- Justin Gilbert, CB, Oklahoma State: The Titans need to replace the talent of Alterran Verner, who left in free agency.
12. New York Giants -- Aaron Donald, DT, Pittsburgh: Linval Joseph is gone and so is Justin Tuck. The Giants need a starting defensive tackle and they need more pass rush. Donald can cover both issues. He had 26 sacks from the inside in the past three seasons.
13. St. Louis Rams -- Hasean Clinton-Dix, FS, Alabama: The Rams picked up WR Sammy Watkins earlier and they now get the deep middle safety to complement an already good defense. This safety has the range to cover a lot of the field in the passing game.
14. Chicago Bears -- Timmy Jernigan, DT, Florida State: The Bears lost Henry Melton in free agency and are lacking for a disruptive force inside. His production in college didn't show up in sacks, but he was disruptive. I wonder about his ability to play 60 minutes.
15. Pittsburgh Steelers -- Ra'shede Hageman, DT, Minnesota: Prototypical size for a 3-4 defense like the Steelers. It's so hard to find 6-6 athletes that can play across the front. He will have to learn to play hard all the time if he wants to stay on the field for Pittsburgh.
16. Dallas Cowboys -- Anthony Barr, OLB, UCLA: DeMarcus Ware is gone and Mincey isn't enough of a replacement. Some see Barr as an outside linebacker but he will be big enough to play with his hand on the ground. He had 22 sacks and nine forced fumbles in the past two years.
17. Baltimore Ravens -- Mike Evans, WR, Texas A&M: A big target with a 37-inch vertical is just what Joe Flacco needs, even though Jacoby Jones has returned the team.
18. New York Jets -- Eric Ebron, TE, North Carolina: Ebron is the top tight end in the draft and has all the skills to be a matchup problem for teams. Geno Smith will be better as soon as Ebron is on the field.
19. Miami Dolphins -- Zack Martin, OT, Notre Dame: The Dolphins did sign Brandon Albert to play left tackle but Martin can play anywhere on the line. The Dolphins need versatile linemen to repair all the damage from last year.
20. Arizona Cardinals -- Calvin Pryor, FS, Louisville: The Cardinals need a hard-hitting safety, especially with the way San Francisco and Seattle run the ball.
21. Green Bay Packers -- Ryan Shazier, OLB, Ohio State: Some think Shazier is undersized but he plays bigger than his weight, and he is a sideline-to-sideline type. He can also play the MLB position in nickel and dime defenses. He has pass-rush skills; Dom Capers will look at his 10 sacks and 10 pressures Shazier racked up in the past two years and know how to scheme him into the defense.
22. Philadelphia Eagles -- Stephon Tuitt, DT, Notre Dame: Tuitt is a versatile big man who can play any of the three spots on the Eagles defensive line. He fits better in a 3-4 than a 4-3 but he still had 17 sacks in his last two years in South Bend.
23. Kansas City Chiefs -- Marqise Lee, WR, Southern California: Lee fell a bit in this mock draft but he's too good to pass up for the Chiefs. Lee is not only a big-play receiver but he is a feisty blocker, which will help Jamal Charles.
24. Cincinnati Bengals -- Dee Ford, DE, Auburn: The Bengals lost Michael Johnson in free agency, and Ford brings pass-rush skills. Go watch the Senior Bowl game when Ford put on a clinic in getting to the quarterback.
25. San Diego Chargers -- Louis Nix, DT, Notre Dame: Many believe Nix will go before his teammate Stephon Tuitt, but Nix is a 3-4 nose tackle and has less range. Nix can be a space eater but needs to play the double-teams better. The Chargers let Cam Thomas go in free agency.
26. Cleveland Browns -- Kelvin Benjamin, WR, Florida State: The 6-5 wide receiver can team up with Josh Gordon and give a young QB like Manziel a few big targets.
27. New Orleans -- Kony Ealy, DE, Missouri: Rob Ryan can fit most schemes and the Saints still need more people up front. Ealy had nine sacks last year despite being the man teams sent their protections to week in and week out.
28. Carolina Panthers -- Odell Beckham Jr., WR, LSU: Beckham is a high-character person with speed and the Panthers are desperate for quality young receivers.
29. New England Patriots -- Scott Crichton, DE, Oregon State: The Patriots need help up front. When I watched Crichton's tapes, I noticed he plays with great effort all the time. He can do some of the things Rob Ninkovich does for the Patriots.
30. San Francisco 49ers -- Brandin Cooks, WR, Oregon State: Cooks can fly and he knows how to find the end zone (16 touchdowns in 2013). Put on any tape you want and watch any of his 128 receptions last year.
31. Denver Broncos -- C.J. Mosley, ILB, Alabama: Wesly Woodyard is gone and Mosley can stay on the field in all down-and-distance situations.
32. Seattle Seahawks -- Cyrus Kouandjio, OT, Alabama: The Seahawks lost their right tackle in free agency, and even though they have signed a few veteran guards, a big tackle is needed. Coach Tom Cable will develop this underclassman into a solid player who might someday move to the left side where he played in college.
Chicago's young QB has steadily improved his game and was superb against the Bengals a week...

Cleveland's quarterback has recently improved, but his turnovers have been a big part of the...

Rudolph will be put under the microscope in Mobile by clubs looking for a quarterback early...
Dalton will be too expensive next year so the Bengals pick Baker Mayfield to usher in a new...

Marcell Ateman is a big-bodied 'power forward' who can be a No. 1 wide receiver at the NFL...

With their 2017 season basically over, it's time for Texans fans to turn their attention to...