2014 NFL Mock Draft No. 2: Shaking up with Falcons trading for Clowney
After the combine it's time to get serious about the NFL Draft. With that, we're seeing the Falcons trading up to No. 2 to land pass-rushing stud Jadeveon Clowney.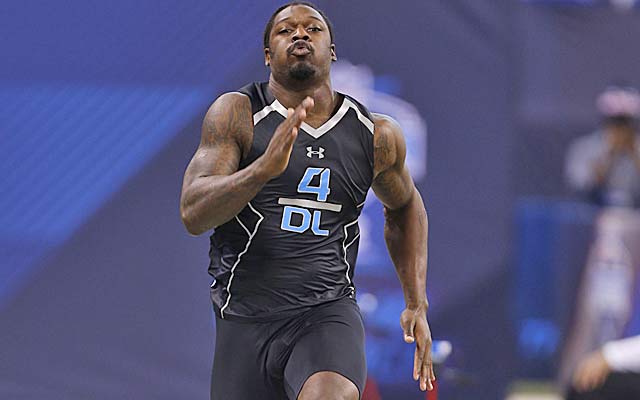 More Draft: NFL Mock Drafts | Prospect Rankings | NFL combine workout results
Let's shake up the second mock draft. With so many more to come, and so much time before the draft, I had some fun with this one and included a blockbuster trade, which I think is possible.
I have the Atlanta Falcons trading up to the second spot with the St. Louis Rams to get South Carolina defensive end Jadeveon Clowney. The Falcons, despite their dip last season, have talent but lack a pure pass rusher. The Rams have edge rushers, so they could trade down and still land the best tackle in the draft in Greg Robinson from Auburn.
Let's not forget Rams general manager Les Snead is a friend and former employee of Falcons general manager Thomas Dimitroff. The compensation would likely be a second­ or third­round pick.
But when you are the Falcons and 13 months ago you were 10 yards from a Super Bowl, it makes sense.
If you are the Rams, in need of line help and with two capable pass­rushing ends, it certainly makes sense.
At least this week. You can find new mock drafts from me every Wednesday up until the draft, so dig into Mock No. 2 and get ready to unleash the ripping gene.
1. Houston Texans -- Blake Bortles , QB, Central Florida: They will be tempted by Jadeveon Clowney, but I still think they go quarterback.
2. Atlanta Falcons (trade with St. Louis Rams ) -- Jadeveon Clowney, DE, South Carolina: The Falcons have been looking for an elite pass rusher for years.
3. Jacksonville Jaguars -- Khalil Mack, OLB, Buffalo: They pass on Teddy Bridgewater and Johnny Manziel to take an elite pass rusher, which they badly need.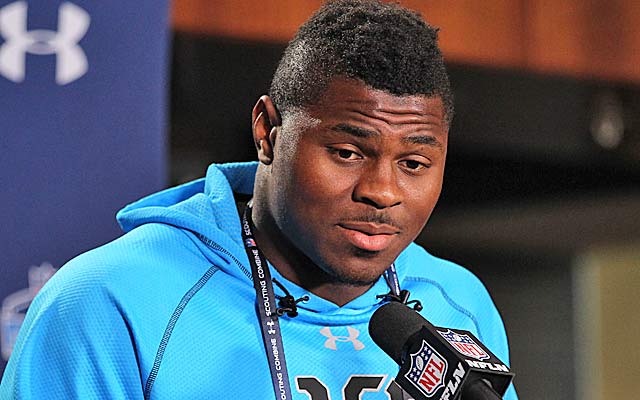 4. Cleveland Browns -- Johnny Manziel, QB, Texas A&M: The change in regime doesn't change the need for a quarterback.
5. Oakland Raiders -- Teddy Bridgewater, QB, Louisville: I think they might trade down, but for now I give them Bridgewater.
6. St. Louis Rams (from Atlanta Falcons) -- Greg Robinson, T, Auburn: They trade down, get extra picks, and get a dominant tackle to fill a need.
7. Tampa Bay Buccaneers -- Sammy Watkins, WR, Clemson: Watkins would give the offense a big­play threat to go with Vincent Jackson.
8. Minnesota Vikings -- C.J. Mosley, LB, Alabama: They have to upgrade the speed on defense. Mosley would do that.
9. Buffalo Bills -- Jake Matthews, T, Texas A&M: They could always move left tackle Cordy Glenn to the right side, although he is solid on the left side and they say it would take a special situation. This might be it.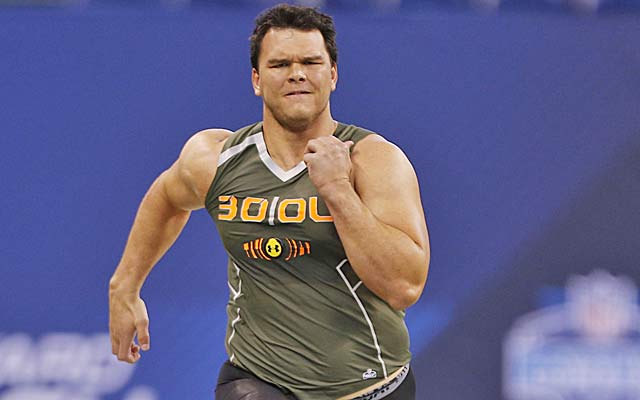 10. Detroit Lions -- Justin Gilbert, CB, Oklahoma State: He has good size and can run. He really impressed at the combine.
11. Tennessee Titans -- Taylor Lewan, T, Michigan: The Titans are considering releasing David Stewart and Michael Roos isn't a kid. Lewan could fill a big need.
12. New York Giants -- Anthony Barr, OLB, UCLA: Have you watched their linebackers play? They need to get more speed.
13. St. Louis Rams -- Mike Evans, WR, Texas A&M: They have fast, smaller guys. They need a bigger receiver to complement them.
14. Chicago Bears -- Ha'sean Clinton­Dix, S, Alabama: The back end of their secondary was horrible, and Major Wright is a free agent.
15. Pittsburgh Steelers -- Darqueze Dennard, CB, Michigan State: Ike Taylor is getting up in the years and has a big cap number. At some point, they have to get better at corner.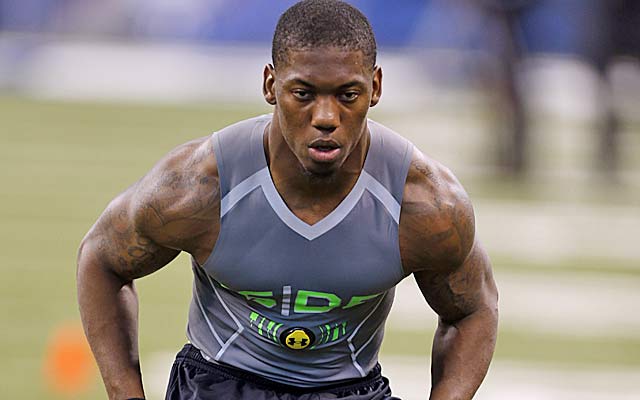 16. Dallas Cowboys -- Tim Jernigan, DT, Florida State: The Cowboys might be losing Jason Hatcher and there isn't much else around. Jernigan can play a lot of roles.
17. Baltimore Ravens -- Marqise Lee, WR, USC: They need more help outside for Joe Flacco. Lee would be a nice complement to Torrey Smith.
18. New York Jets -- Eric Ebron, TE, North Carolina: He has a chance to be a big­time player inside in the passing game. The Jets lack that.
19. Miami Dolphins -- Aaron Donald, DT, Pittsburgh: Randy Starks is a free agent, and he could step in and take over if he leaves. He is coming off an impressive combine.
20. Arizona Cardinals -- Zack Martin, G­T, Notre Dame: The line is a mess, and they will address it in free agency, but they have a lot of work to do to fix it. Martin is versatile.
21. Green Bay Packers -- Louis Nix, DT, Notre Dame: He is a power player who would fit in the middle of their defense, a line that could lose three players.
22. Philadelphia Eagles -- Calvin Pryor, S, Louisville: They had big problems on the back end last season. Pryor would step in and start right away.
23. Kansas City Chiefs -- Odell Beckham Jr., WR, LSU: He had an impressive combine and showed off his speed. The Chiefs need somebody opposite Dwayne Bowe.
24. Cincinnati Bengals -- Kyle Fuller, CB, Virginia Tech: The Bengals have to get better and younger at corner and Fuller has the size and speed.
25. San Diego Chargers -- Jason Verrett, CB, TCU: They have to get better outside and he had a nice combine workout and scouts like his ability to play man. He is a little undersized.
26. Cleveland Browns (From Indianapolis) -- Kelvin Benjamin, WR, Florida State: They get a nice weapon, a bigger one, opposite Josh Gordon. Good luck defending that pass­catching group.
27. New Orleans Saints -- Dee Ford, DE, Auburn: They need help off the edge in the 3­4 and he could provide that. He would be changing positions.
28. Carolina Panthers -- Morgan Moses, T, Virginia: With Jordan Gross retiring, they have to get a left tackle. Moses fills that role.
29. New England Patriots -- Ra'Shede Hageman: He is a big, power end who could also play tackle. He could offer the Patriots a lot of versatility.
30. San Francisco 49ers -- Jimmie Ward, S, Northern Illinois: If they don't re­sign Donte Whitner, they have to get better next to Eric Reid. This would give them two young players back there.
31. Denver Broncos -- Stephon Tuitt, DE, Notre Dame: He got too heavy last season and didn't play as well. But he was really good the year before and they need help on that line.
32. Seattle Seahawks -- Antonio Richardson, T, Tennessee: They will likely lose Breno Giacomini at right tackle. Richardson could step in and start.
Buffalo moves up to the No. 5 pick to land their franchise quarterback

With big performances at the combine, these prospects will shoot up draft boards

The Browns should go QB at No. 1, while linemen are the focus in the second half of Round...
The draft stocks of these prospects will change the most based on their performances at the...

The Arkansas alum is coming off an ankle injury, but his film shows a squeaky clean center...

The trade up for USC's star signal-caller makes it all quarterbacks off the board in the first...