2016 NFL Draft: Safety/CB Sean Davis captains my Better-Than Team
Versatility is so important in today's NFL game, which is why Maryland's Sean Davis is the captain of this year's Better-Than Team, my annual team made up of players I like better than the scouts.
Is Maryland's Sean Davis a corner or a safety?
The way the game is played now in the NFL, does it really matter? Tyrann Mathieu, the Arizona Cardinals' do-everything secondary player, is the prototype for the hybrid players on the back end.
All teams are now looking for that type of player, a guy who can cover outside, play the tight end in the middle, blitz and tackle in the run game.
Davis is that type of player.
He was a safety for most of his Maryland career, but they moved him to corner in 2015 because of need. He did a solid job there, although he did get burnt on a few occasions. I think he looks more safety than corner. The fact that he can play corner only raises his value.
Versatility is so important in today's NFL game, which is why Davis is the captain of this year's Better-Than Team, my annual team made up of players I like better than the scouts.
It's a team I've put together here at CBSSports.com for over a decade, with an eye on mid-round players and below, although I have included some top picks as well. Over the years, some of the captains of this team have been San Francisco 49ers corner/safety Jimmie Ward, Tampa Bay Buccaneers linebacker Lavonte David, New York Giants defensive end Jason Pierre-Paul and former first-round quarterback Christian Ponder -- oops.
The 2015 captain was Atlanta Falcons defensive tackle Grady Jarrett. He played in 15 games as a fifth-round pick, getting two starts as a rookie. He was an effective player inside, even though he's smallish for the position. He is strong and quick and the Falcons are excited about him going forward.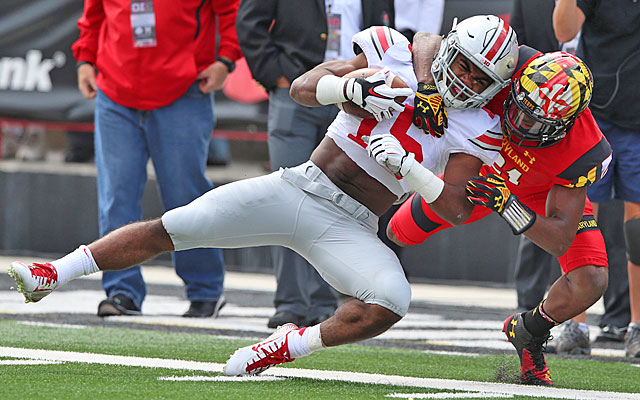 Davis is a player who caught my eye on tape last season as a safety. At 6-1, 205 pounds, he is big and athletic and is a willing tackler. He lacked great corner skills last season, but that was to be expected. Even so, he competed and held up in a lot of tough situations.
He ran a 4.46 40 at the NFL scouting combine, so he has the speed to play outside. Even so, I see him as a long-term starting safety in a league where there is greater value on that spot than in the past.
Safeties who can run have great value. He's a big hitter, so some will see him as a strong safety. I think his coverage skills were below average on the corner -- yes, he was just learning -- but they will be outstanding at safety.
Davis is the type of player who can be molded into a top-level starter -- and maybe even more.
Hybrids are in this season in the NFL. That's why Davis is the captain of this year's Better-Than team.
Now for the rest of the team:
Alex Balducci, DT Oregon
When I watched the tape of DeForest Buckner, who will be a high first-round pick, Balducci kept flashing from his nose position. He is a brawler who reminds me of Kyle Williams of the Bills when he came out of LSU -- only bigger. Balducci was really good against Ohio State two years ago in the National Championship Game. He would be a nice third-day pick for a team.
Bronson Kaufusi, DE, BYU
He is a big end at 6-6, 281 pounds, but he moves for a man his size. He can play outside, but I think he can be a dominant nickel rusher from the inside. Father, Steve, played in the NFL. The only downside is he's older a after going on a two-year Mormon mission earlier in his career.
Shilique Calhoun, DE, Michigan State
There was talk last year that he could be a top-10 pick. Now he's likely a second-rounder. That means there's great value for the team that picks him. He had 10.5 sacks last season, even though he was pretty much a one-dimensional player. With teaching, he could be a nice pass rusher on the next level.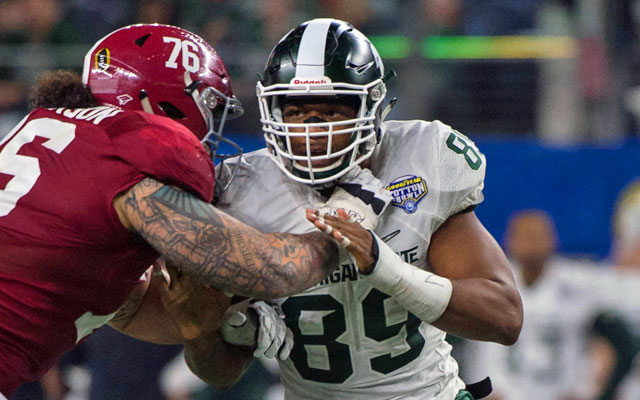 Antonio Morrison, LB, Florida
When I put on his tape, I was surprised he ran as well as he did. He's a three-down linebacker on the next level in my book. He did tear up a knee in college, so that's a concern. But I think he's a third-round pick who will be a long-time starter.
Jonathan Bullard, DT-DE, Florida
He is rated highly by some scouts, but I don't think he will go in the first round. That's why he's on this list. He has that type of talent. He is a big, strong and plays hard. Think Michael Bennett from Seattle.
Joshua Garnett, G, Stanford
He is a mauler who will mix it up inside, especially in the run game. He isn't great in pass protection, but he can improve there. Stanford produces solid NFL lineman, and he will be another good one.
Sterling Shepard, WR, Oklahoma
I loved him when I watched him play on television for the Sooners. But I loved his tape even more. This is a kid who will excel in the slot for any team, but I also think he can go outside and get the job done. His dad played in the NFL, and he will also have a good career.
Deon Bush, S, Miami
There was some talk he could be a Day Two pick heading into this season. But he didn't play as well in 2015. He is a big hitter who often goes for the kill shot, which is a habit he has to change. He would be worth a look in the later rounds. He has the size and his tape showed some lateral speed.
De'Vondre Campbell, OLB, Minnesota
He is 6-5,238 pounds and can play the run and has some pass-rush ability. He is a JUCO transfer, so he's still learning to play the game. With the right coaching, somebody could get a solid starter late in the draft.
Maliek Collins, DT, Nebraska
He had an unreal season in 2014, but tailed off some last season. Even so, he's a quick, athletic defensive tackle who weighs 300 pounds. There's value there. He's been overlooked a bunch in this process.
Dak Prescott, QB, Mississippi State
He has good size and he's a strong prospect with a good arm. He is raw, and it will take time, but he has performed at a high level in a big-time conference. That matters. For a team like the Denver Broncos in the second or third round, he would make a lot of sense.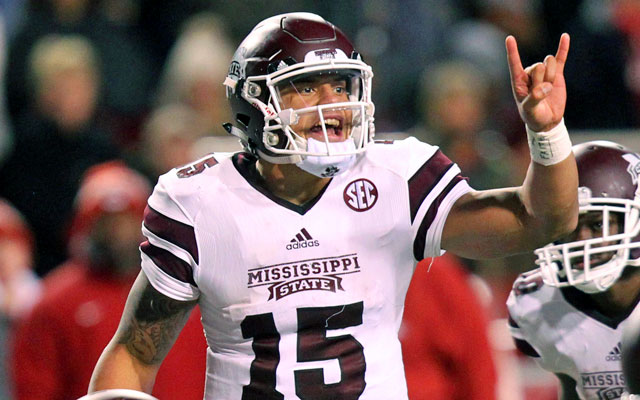 Deion Jones, LB, LSU
He started only one year at LSU playing behind Kwon Alexander and others. But he excelled last season in his one shot to be a full-time starter. Jones can fly. That speed is what makes him stand out. The NFL is a speed game and linebackers who can run have great value.
Paul Perkins, RB, UCLA
I wouldn't take a running back in the first round -- even Ezekiel Elliott. Why? I can get a guy like Perkins in the second or third. Perkins was a productive, elusive player in a good conference. He seemed to glide when he ran. I think he's a perfect NFL back.
D.J. Foster, RB-WR, Arizona State
He played both running back and receiver for the Sun Devils, which makes him valuable on the next level. He isn't a burner on the clock, but he plays faster. He should be able to create a utility niche with some team in the NFL.
Devon Cajuste, WR-TE, Stanford
He was a receiver at Stanford, but I think he can move to tight end and be a productive NFL player. He is 6-4, 234 pounds, but he could add another 10-12 pounds and be a move tight end. He will never be an in-line blocker, but the way the game is played now there is great value in pass-catching tight ends.
Jeff Driskel, QB, Louisiana Tech
He started his career at Florida as a big-time recruit, but ended up playing at Louisiana Tech. He has always had a ton of athletic ability, but he developed as a passer last year at Tech. He would be a nice developmental pick in the later rounds.
Yannick Ngakoue, OLB, Maryland
He is a bit raw, but he has the skills that teams love in edge rushers. He is tough and physical. He beat up Brandon Scherff in 2014 and Scherff was a top-10 pick by the Redskins last year. That matters. Would be great for a team like the Steelers.
B.J. Goodson, LB, Clemson
He is another linebacker who had to wait to get a full-time starting job until last season, although he had six starts in 2014. He did a lot of good things last season and then had a nice workout at the combine, showing off athletic ability that many didn't think he had. He is a thumper in the run game, but he's more athletic than expected. He would be a nice third-round pick.
Max Tuerk, C, USC
He is a tall center at 6-5, which could mean a move to guard. He started at guard, tackle and center at USC. He tore his ACL last season, but if a team is willing to take a chance he is worth a look. There is value in his versatility.
Eric Striker, OLB-S, Oklahoma
Yes, he's little for his position. And he won't be able to rush the passer the same way he did for the Sooners. But there is a place in the NFL for good football players -- and productive ones. He's been that and more.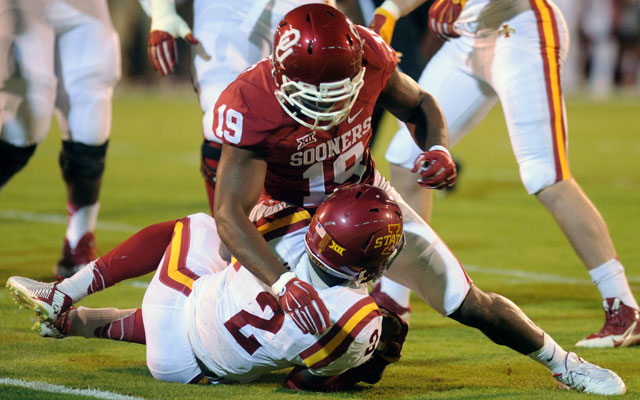 Pick Six Newsletter
Get the day's big stories + fun stuff you love like mock drafts, picks and power rankings.
Please check the opt-in box to acknowledge that you would like to subscribe.
Thanks for signing up!
Keep an eye on your inbox for the latest sports news.
Sorry!
There was an error processing your subscription.
Of course, quarterbacks are highlighted, but a few defenders and a running back also made the...

These late-round picks provided historically awesome value to the teams that drafted them

We loved these players as 2018 prospects, and now they've got the opportunity for a big 20...
It's never to early to look ahead to the 2020 class

Our super-early look at the 2020 NFL Draft features plenty of prospects to put on your watchlist...

These prospects were picked on Day 3 but have the talent and opportunity to surprise in Year...