Mock draft III: Two tackles on top, and watch Barkley's stock rise
Free agency will definitely shuffle the deck. But Pat Kirwan turns some inside chats into his third in a series of mock drafts.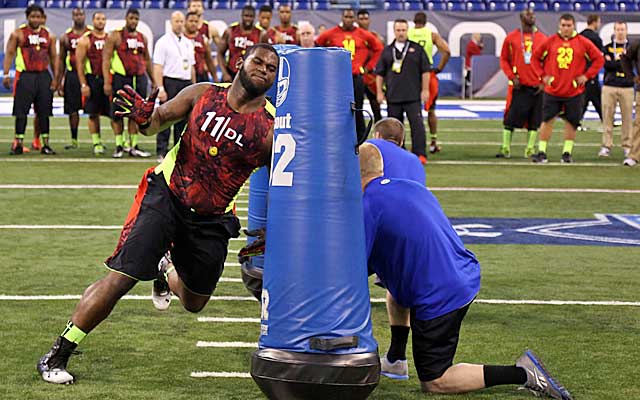 The NFL Competition Committee was in my neck of the woods last week in Naples Fla., and I had a chance to talk with a number of NFL decision makers.
They aren't going to give away their plans at this point -- even if they knew for sure the direction their club is headed -- but they had some interesting things to say about free agency and the draft that helped me put mock draft No. 3 together.
Free agency opens this week and it should turn mock drafts upside down with high-priced signings and late terminations when players refuse pay cuts. The Chiefs released Eric Winston last week and that appears to pave the way for KC to take a left tackle at the top of the draft. Brandon Albert got the franchise tag but said he didn't want to play right tackle. Things could change in Kansas City.
Mike Wallace is a hot name in free agency and should sign quickly. That could push the first-round wide receivers in the draft down a few spots.
I had two NFL head coaches tell me that Georgia linebacker Jarvis Jones, will pass their physical and that should prevent a slide for Jones because of his neck. Another doctor said Sunday that Jones is cleared to play "without restriction." I talked with former Rams running back Steven Jackson this week and he made it clear he wants to be seen as a "bell cow" back. It will be interesting to see if any team wants him for 20-plus touches a game and will pay him accordingly. If a team does that makes the chances of a first-round running back in the draft go down even more.
Here's a look at this week's top 32 picks:
1. Kansas City Chiefs -- Eric Fisher, T, Central Michigan: I had two coaches tell me Fisher was their top tackle, and a reliable source tell me that Fisher over Luke Joeckel for the top spot. No one knows for sure and either man would be a solid pick.
2. Jacksonville Jaguars -- Luke Joeckel, T, Texas A&M: The Jaguars could take a defensive lineman in this spot, but I'll bet the offensive tackles will have higher grades on the draft board. A solid player with a 12-year career.
3. Oakland Raiders -- Sharrif Floyd, DT, Florida: The Raiders should move down in the draft and acquire more picks but it will be hard to find a partner. Without a second-round pick they simply will not satisfy all their needs in the draft. Floyd is an athletic, explosive defensive lineman and Richard Seymour is gone.
4. Philadelphia Eagles -- Dee Milliner, CB, Alabama: Milliner is the best corner in the draft and the Eagles get an instant starter and a chance to get out from under some high-priced defensive backs.
5. Detroit Lions -- Ezekiel Ansah, DE, BYU: The Lions don't have the top three defensive ends from the 2012 season on their roster. With a corner like Milliner gone, the best place to address is defensive end. They may talk about an offensive tackle, but Ansah convinced me at the Senior Bowl he is farther along as a football player than advertised.
6. Cleveland Browns -- Jarvis Jones, OLB, Georgia: If the Browns sign a veteran like Paul Kruger, this pick could change. Jones is a powerful player who would be an instant starter in the new Browns scheme.
7. Arizona Cardinals -- Matt Barkley, QB, USC: The Cardinals need a QB, they lost out on the Alex Smith trade and Barkley is the most NFL ready with more than 1,000 completions and 116 touchdown passes in college. Watch his stock go up after his pro day.
8. Buffalo Bills -- Geno Smith, QB, West Virginia: The Bills can't go into 2013 without a quarterback of the future. Some believe because Doug Marrone coached Ryan Nassib at Syracuse that he is the answer in a later round. Nassib did not have a distinguished Senior Bowl and is too much like Ryan Fitzpatrick. Is there any guarantee Nassib will be there the next time Buffalo picks?
9. New York Jets -- Dion Jordan, OLB, Oregon: The Jets don't have any pass rushers and Jordan has the athletic ability to be the answer. For some Jets fans, this reminds them of the Vernon Gholston pick.
10. Tennessee Titans -- Star Lotulelei, DT, Utah: Star plays sideline to sideline and can line up at multiple spots in the front. Big men who run like him and have his quickness are hard to find.
11. San Diego Chargers -- Lane Johnson, OT, Oklahoma: Johnson is a former QB, DE, TE with outstanding athletic ability. The Chargers struggled to protect Philip Rivers last year and Johnson answers that question from Day 1. Some are concerned about his ability to handle power but first he has to handle Tamba Hali and Von Miller.
12. Miami Dolphins -- Xavier Rhodes, CB, Florida State: The Dolphins paid WR Brian Hartline and are in line to get top veteran wide receiver in free agency. Rhodes replaces Sean Smith, who is free. Even if Smith comes back, the Dolphins need a corner.
13. Tampa Bay Buccaneers -- Desmond Trufant, CB, Washington: Here's a little run on corners. Trufant has outstanding quickness and speed. The Bucs may have wanted Rhodes in this spot but Miami could beat them to the punch.
14. Carolina Panthers -- Sheldon Richardson, DT, Missouri: The Panthers might consider a wide receiver in this spot, or maybe a corner, but the top three are gone. The Panthers defensive front was porous at times last year and a big man in front of Luke Kuechly is a priority.
15. New Orleans Saints -- Barkevious Mingo, OLB, LSU: The Saints are changing to a 3-4 defense and really need outside linebackers with pass-rush skills. Dion Jordan and Jarvis Jones are already off the board.
16. St. Louis Rams -- D.J. Fluker, OT, Alabama: Sam Bradford is a pocket passer and the Rams didn't protect the pocket well in 2012. Some line coaches tell me Fluker is athletic enough to play on the left side.
17. Pittsburgh Steelers -- Kenny Vaccaro, S, Texas: The Steelers just released OLB James Harrison and some believe they'll take an OLB. Too many will be off the board for this spot and Vaccaro has special skills. Dick LeBeau will figure out how to play his safeties in the Steelers' pressure scheme. They also could look seriously at the top two guards at this spot.
18. Dallas Cowboys -- Kawann Short, DT, Purdue: The Cowboys could use a big guard like Chance Warmack here, but are switching a 4-3 defense, and a solid "3 technique" player is critical. Word coming out of Dallas is that Jay Ratliff will be the "Warren Sapp" defensive tackle. If so, then the team could take Warmack.
19. New York Giants -- Tyler Eifert, TE, Notre Dame: The Giants got CB Corey Webster to take a pay cut and Terrell Thomas returns from another injury, so maybe a corner or safety in the next round. Eifert separated from the rest of the tight ends at the combine. He has Rob Gronkowski traits and the Giants have a history with big tight ends.
20. Chicago Bears -- Chance Warmack, Alabama: The Bears will have their fingers crossed that the Cowboys don't take Warmack. If they do, Jonathan Cooper could be the answer. The Bears need to protect Jay Cutler.
21. Cincinnati Bengals -- Bjoern Werner, DE, Florida State: Werner may fall this far because of a pedestrian combine. He is a very good football player and his 18 sacks over the past two seasons are only a part of what he can do. His 25 tackles for loss over the same stretch are a statement about his quickness and ability to key and diagnose.
22. St. Louis Rams -- Cordarrelle Patterson, WR, Tennessee: Even if the Rams re-sign Danny Amendola they need more weapons for Sam Bradford. You are drafting potential with Patterson after one year at Tennessee.
23. Minnesota Vikings, Keenan Allen, WR, California: Percy Harvin is trying to get out of Minnesota and the Vikings should ignore the complaints. They should also prepare for the future and find more weapons for Christian Ponder. Allen caught 205 balls at Cal and has run-after-the-catch skills.
24. Indianapolis Colts -- Datone Jones, DT, UCLA: The Colts' defensive line needs a talent injection and Jones is a versatile player who can help in all down-and-distance situations. He has the bulk to be a "2 Gap" player on early downs and the quickness to rush the passer on third down.
25. Minnesota Vikings, (via Seattle) Tavon Austin, WR, West Virginia: Austin slots in to replace Percy Harvin, who was traded to Seattle for this pick. 
26. Green Bay Packers -- Jonathan Cooper, OL, North Carolina: The Packers need offensive line help and protecting Aaron Rodgers is a priority. A running back like Eddie Lacy would a nice pick but Ted Thompson will find a running back in a later round.
27. Houston Texans -- Alec Ogletree, LB, Georgia: If any of the top three wide receivers were still on the board they might consider one, but without them a linebacker who can play next to Brian Cushing (or take the place of Connor Barwin if he leaves in free agency) is important. Ogletree has some off-field issues but his football grade for this point in the draft is very good.
28. Denver Broncos -- Johnathan Hankins, DT, Ohio State: I could see a linebacker like Kevin Minter in this spot, but big men are hard to find. A big, raw player who needs to be developed. He will help clog up the run from Day One.
29. New England Patriots -- Sylvester Williams, DT, North Carolina: Vince Wilfork has been playing in every down and distance and has demonstrated he can play other spots besides the nose tackle. Williams is a massive tackle with quickness and pursuit. He would be a solid complement to Wilfork. The Patriots might consider CB Jonathan Banks in this spot but his 40 time at the combine is a concern.
30. Atlanta Falcons -- Damontre Moore, DE, Texas A&M: The Falcons need a pass rusher after releasing their leading sack man, John Abraham. Moore ran a 4.95 and only has 12 reps on the bench at the Senior Bowl. Otherwise, he would be long gone in this draft. He has 19 sacks and 32 tackles for a loss in the past two years. The game tape trumps the combine workout.
31. San Francisco 49ers , Jesse Williams, DL, Alabama: The 49ers may get Isaac Sopoga and or Rick Jean-Francois re-signed but they may not. Williams is a powerful defensive lineman who can run 4.9 at 320 pounds. They could consider a guy like John Jenkins from Georgia, but Williams (from Australia) has an attitude like Justin Smith, and that makes him a fit in San Francisco.
32. Baltimore Ravens -- Kevin Minter, LB, LSU: If the Ravens get Dannell Ellerbe re-signed, maybe they can look in a different direction. I have watched enough of Minter to know he is a solid football player who can strike with force whether it's a guard trying to block him or a running back. He plays like a Raven.
Jackson takes over as the No. 1 QB prospect despite being overshadowed as the reigning Heisman...

Davenport has showcased a variety of NFL-caliber pass-rushing talent during his underrated...

The Browns actually match up well -- relatively speaking -- with the 6-3 Jaguars
With Garrett and Chubb, Cleveland will have two tremendous defensive ends for the next dec...

The USC QB is getting hot at the right time for the Trojans, and he looks like a first-round...

All of the country's best QB prospects shined on Saturday, which should revitalize preseason...