Mock draft update: Oregon's Jordan moves up to Eagles at No. 4
Philadelphia added veteran Connor Barwin to its defense. The Eagles further bolstering the pass rush by using the No. 4 pick on Oregon OLB Dion Jordan.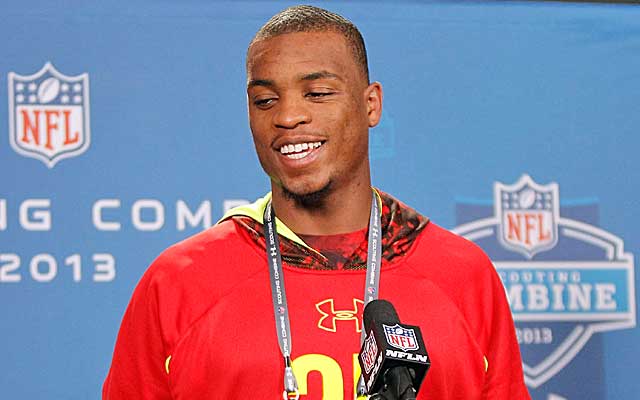 1. Kansas City Chiefs -- Luke Joeckel, T, Texas A&M: The safe pick is to take a tackle. For now, I am sticking with Joeckel.

2. Jacksonville Jaguars -- Ezekiel Ansah, DE, BYU: He is a project, but they don't need to rush. He just needs to be a force in a year or two.

3. Oakland Raiders -- Shariff Floyd, DT, Florida: The inside of their defense is a mess, and this kid is a force.

4. Philadelphia Eagles -- Dion Jordan, OLB, Oregon: Even after signing Connor Barwin, you can never have enough pass rushers.

5. Detroit Lions -- Barkevious Mingo, DE, LSU: They still have a huge hole at defensive end.

6. Cleveland Browns -- Dee Milliner, CB, Alabama: They've addressed the front in free agency, so it's time to get a corner.

7. Arizona Cardinals -- Geno Smith, QB, West Virginia: Drew Stanton's signing won't scare them away if they like the kid enough.

8. Buffalo Bills -- Matt Barkley, QB, USC: There is no quarterback of note on the roster. They have to take one.

9. New York Jets -- Jarvis Jones, OLB, Georgia: At some point, they have to get somebody to attack the quarterback.

10. Tennessee Titans -- Jonathan Cooper, G, North Carolina: The interior of the offensive line got help with Andy Levitre, but Cooper would make it one of the league's best lines.

11. San Diego Chargers -- Eric Fisher, T, Western Michigan: Even after signing King Dunlap, they have a huge hole at left tackle and Fisher would fill it if he lasts this long.

12. Miami Dolphins -- Xavier Rhodes, CB, Florida State: With Sean Smith gone, they have find a quality cover corner in a division with Tom Brady.

13. Tampa Bay Buccaneers -- Star Lotulelei, DT, Utah: They lost Roy Miller, so they can take this kid and pair him inside with Gerald McCoy.

14. Carolina Panthers -- Sheldon Richardson, DT, Missouri: Free agency has done nothing to fix the middle of their defensive line.

15. New Orleans Saints -- Lane Johnson, T, Oklahoma: With Jermon Bushrod gone to the Bears, they have to get a left tackle.

16. St. Louis Rams -- Chance Warmack, G, Alabama: They probably would love Johnson, but if he's gone, they also need help at guard.

17. Pittsburgh Steelers -- Bjoern Werner, OLB, Florida State: With James Harrison gone, they take a college end and move him to linebacker.

18. Dallas Cowboys -- Johnathan Hankins, DT, Ohio State: The middle of their defense needs to be fortified, and Hankins can do it.

19. New York Giants -- Tyler Eifert, TE, Notre Dame: They lost Martellus Bennett to the Bears, so they need a replacement.

20. Chicago Bears -- Arthur Brown, LB, Kansas State: They have a hole at linebacker, and this kid can fill it.

21. Cincinnati Bengals -- Menelik Watson, T, Florida State: They haven't re-signed Andre Smith yet, so we put a replacement in here.

22. St. Louis Rams (From Washington Redskins) -- Tavon Austin, WR, West Virginia: They lost Danny Amendola, so they get a faster version of him.

23. Minnesota Vikings -- Cordarrelle Patterson, WR, Tennessee: Yes, they added Greg Jennings, but they need more.

24. Indianapolis Colts -- Desmond Trufant, CB, Washington: He is a solid cover player who would fill a major need.

25. Minnesota Vikings (From Seattle Seahawks) -- Datone Jones, DE, UCLA: Jared Allen isn't a kid anymore.

26. Green Bay Packers -- Kawann Short, DT, Purdue: They have to get better in the middle of their defense.

27. Houston Texans -- Kenny Vaccaro, S, Texas: With the loss of Glover Quin, they have a big hole in the defense.

28. Denver Broncos -- Jesse Williams, DT, Alabama: The interior of their line needs upgrading and Williams had a great pro day.

29. New England Patriots -- Robert Woods, WR, USC: They still need receiver help outside.

30. Atlanta Falcons -- Damontre Moore, DE, Texas A&M: They have to get an edge rusher.

31. San Francisco 49ers -- Johnthan Banks, CB, Mississippi State: Their corners were exposed some in the playoffs.

32. Baltimore Ravens -- Justin Hunter, WR, Tennessee: Anquan Boldin is gone, so they get a young replacement.
Cleveland's quarterback has recently improved, but his turnovers have been a big part of the...

Rudolph will be put under the microscope in Mobile by clubs looking for a quarterback early...

Dalton will be too expensive next year so the Bengals pick Baker Mayfield to usher in a new...
Marcell Ateman is a big-bodied 'power forward' who can be a No. 1 wide receiver at the NFL...

With their 2017 season basically over, it's time for Texans fans to turn their attention to...

With their 2017 season basically over, it's time for Redskins fans to turn their attention...