Prisco's NFL Mock Draft 4.0: Broncos pull the trigger on Connor Cook
Jared Goff, Carson Wentz and Paxton Lynch will likely be off the board when Broncos pick, so it's got to be Connor Cook, low upside be damned, at No. 31
When the Miami Dolphins and Philadelphia Eagles made a deal that included exchanging first-round picks, it meant it was time for a new mock draft.
Why?
The bosses demanded it and you crave it.
OK, so maybe just the first part.
This is my Mock 4.0 and it takes into account the trade between Miami and Philadelphia and also the free-agent happenings. You will notice I now have four quarterbacks in the first round, with the top three being Jared Goff, Carson Wentz and Paxton Lynch.
The newcomer is Michigan State quarterback Connor Cook. I have him going to the Denver Broncos after they lost Brock Osweiler to the Texans in free agency. They have to get somebody.
There are several other changes from my last mock based on free agency. There's a little over a month to go until the draft, so the changes will keep on coming.
Laremy Tunsil, T, Mississippi: They didn't get a tackle in free agency, but did land a center in Ben Jones. If they take Tunsil, they can really improve their line next year.

Jared Goff, QB, California: Even if they make a deal to get Colin Kaepernick, I can't imagine that would take them out of the quarterback sweepstakes. Goff seems like the guy to me for now.

DeForest Buckner, DE, Oregon: They suffered some hits in free agency on their line, and Brandon Mebane is only a little bit of a help, so they have to get help up front. Buckner is a power player who would fit what they want from their down players.

Jalen Ramsey, S, Florida State: They need a playmaker in the secondary. Ramsey can play both corner and safety, which offers versatility that the Cowboys need.

Myles Jack, MLB, UCLA: They addressed the front and secondary in free agency, but they need speed at linebacker. Jack would bring that and more. He is a three-down player.

Joey Bosa, DE, Ohio State: He would be playing more stand-up in their scheme, but Terrell Suggs made the transition when he came out. Bosa would be a nice addition with Suggs coming off injury.

Carson Wentz, QB, North Dakota State: They don't have an answer at quarterback, so they have to get one. This kid is raw, but talented. He is athletic, so he would fit in Chip Kelly's scheme.

Paxton Lynch, QB, Memphis: Sam Bradford isn't the long-term answer. Chase Daniel isn't either. The word is they are eying a quarterback, which this move up helps. They can take a player who can learn for a year or so.

William Jackson III, CB, Houston: They added a smaller corner in Brent Grimes in free agency, so they can get a taller corner here in Jackson. I think he could also play inside, and the Bucs need help there too.

Darron Lee, LB, Ohio State: They really helped their front with Damon Harrison and Olivier Vernon. And they got a good corner in Janoris Jenkins. But the linebacker spot is still a mess. Lee can fly and they need speed.

A'Shawn Robinson, DT, Alabama: They have issues up front and this is a power player who would really help in the run game. He won't be much of a pass rusher, but he is powerful.

Sheldon Rankins, DT, Louisville: They have to get push inside from their pass rush and Rankins is that type of player. He was impressive at the Senior Bowl.

Ezekiel Elliott, RB, Ohio State: They signed C .J. Anderson to an offer sheet, but the Broncos might match. So I will put a back here until we know for sure. They clearly want help there.

Ronnie Stanley, OT, Notre Dame: If they were able to land him here, they could keep Kelechi Osemele at guard, which is his better spot. They could really be good on the offensive line if that were to happen.

Josh Doctson, WR, TCU: They have to get a threat down the field in the passing game, no matter who starts at quarterback. This is the best receiver in the draft.

Laquon Treadwell, WR, Mississippi: They added Marvin Jones to Golden Tate in free agency, but they need more. Neither one of those guys is a No. 1 receiver. Treadwell looks like Dez Bryant.

Shaq Lawson, DE, Clemson: They took Vic Beasley last year, so now they add his former college teammate. They have to get more from their pass rush, and even with the signing of Derrick Shelby they have to get another body.

Taylor Decker, T, Ohio State: They have issues on their offensive line and this kid could play both tackle and guard. He is a tough, physical player.

Robert Nkemdiche, DE, Mississippi: He has some off-field issues, but that's why he's down here. He has a ton of talent and would be worth the risk in this spot.

Noah Spence, DE, Eastern Kentucky: He has a lot of pass-rush ability and would help the outside pass rush in a big way. He would have to adjust to standing up more, but he is capable.

Vernon Hargreaves, CB, Florida: They have to get better outside in coverage and this is a player who excels in man coverage. He would step in and start right away.

Ryan Kelly, C, Alabama: I know they signed Tony Bergstrom from the Raiders, but Kelly is the best center by far in this draft. Bergstrom might be little more than a backup.

Will Fuller, WR, Notre Dame: They got line help in free agency in Alex Boone, so they can get some speed outside for their passing game. Fuller is one of the fastest in this draft class.

Corey Coleman, WR, Baylor: They lost both Marvin Jones and Mohamed Sanu to free agency. They have to get a threat to go opposite A.J. Green.

Mackenzie Alexander, CB, Clemson: He is projected to go higher than this, but his size might force him to slip some. The Steelers have to get help at corner.

Jack Conklin, OT, Michigan State: He is a self-made player who would really help a line that needs it. Conklin could play guard or tackle.

Reggie Ragland, LB, Alabama: They are moving Clay Matthews back to the outside, so getting a run-thumper inside would make a lot of sense

Eli Apple, CB, Ohio State: They lost Sean Smith to the Raiders, and even with Philip Gaines coming off injury I think they could use another. Apple is a talented player who could be the nickel as a rookie.

Kevin Dodd, DE, Clemson: They have said that fixing the pass rush was a top priority. This is a player who impressed rushing from the left side for the Tigers.

Le'Raven Clark, OT, Texas Tech: They have to get better at the tackle spots, and this kid has a ton of skill. He looks more like a right tackle to me, and the Panthers need help there.

Connor Cook, QB, Michigan State: They are forced to take him here now. Why? Who do they have? What's the plan? Cook might be NFL ready right away. The issue is what's his ceiling.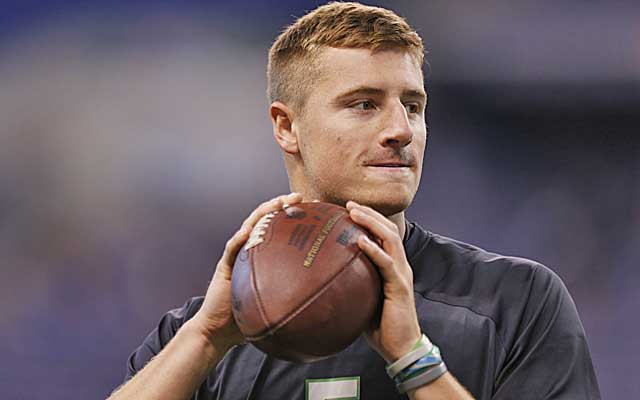 Rudolph will be put under the microscope in Mobile by clubs looking for a quarterback early...

Dalton will be too expensive next year so the Bengals pick Baker Mayfield to usher in a new...

Marcell Ateman is a big-bodied 'power forward' who can be a No. 1 wide receiver at the NFL...
With their 2017 season basically over, it's time for Texans fans to turn their attention to...

With their 2017 season basically over, it's time for Redskins fans to turn their attention...

The Rams and Titans look good nearly two full seasons after the Jared Goff trade. But who 'won'...