That the Rams were desperate enough to give up a ransom to get the first overall pick, and essentially engineer a reverse RG3 trade well before the draft, is no surprise whatsoever.
Because, well, they are absolutely that desperate and no one was buying the Case Keenum talk and the Rams were always going to take a quarterback high as they begin their tenure in Los Angeles, as pointed out weeks ago.
The Titans had been openly marketing the first overall pick for months, and as reported earlier this week, many executives who know rookie general manager Jon Robinson well were banking on him dealing out of the pick. So the fact that these two worlds collided -- even a good two weeks before anyone is on the clock -- is hardly a shocker.
For all the talk about the Eagles and quarterbacks, they were never as desperate for one as the Rams. We'll see if Philadelphia does end up moving up somewhere else in the top 10. Elsewhere, the 49ers are lukewarm on this group of passers for the most part, and the Jets never got deep into talks to move up for a quarterback.
The Rams and Titans were perfect trade partners, and after doing exhaustive work on left tackles above and beyond just Laremy Tunsil, Robinson was plenty comfortable moving down even half a round where he feels like he can find an adequate upgrade on the blindside of young quarterback Marcus Mariota. Michigan State's Jack Conklin could end up being that pick.
So, what does the trade mean? How will it impact and ripple through the top of the first round? Who are the big winners and potential losers here? So glad you asked.
Carson Wentz stands to be the biggest winner overall. Had the Titans stayed at one and taken Tunsil, the Browns would have had their pick of quarterbacks and many people of importance in that organization preferred Cal's Jared Goff to the kid from North Dakota State.
I don't see the Cowboys or Chargers taking a quarterback of the future that high, I continue to hear Chip Kelly is more enamored with trying to resurrect Blaine Gabbert's career than he is with any of the perceived top quarterbacks in this draft, and consider me among those who are far from certain the Eagles are taking a quarterback.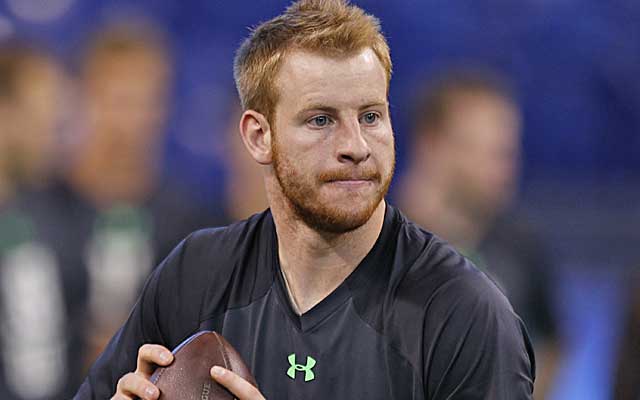 So, prior to this trade, it wasn't all that difficult to concoct a scenario where Wentz maybe was available outside the top 10. However, the Rams, league sources said, are high on Wentz and I would be surprised at this point if he is not their pick. That means we now could well see quarterbacks go first and second overall for the third time since 2012 -- which would mean the real biggest winners in this draft are agents Bruce and Ryan Tollner, who happen to represent both Wentz and Goff.
And if, in fact, Wentz and Goff are the first two players off the board, then Connor Cook and Paxton Lynch, likely the next two quarterbacks to be selected, could benefit as well. The remaining quarterback-needy teams in this scenario picking high in the second round might want to jump back into the first round to leapfrog the Broncos, who currently have Mark Sanchez as their "starting" quarterback and hold the final pick of the first round at 31.
There are plenty of other people high-fiving in other organizations right now as well, with the Titans having pulled off a potential coup. Given all of the needs throughout the Tennessee organization, Robinson deserves kudos for getting a haul that includes two twos and a three this year, and a one and a three next year. If the history of the next 10 or so years holds, the Rams will once again be mediocre at best and thus the Titans could be holding the keys to the 2017 draft as well, and be in line to trade down again if need be as desperate teams try to move up to find their quarterback salvation this time a year from now.
I can assure you the Ravens are doing cartwheels, as their dream scenario is three offensive players going off the board in the top three picks, which would mean this team, so in need of a defensive play maker, is almost certain to have a Joey Bosa or a DeForest Buckner sitting right there for them at pick No. 6.
After struggling with their offensive line for so long, could the Chargers afford to pass on Tunsil in this case? I think not, and they could then move King Dunlap to the right side or whatever, but getting that kind of value here at a critical position of concern would probably be too good to be true.
That would lead me to believe that some combination of Myles Jack, Jalen Ramsey, Bosa and Buckner would account for next three picks in some order, and if the Eagles stand pat and can bag a player they covet, running back Ezekiel Elliott, with the eighth overall pick, there will be plenty of ecstatic people in that war room as well.
As for who stands to lose the most?
Well, Wentz is certainly not a sure thing, and the Rams haven't developed a quarterback since Marc Bulger. There will be loads of pressure to produce as owner Stan Kroenke tries to put a product on the field that will induce people to spend massive amounts of money on PSLs and suite licenses at his new stadium in a few years. It puts even more pressure on the Rams that if they take a quarterback here, after giving up such a premium to do so, that the kid is actually a legitimate winning NFL starter at the least.
And, well, under any scenario in which Goff (or any young quarterback for that matter) ends up in Cleveland, well, I would feel sorry for the kid immediately as that is where careers -- no matter how young -- go to die and where they have systematically lacked anything close to the requisite infrastructure to cultivate a young passer since re-entering the league.
As I wrote weeks ago, I fully understand the plight the Rams have put themselves in, and they had to be willing to do something major to make sure they came away with a quarterback in the first round. But no one stands to lose more than them should this significant gamble backfire.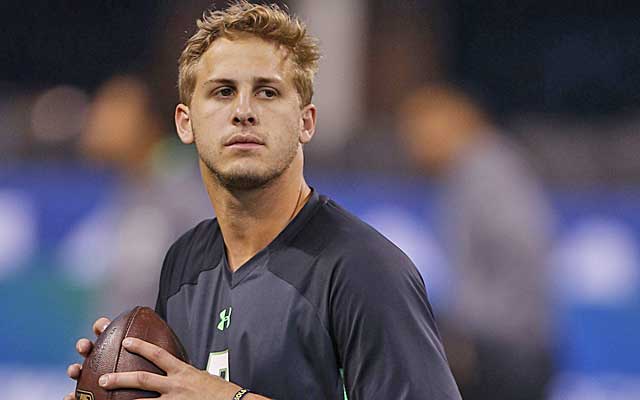 Trading up was always going to make sense, considering their big move to L.A. and the fact that Keenum and Nick Foles are their alleged quarterbacks, though moving up as high as possible would always come with a steep price as well, and, well, ask the Redskins what it felt like to be on their end of the RG3 deal. Swinging and missing here could set the Rams in a deep, deep hole in a Southern California market that has proven to be remarkably fickle in the past.
Kroenke has proven to be patient, at best, and disengaged, at worst, during his time in St. Louis, but surely that must change now that he is building his football palace in Inglewood. Which also means that if this move fails, sweeping changes will be on the horizon throughout the organization. And that ultimately will be the tell-tale sign as to who "won" this swap, and who did not. It's measured in victories and losses, certainly, but in hirings and firings as well.