Andrew Luck says no negotiations with Colts yet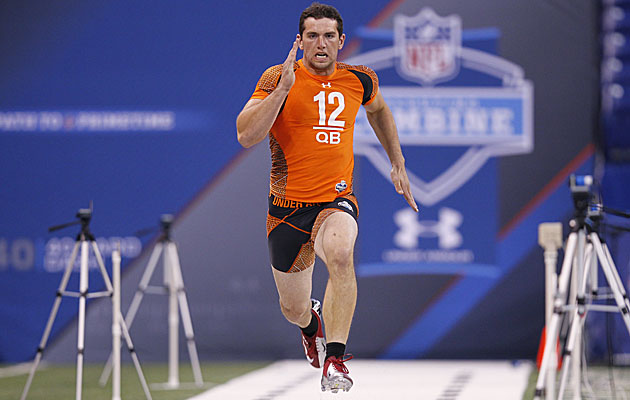 Luck goes runs at the combine. Other than that, no contact from Indy. (Getty Images)
Andrew Luck
is widely expected to be the No. 1 overall pick when the NFL Draft begins April 26, but the former Stanford star said the Indianapolis Colts have not reached out to begin contract negotiations.
"They haven't said those words yet," Luck told
The Dan Patrick Show
on Monday when asked if the Colts have told him he'll be the top pick.
Luck admitted he wants to be the No. 1 pick, but respects the Colts' need to do their due diligence. He hasn't watched much film of
Robert Griffin III
, Baylor's Heisman Trophy winner expected to go second overall to Washington, but understands their careers will inevitably be stacked against each other.
"I'm sure it'll be a classic comparison between the two. In my mind that's driven almost 100 percent by the media," Luck told Patrick. "I've gotten to know Robert pretty good. I'm a big fan of his, and I'll probably always be a big fan. He's a great guy, and I'm sure we'll be compared throughout our careers."
For now, Luck has bigger things on his mind, such as returning to school April 2 to finish two classes before graduation in June ... and what to wear in the Green Room on draft night.
"I have two suits. I'm going to let my mom pick because I have a terrible fashion sense," he said. "I'll give her the benefit of the doubt."
Being on the Stanford campus also has the bonus in that Luck isn't a rock star everywhere he goes.
"I think the great thing about the Stanford community -- the Stanford students -- is they could almost care less about the jock football player," he said. "They have royalty. Clintons have gone here. So many famous people doing great things in their own right that no one really bothers the quarterback too much."
Until April 26 at least.
UPDATE:
Colts general manager Ryan Grigson said he doesn't anticipate opening negotiations with the presumptive pick early.
"We're going to do it the old fashion way and that's not something that's been discussed at this point about how we would go about that," Grigson said Monday. "I think we'll do it like team always have and keep it simple."
Grigson said the Colts will have a private workout with Luck before the draft, but do not have one scheduled with RG3.
"We saw (Griffin III). Circumstances didn't allow us to do anything private with him so we did the usual Pro Day," said Grigson. "We did the best we could with that situation. We do have a private workout that we're scheduling with Andrew in the future, which will be here in the upcoming weeks."