Projecting the draft: Miami Dolphins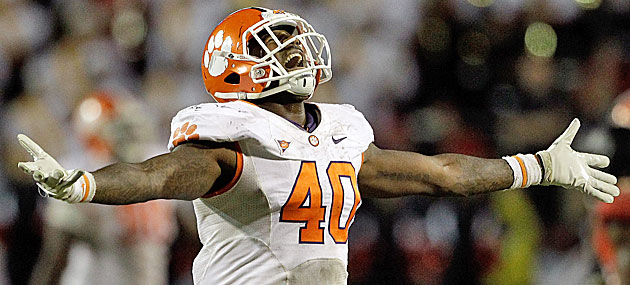 Clemson's Andre Branch adds depth and could be insurance for Cameron Wake. (Getty Images)
The Dolphins didn't quite have the off-season most fans expected, especially in regards to the quarterback position. Peyton Manning is in Denver. Matt Flynn is in Seattle. Chad Henne is in Jacksonville. And as for Miami, they stayed mostly quiet, except for a trade that sent their leading receiver, Brandon Marshall, to Chicago for a pair of third rounders.
Miami did sign veteran David Garrard to a one-year deal, but that does little to address the long-term stability at quarterback. And General Manager Jeff Ireland is holding his cards close to the vest. Is Miami content with Matt Moore, who finished 6-3 down the stretch last year, starting under center for now? Do they think Garrard can revitalize his career, if at least for one season? Will the Dolphins draft a signal caller to groom for the future?
Maybe all of the above, or maybe none of those options.
With a new coaching staff led by offensive-minded head coach Joe Philbin, the Dolphins need to improve upon their 22nd-ranked offense from a year ago and will likely look to do so through the draft. And while the offense needs help, including the right side of the offensive line and tight end, the defense cannot be ignored either. The Dolphins would also like to add a pass rusher, especially with a possible holdout looming because of Cameron Wake's contract issues.
More on NFL Draft
Analysis

Related links
NFL coverage on the go
With four picks in the top three rounds and eight selections total, here are five prospects Ireland and Philbin might consider:
QB Ryan Tannehill, Texas A&M (NFLDraftScout.com ranking: 8)
Love him or hate him, it seems that everyone has a differing opinion on this prospect, including the Dolphins' decision makers. And regardless of whether they should take him or not with the eighth overall pick, several signs are pointing to Tannehill taking his talents to South Beach in April. Miami has long been searching for an adequate replacement for Hall of Famer Dan Marino and the QB-turned-WR-turned QB might be that answer. Ireland and Philbin attended Tannehill's pro day in College Station and also took him out to dinner. The Dolphins' new offensive coordinate, Mike Sherman, was Tannehill's head coach at Texas A&M the past four years, which would answer any questions about whether or not the former Aggies' quarterback would fit into their offensive gameplan. Tannehill is widely considered the third-best quarterback in this draft class, behind Andrew Luck and Robert Griffin, but the question that has everyone stumped is how high should he go? But bottom line, if a team believes he can be groomed into a quality starter, with potential to be great, he is most certainly worth a top-10 pick. And that is the question the Dolphins are probably battling with right now.
DE/OLB Andre Branch, Clemson (NFLDraftScout.com ranking: 29)
Even before the contract concerns with Cameron Wake, pass rusher was fairly high on the Dolphins list of needs. And with Wake's future uncertain, the need for a consistent rush threat becomes even more important. Andre Branch was expected to take over for Da'Quan Bowers as Clemson's top pass rusher this past season and he didn't disappoint, leading the team in tackles for loss (17.0) and the ACC in sacks (10.5). At 6-4, 259, he has a versatile skill-set to rush from both the two and three point stance with natural flexibility and closing burst to get to the pocket. Branch lacks a fluid range of motion to hold up in coverage, but he makes a lot of hustle and effort plays. He is still unpolished in several areas, but has strong football character and the tools are there for him to start at the next level, filling a large need for the Dolphins in the second round.
OT Mitchell Schwartz, California (NFLDraftScout.com ranking: 86)
With Marc Colombo moving on, Lydon Murtha is currently slated as the Dolphins starting right tackle, creating a need on the right side of the offensive line to at least challenge him. Mitchell Schwartz lined up on the left side for Cal, but looks more natural at right tackle for the pro game. He does a nice job jolting defenders at the point of attack and while it doesn't always look pretty, he usually gets the job done. He's not a quick-twitch mover, but is a high effort blocker with intriuging tools and intangibles as the younger brother of Geoff Schwartz, who started all 16 games in 2010 for the Carolina Panthers. Schwartz exhibits the toughness, maturity and intelligence to be a solid reserve while fighting for a starting spot. He would be an ideal target for Miami with their other third round draft choice from Chicago (Marshall trade).
TE Orson Charles, Georgia (NFLDraftScout.com ranking: 95)
When Joe Philbin was the offensive coordinator in Green Bay the past four years, the Packers put a lot of emphasis on the tight end position as a vital part of the receiving group. And it wouldn't be surprising to see the Dolphins invest in a quality receiving tight end like Orson Charles in the third round. Charles, who looks more like a rocked-up wideout than traditional tight end, has a versatile skill-set with experience lining up all over the offense in various formations. He shows natural receiving instincts with the ability to run around or through defenders, creating mismatches in coverage. Charles didn't quite have the explosive numbers most thought (4.87 40-yard dash), but he has good hands with the natural strength to at least contribute as a blocker. He isn't as athletic as Jermichael Finley was in the Packers' offense, but he will add another element to Philbin's new offensive attack.
WR Marvin McNutt, Iowa (NFLDraftScout.com ranking: 161)
With Marshall moving on to snowier pastures, the Dolphins have high hopes for second-year player Edmund "Clyde" Gates, who was a fourth round pick a year ago. However, depth is needed at the position and it wouldn't be a surprise to see Miami use another fourth round draft choice on a wideout this year. Marvin McNutt is a talented all-around athlete and received college scholarship offers for baseball, basketball and football out of high school. He played quarterback as a prep and didn't transition to receiver until his sophomore year at Iowa, so he's still learning, but had a near-flawless transition and has a natural feel for the position. He isn't overly sudden or explosive, but was very productive in a traditional passing offense with just enough long-striding speed to keep the defense honest. Overall, McNutt is a strong possession target with very good hand/eye coordination, body control and hands to be at-worst a reliable third/fourth receiver.