2012 NFL Draft: Analyzing Rounds 2-3, pick-by-pick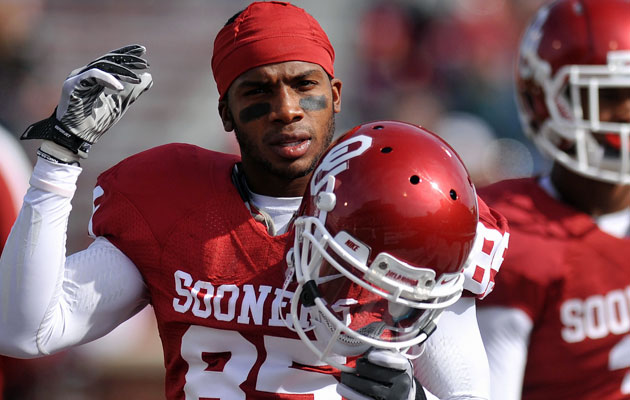 The Lions might have a steal on their hands with Oklahoma's Ryan Broyles.
(US Presswire)
SECOND ROUND
The Rams moved down twice and missed out on the top two receivers, Justin Blackmon of Oklahoma State and Michael Floyd of Notre Dame, and also bypassed needed offensive line help.
But they found a potential lead receiver to open the second round.

33. St. Louis Rams: WR Brian Quick, Appalachian State -- After much maneuvering -- trading back from No. 2 and No. 6 to wind up with defensive tackle Michael Brockers with the 14th pick -- the Rams missed out on the top receiver in the draft, Justin Blackmon. Quick has 4.5 speed but elite size and arm length to develop into a No. 1-type receiver. The question is how long it might take for him to adjust coming out of the FBS.

34. Indianapolis Colts: TE Coby Fleener, Stanford -- Andrew Luck's favorite target for the Cardinal, the 6-6, 247-pounder was a late bloomer and more of a beefed up wide receiver who offers little as a blocker. But he fills an immediate position of need and was the first tight end off the board. The Colts released Dallas Clark in March, and Luck needs an underneath security blanket.

35. Baltimore Ravens: OLB Courtney Upshaw, Alabama -- The top-ranked player on the NFLDraftScout.com board entering the second round, Upshaw lacks classic DE size and isn't athletic enough to be a pure outside linebacker. But at 6-2, 272, his natural pass rush skills and versatility made him the ideal fit for the value-seeking Ravens.

36. Denver Broncos: DT Derek Wolfe, Cincinnati -- A good athlete who moves well and has enough power to split blocks, Wolfe had 19.5 tackles for loss last season for the Bearcats. His name might not have the cachet of many defenders ranked ahead of him, but he's described as a football junkie. Broncos fans will ask: Is he more of an overachiever than game-changer?

37. Cleveland Browns: OT Mitchell Schwartz, California -- The Browns add to the first-round haul of RB Trent Richardson and QB Brandon Weeden with a bookend offensive tackle for Joe Thomas. Schwartz comes with minimal risk and a very low bust factor and could play inside if needed.

38. Jacksonville Jaguars: DE Andre Branch, Clemson -- A speed rusher to a pair with power end Jeremy Mincey, Branch has the explosiveness to ignite the Jaguars pressure packages.

39. St. Louis Rams: CB Janoris Jenkins, North Alabama -- Jeff Fisher has gambled on greatness many times before, including on Pacman Jones in the first round, the sixth overall pick in 2005 by Fisher's Titans. Fisher was a college and NFL defensive back and will hold the reins tight on Jenkins, who has top-10 talent but myriad off-field concerns.

40. Carolina Panthers: OG Amini Silatolu, Northwestern State -- A powerful blocker and small-school left tackle some felt was the No. 2 guard prospect -- behind Stanford's David DeCastro -- with the upside to play right tackle and replace injury-prone former first-round pick Jeff Otah.

41. Buffalo Bills: OG Cordy Glenn, Georgia -- A nimble 6-6, 345-pounder who played left tackle in the SEC, Glenn projects to guard for some teams but will almost assuredly get a chance to play on the edge in Buffalo.

42. Miami Dolphins: OT Jonathan Martin, Stanford -- The finesse junior might not be the ideal fit on the right side, but the bootleg, West Coast system offensive coordinator Mike Sherman will run gives Martin's movement skills added value.

43. New York Jets (draft-day trade with Seattle): WR Stephen Hill, Georgia Tech -- Anything but a typical receiver, Hill becomes the coveted deep threat with speed the Jets have long coveted (Braylon Edwards, Plaxico Burress) but he's extremely unpolished -- 49 career catches but 25.5 yards per reception in the Jackets' run-first offense -- at 6-4, 215 with 4.36 speed.

44. Kansas City Chiefs: OT Jeff Allen, Illinois -- Allen was a left tackle at Illinois but he grades better as a guard. The four-year starter could get a chance on the perimeter but he's a better athlete than his sloppy body would imply, and has potential to surprise as a solid, workmanlike blocker in the Jeff Backus mold.

45. Chicago Bears (draft-day trade with St. Louis): WR Alshon Jeffery, South Carolina -- A big receiver who played at over 230 pounds in the SEC but would be more of a post-up option at that size in the NFL. He's near 210 and ran in the high 4.4-second range at his pro day. The concern is that he won't easily separate in the NFL, the problem former Lions first-round pick Mike Williams had coming out of USC.

46. Philadelphia Eagles: LB Mychal Kendricks, California -- All of a sudden, the Eagles' LB corps has gone from defined weakness to underlined strength. Kendricks can play inside or outside, runs in the 4.47 range and hits with a purpose. He'll pair nicely with newcomer DeMeco Ryans.

47. Seattle Seahawks: LB Bobby Wagner, Utah State -- A four-year starter, two-year captain and three-time All-WAC honoree, Wagner can be called short, but he's not small. He packs power, and tracks to the sideline, including 147 tackles as a senior. Wagner plays much larger (6-0, 241) and uses that effectively to tackle anybody with the audacity to be in his vicinity with a football.


48. New England Patriots (from Oakland): FS Tavon Wilson, Illinois -- Wilson is similar to former Patriots second-round pick Eugene Wilson, who also played at Illinois, and was used as a corner-safety in New England. He runs in the 4.52 range is a good coverage safety to cut off deep routes, an area of weakness for the Patriots in 2011.

49. San Diego Chargers: DT Kendall Reyes, Connecticut -- Characterized as a high-effort player but limited, ascent up boards began with an impressive Senior Bowl, but his 31.5 career tackles for loss prove he can be a playmaker as a five-technique defensive end in the Chargers' 3-4.

50. St. Louis Rams (draft-day trade with Chicago): RB Isaiah Pead, Cincinnati -- Pead stood out at the Senior Bowl, too, with the light feet and short-area explosiveness to be a third-down back and kickoff returner.

51. Green Bay Packers (draft-day trade with Philadelphia): DT Jerel Worthy, Michigan State -- A disruptive, powerful, high-intensity penetrator, Worthy can shoot gaps and hold up against double-team blocks. The Packers upgraded at outside linebacker Thursday, drafting Nick Perry (Southern Cal) 28th overall, but also considered Worthy at that spot.

52. Tennessee Titans: LB Zach Brown, North Carolina -- Speedy and athletic, Brown is a fresh-legged version of LB Will Witherspoon, a weak-side linebacker who should excel in coverage and make explosive plays on against the run tracking the ball sideline-to-sideline.

53. Cincinnati Bengals: DT Devon Still, Penn State -- Still was considered a top-10 pick in some circles prior to the NFL Scouting Combine, when the stars of Fletcher Cox (Mississippi State) and Dontari Poe (Memphis) caused the oft-injured Still to fizzle. At 6-5, 307, he can be an impact player inside if motivated.

54. Detroit Lions: WR Ryan Broyles, Oklahoma -- Broyles shot back up draft boards after running a 40-yard dash in the mid-4.5-second range just five months removed from ACL surgery. A bit of a gamble, the Lions have a potential steal if Broyles fully recovers his pre-injury speed. He owns the NCAA record with 349 career receptions and is second with 4,586 yards.

55. Atlanta Falcons: C Peter Konz, Oklahoma -- The top-rated center in the draft was a first-round prospect until managing only 18 bench reps at 225 pounds at the scouting combine. He's a plug-and-play offensive lineman with 31 career starts with excellent technique, but an injury history. He wrote a letter to Wisconsin fans after deciding to leave school a year early for the NFL.

56. Pittsburgh Steelers: OT Mike Adams, Ohio State -- Adams has a great left tackle frame at 6-7, 323 pounds and an 82.5-inch wingspan, but he has heavy feet and suspect strength. There are off-field concerns as well, including reports that he failed a drug test at the scouting combine.

57. Denver Broncos: QB Brock Osweiler, Arizona State -- Only 15 starts, but a tremendous athlete at 6-7 tall who has great arm strength and should get plenty of time to mature and learn from Payton Manning and even John Elway.

58. Tampa Bay Buccaneers (draft-day trade with Houston): OLB Lavonte David, Nebraska -- A tackling machine (285 career tackles), David plays with good athleticism and football IQ. He's a bit undersized at 6-1, 233 pounds, which will limit him to the weak-side linebacker spot. But he should flourish on the outside with 4.65-second speed and a 36.5-inch vertical.

59. Philadelphia Eagles (draft-day trade with Green Bay): DE Vinny Curry, Marshall -- Potentially the steal of the second round -- and another wakeup call to 2010 first-round pick Brandon Graham -- Curry was the No. 43-rated prospect by NFLDraftScout.com. He's a playmaker off the edge who had 11 sacks seven forced fumbles and 22 tackles for loss in 2011.

60. Baltimore Ravens: OT Kelechi Osemele, Iowa State -- Maybe he's a guard, as many scouts project, or maybe he's the future at tackle opposite Michael Oher. Osemele's prototype body type makes him a nice fit on the edge, but he's tentative and needs NFL coaching to realize potential.

61. San Francisco 49ers: RB LaMichael James, Oregon -- Mighty mite of a running back who was ultra-productive in the Ducks' spread offense. He's a blur with the ball, and shows the same level of toughness that made undersized tailback Warrick Dunn a 12-year pro.

62. Green Bay Packers (draft-day trade with New England): CB Casey Heyward, Vanderbilt -- A late-rising cover man with the combination of short-area quickness, long arms and functional strength to survive in the Packers' press scheme. Could this mean Charles Woodson is shifting to safety sooner rather than later?

63. New York Giants: WR Reuben Randle, LSU -- Losing Mario Manningham doesn't sting as much with Randle in tow. The Giants won't feature the 6-3, 210-pounder, but he brings a big-play threat and the size the team hasn't had since Plaxico Burress.

THIRD ROUND
64. Indianapolis Colts: TE Dwayne Allen, Clemson -- And the Colts continue to shape the offense of the future to look a little bit like Tom Brady's twin-tight end attack in New England. Allen was the No. 2 tight end on the board behind Stanford Coby Fleener, the Colts' second-round pick.
65. St. Louis Rams: CB Trumaine Johnson, Montana -- A huge, feisty corner might be a candidate down the line for a shift to safety. The Rams have added three cornerbacks, including free agent Cortland Finnegan from the Titans and second-round pick Janoris Jenkins. They should be well-equipped to handle the overstocked WR corps in San Francisco and Arizona.
66. Minnesota Vikings: CB Josh Robinson, UCF -- More help for the secondary. The Vikings landed Notre Dame FS Harrison Smith in the first round; Robinson is unproven against elite receivers but has the speed to star.
67. Denver Broncos: RB Ronnie Hillman, San Diego State -- Hillman left SDSU with a few records once owned by Marshall Faulk. He is surprisingly effective inside but doesn't have ideal bulk. He does add a needed breakaway threat to an offense that shouldn't rely on Willis McGahee (age) or Knowshon Moreno (injuries, ineffectiveness) much longer.
68. Houston Texans: WR DeVier Posey, Ohio State -- Posey should effectively end the musical chairs with Kevin Walter and Jacoby Jones, and he combines the strengths of those two players -- Walter's size and Jones' big-play ability as a downfield receiver -- in one package.
69. Buffalo Bills: WR T.J. Graham, N.C. State -- A high school track star, Graham gives the Bills the "speed guy" GM Buddy Nix promised to pair with Stevie Johnson, a former seventh-round pick performing at a Pro Bowl level in Buffalo's spread offense.
70. Jacksonville Jaguars: P Bryan Anger, California -- The Jaguars invest to right a major misfire in 2011 free agency. Anger is the highest-graded specialist in the draft with a booming leg and could also handle kickoffs.
71. Washington Redskins: OG Josh LeRibeus, SMU -- Scrappy interior lineman who shouldn't have any problem filling in at center or left guard depending on the health of Kory Lichtensteiger (ACL) and development of Maurice Hurt.
72. Miami Dolphins: DE Olivier Vernon, Miami (Fla.) -- A true junior who surprised scouts when he left Miami early, Vernon has little game experience but the quick burst off the line and athletic build to take off in the right system.
73. San Diego Chargers: SS Brandon Taylor, LSU -- A 4.58 40-yard dash at his pro day solidified Taylor as a top 75 pick but he hasn't always played with the same urgency and is considered straight-linish in coverage.
74. Kansas City Chiefs: OT Donald Stephenson, Oklahoma -- Few prospects have more raw upside than Stephenson, a better athlete than football player who needs a full season in the weight room and film room before he's a major factor. Has real steal potential.
75. Seattle Seahawks: QB Russell Wilson, Wisconsin -- At 5-11, the odds are quite literally stacked against Wilson but his efficiency and touch downfield is a match for the Darrell Bevell offense, and he'll get at least a few years to work behind new starter Matt Flynn.
76. Houston Texans: OG Brandon Brooks, Miami (Ohio) -- A mauling road-grader in the mold of a heavy-footed Larry Allen, Brooks isn't ideal for the Texans' downhill blocking scheme but might be projected by the Texans to right tackle, where he'd replace Eric Winston (who left via free agency).
77. New York Jets: OLB Demario Davis, Arkansas State -- More of a 4-3 linebacker with excellent athletic ability and straight-line speed, Davis could be a rush 'backer from an inside LB spot in the Jets' 3-4. He'll help in covering Patriots tight ends Rob Gronkowski and Aaron Hernandez.
78. Miami Dolphins: TE Michael Egnew, Missouri -- A tall, wiry target who was the most productive tight end in the class but played more of a wide receiver role in the Missouri spread offense. He's in the mold of Jermichael Finley, a key cog in the offense from which head coach Joe Philbin is establishing the new scheme in Miami.
79. Chicago Bears: DB Brandon Hardin, Oregon State -- A physical cornerback with the skill set of a safety. Hardin is too slow to be have a major impact in the deep middle but if he can overcome a long injury history, might become a valuable cornerback.
80. Arizona Cardinals: CB Jamell Fleming, Oklahoma -- More of a battler than a technically sound corner, Fleming tested as the strongest cornerback at the Combine with 23 reps of 225 pounds to go with a very good size-speed combination.
81. Dallas Cowboys: DE Tyrone Crawford, Boise State -- A gamble based on his limited experience, Crawford is too small to be a base end and not disruptive enough as a rush linebacker in the Cowboys 3-4 defense.
82. Tennessee Titans: DT Mike Martin, Michigan -- A bowling ball of butcher knives to block, Martin is all energy and effort. Alongside Karl Klug, a top rookie from Iowa last season, the Titans will get very good push up the middle.
83. Cincinnati Bengals: WR Mohamed Sanu, Rutgers -- A precise route-runner, Sanu can benefit from coverage shaded toward A.J. Green on the other side and should be able to reasonably replace Jerome Simpson's production -- 50 catches, 725 yards, four touchdowns in 2011.
84. Baltimore Ravens: RB Bernard Pierce, Temple -- Pierce can be effective as a straight-ahead change-of-pace to Ray Rice but he's not special athletically and won't run away from NFL defenders.
85. Detroit Lions: CB Dwight Bentley, Louisiana-Lafayette -- A speedy and fluid man cornerback who more than held his own against high-level competition at the Senior Bowl and fits a big need for the Lions.
86. Pittsburgh Steelers: LB Sean Spence, Miami (Fla.) -- Only 5-11, 230, Spence is faster on the field than his 4.6 40 times at the Combine. He gets downgraded for average strength but his amazing recognition skills through diligent film study might still help him be a three-down linebacker for the Steelers.
87. Cleveland Browns: DT John Hughes, Cincinnati -- Can play defensive end and defensive tackle but played mostly at nose tackle for the Bearcats.
88. Philadelphia Eagles: QB Nick Foles, Arizona -- A big, strong-armed passer (6-5, 243) with poise, Foles should be a better fit in the efficient West Coast offense and has a year or two before he'll be asked to contribute.
89. New Orleans Saints: DE Akiem Hicks, Regina -- The Saints first pick invested on a developmental prospect with great size -- 6-5 with 86-inch wingspan -- and better-than-average speed for his frame.
90. New England Patriots: DE Jake Bequette, Arkansas -- A versatile Mike Vrabel-type with a defensive end's frame but enough agility and tenacity to get time at outside linebacker if the Patriots dabble in the 3-4 front as expected.
91. Atlanta Falcons: OT Lamar Holmes, Southern Miss -- A smooth natural athlete in a 323-pound frame, Holmes isn't explosive but has long arms and can slide to mirror in protection.
92. Indianapolis Colts: WR T.Y. Hilton, Florida International -- An explosive return specialist recruited to bigger programs who opted to stay closer to home, Hilton could be the ideal replacement for Pierre Garcon.
93. Cincinnati Bengals: DT Brandon Thompson, Clemson -- Once discussed as a borderline first-round pick, Thompson can play nose tackle or under tackle in Mike Zimmer's defense, and pairs with second-rounder Devon Still to add plenty of stability to the Bengals' line.
94. New York Giants: CB Jayron Hosley, Virginia Tech -- A small but active cornerback, Hosley isn't afraid to mix it up and consistently tracks and makes plays on the ball.
95. Oakland Raiders: OT Tony Bergstrom, Utah -- A reliable but average athlete, Bergstrom should be a solid tackle but is unlikely to be a special lineman.