Finding the Fits -- OT Schwartz could be Cleveland's safest pick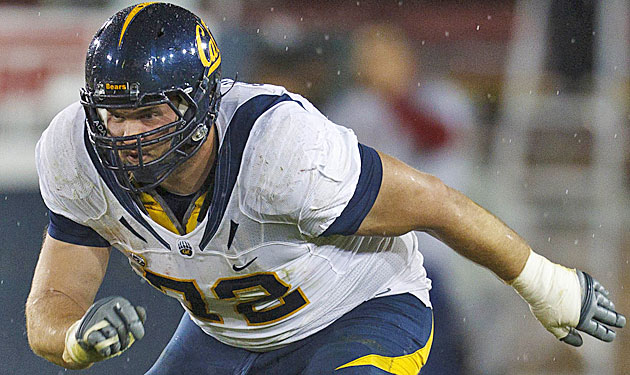 Versatility makes Cal's Schwartz a potential value pick for Cleveland. (US Presswire)
The goal of the "Finding the Fits" series is to identify one relatively unheralded player per team who would appear to be a particularly good schematic fit and therefore more likely to be surprise contributor early in his respective pro career. Offensive tackle Mitchell Schwartz was characterized as a reach pick as the fifth pick of the second round by some for Cleveland Browns' team president Mike Holmgren, general manager Tom Heckert and head coach Pat Shurmur but the Cal product could wind up surprising as a rookie.
More on NFL Draft
Analysis

Get ready for 2013 draft
For a team and fan base starving for an offensive identity, it is easy to understand why the post-draft focus regarding the Cleveland Browns has centered around Alabama running back Trent Richardson and Oklahoma State quarterback Brandon Weeden.
Richardson is as good a player as there was in the 2012 draft. So good, I too, would have had to strongly consider giving up a few day three picks to guarantee adding him to the roster. He's a dynamic interior runner with the speed to turn the edge and pull away. Richardson could teach a clinic on lowering his pads at contact and running through hits. He's possesses soft, reliable hands as a receiver and is among the more physical and attentive pass blockers I've scouted at the running back position. I gave him a higher grade than I gave Adrian Peterson coming out of Oklahoma.
Only the fact that he plays the running back position -- and does so with such physicality that it could lead to injury -- kept him at No. 4 on my Big Board.
Weeden has the size, arm strength, and intelligence to be successful in Shurmur's West Coast Offense. He does not possess the mobility preferred in this attack, however -- an area in which incumbent starter Colt McCoy holds a significant advantage over the Oklahoma State product.
Weeden's average athleticism and inexperience taking snaps from under center will make protecting him even of a challenge than it is for McCoy. The Browns feature All-Pro Joe Thomas at left tackle but were obviously looking for an upgrade at right tackle after releasing former starter Tony Pashos in March.
Having pegged Schwartz as the No. 59 best prospect in the draft I can't characterize Cleveland's selection of him at No. 37 overall as a good value pick. However, it is clear what traits Schwartz demontrated that won over the Browns' braintrust.
A 51-game starter at Cal, Schwartz has starting experience at both tackle positions (35 at left tackle, 16 at right) and is one of the few rookie offensive linemen with plenty of experience playing against both three and four man fronts, as he practiced against the 3-4 defense everyday. Schwartz also has good bloodlines. His brother, Geoff Schwartz, a former standout at Oregon, emerged as a starter after being drafted in the seventh round by the Carolina Panthers and signed as a possible starting right guard with the Minnesota Vikings in March.
Schwartz leapt up my board after seeing him in person at the Senior Bowl. The 6-5, 318 pounder showed better agility and balance in handling speed rushers and was the only tackle I saw handle North Carolina's Quinton Coples' power.
In terms of sheer talent, Stanford's Jonathan Martin, Georgia's Cordy Glenn, Mississippi's Bobby Massie and Iowa State's Kelechi Osemele all ranked higher than Schwartz. Because of his toughness and dedication, however, it was no surprise to some talent evaluators that the Cal product wound up being selected before any of them.
Considering the incredible expectations placed on Richardson to be the focal point of Cleveland's offense as a rookie as well as the steep learning curve from the Big 12 to the AFC North that Brandon Weeden will be facing, Schwartz stands tall among Cleveland's 2012 draft class in his pro-readiness, making him arguably the Browns' safest pick this year.

The rest of the Browns' picks:

1st Round - No. 3 overall - Trent Richardson, RB, Alabama
1st Round - No. 22 overall - Brandon Weeden, QB, Oklahoma State
2nd Round - No. 37 overall - Mitchell Schwartz, OT, California
3rd Round - No. 87 overall - John Hughes, DT, Cincinnati
4th Round - No. 100 overall - Travis Benjamin, WR, Miami
4th Round - No. 120 overall - James-Michael Johnson, ILB, Nevada
5th Round - No. 160 overall - Ryan Miller, OG, Colorado
6th Round - No. 204 overall - Emmanuel Acho, OLB, Texas
6th Round - No. 205 overall - Billy Winn, DE, Boise State
7th Round - No. 245 overall - Trevin Wade, CB, Arizona
7th Round - No. 247 overall - Brad Smelley, FB, Alabama

Read more about all of the Browns' picks here.