2013 draft chock full of QB and D-Line talent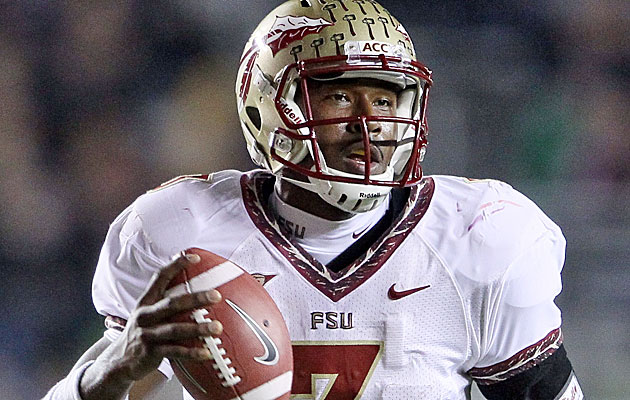 Florida State quarterback EJ Manuel has the mobility NFL scouts crave. (Getty Images)
As
NFLDraftScout.com
turns the page on the 2012 NFL Draft and peers ahead to next year's crop of talent, a few distinguishing characteristics of the '13 class immediately stand out.
First, for as much hype as the quarterbacks in the past two drafts have received, the 2013 class could turn out even better. And next year could offer a bounty of defensive linemen; 14 of NFLDraftScout.com's top 50 rated prospects play along the d-line. This is also true at linebacker, where inside and out, the group looks stronger than the 2012 class. Teams looking for tight ends or cornerbacks, on the other hand, might be left looking at veteran free agents or hoping underclassmen help out a senior class that otherwise looks a bit shaky.
More 2013 NFL Draft prep
Related content
As if we needed any more evidence of the value placed on the quarterback position in today's NFL, consider that for the second consecutive year four passers were drafted in the first round. To put that in perspective, there has only been one other two-year span in modern league history in which there were back-to-back drafts that featured this many quarterbacks being selected in the initial frame - and that came in 2003-04.
There has never been three consecutive NFL drafts in which four or more quarterbacks were selected in the first round. A strong 2013 quarterback class, however, could put an end to that streak.
Southern California's
Matt Barkley
is the big name. He returned to
USC
for his senior season for many reasons - the Trojans will return to being eligible for a bowl game, he is a Heisman front-runner, to improve his stock for the NFL, among them - and considering the talent that he and his teammates of Troy offer, his goals are all attainable.
Barkley will have to continue to develop to stay atop the QB class. Productive pocket passing seniors
Tyler Wilson
(
Arkansas
) and
Landry Jones
(
Oklahoma
) may have earned first round consideration this year had they entered the draft early, and should only improve their stock with scouts if capable of improving their production despite losing some of their most reliable pass-catchers to the NFL.
Few, if any, could have predicted the meteoric rise from
Cam Newton
and
Robert Griffin III
the past two years, and a big 2012 season could vault a number of talented but to this point inconsistent quarterbacks into early first round consideration. The size, strong arms and mobility offered by senior
EJ Manuel
of
Florida State
and junior
Logan Thomas
of
Virginia Tech
, for example, is sure to intrigue scouts looking for the next Newton. Scouts love quarterbacks used to facing top competition and the SEC certainly offers that, so juniors
Tyler Bray
(
Tennessee
) and
Aaron Murray
(
Georgia
) are certainly among those to watch at the position.
While the talent at quarterback is impressive even among seniors, the same cannot be said about the other "skill position" players. Heisman finalist
Montee Ball
from
Wisconsin
is NFLDraftScout.com's top-rated senior running back, but he may struggle to duplicate last season's eye-popping (1,923 rushing yards, 39 total touchdowns) production and is only rated No. 51 overall. Two talented SEC stars -
Arkansas'
Knile Davis
and
South Carolina
junior
Marcus Lattimore
- have the talent to be drafted even earlier but must prove recovered from injuries that ruined their 2011 seasons.
It appears that the first wide receiver selected in the 2013 draft will once again be an underclassman, as has been the case since 2008.
Baylor
wideout
Terrance Williams
is the only senior receiver NFLDraftScout.com gave as much as a second-round grade to at this point. The 6-1, 190-pound Williams finished with roughly half of star
Kendall Wright's
catches a year ago but finished a close second to the
Tennessee Titans'
first-round pick in touchdown receptions (14 to 11). Should they choose to leave school early, there could be a bevy of underclassmen competing to take his spot at the top of the board, not the least of which is another star from USC,
Robert Woods
, as well as Cal's
Keenan Allen
and
Tennessee's
Justin Hunter
.
Underclassmen could rule on the offensive line, as well. Five of the seven offensive tackles currently given at least a second round grade by NFLDraftScout.com will enter the 2012 season with at least one more year of eligibility remaining. The strong tradition of talented
Wisconsin
offensive linemen is in capable hands with our top-rated senior tackle
Ricky Wagner
. A quartet of massive juniors could ultimately challenge him for spots among the top 20 picks of the 2013 draft, however, leading off with 6-6, 325-pound
Chris Faulk
from
LSU
,
Alabama's D.J. Fluker
(6-6, 335) and each of
Texas A&M
's bookend tackles
Luke Joeckel
(6-6, 310) and 6-5, 305-pound
Jake Matthews
, the son of Hall of Fame offensive lineman Bruce Matthews. While underclassmen have supplanted seniors in recent years to be the first interior lineman drafted, the 2013 class features two highly respected blockers in left tackle-turned-center
Barrett Jones
of Alabama and
North Carolina
standout guard
Jonathan Cooper
.
Fresh off a draft in which 6-3, 245-pound "defensive end"
Bruce Irvin
was the first pass rusher selected (by the
Seattle Seahawks
at No. 15 overall), the 2013 class of sackmasters looks significantly better. Seniors
Alex Okafor
(6-4, 260,
Texas
),
Michael Buchanan
(6-5, 240,
Illinois
),
Devin Taylor
(6-6, 260,
South Carolina
) and
Dion Jordan
(6-6, 246,
Oregon
) each possess the quick first step and length scouts are looking for at the position.
Ohio State's John Simon
doesn't possess his classmates' eye-popping physical dimensions but the 6-2, 270-pounder is relentless.
Should juniors
Sam Montgomery
(6-4, 245,
LSU
),
Jackson Jeffcoat
(6-4, 250,
Texas
) and
Corey Lemonier
(6-4, 242,
Auburn
) continue to add strength to go along with their speed each could contend for an early selection.
Michigan State's William Gholston
(6-6, 278) and
Florida State's Bjoern Werner
(6-4, 273) lack the explosiveness to consistently beat left tackles off the edge but have the bulk and power necessary to make an impact against the run as well as the pass.
While the talent at outside at pass rusher looks like an improvement over last year's class, the 2013 crop of defensive tackles may not be able to hold up their end of the bargain. That can't be blamed on
Utah's Star Lotulelei
, an aptly named player if there ever was one due to a combination of size (6-3, 325), power and remarkably light feet that has earned comparisons from veteran scouts to
Baltimore Ravens
All-Pro
Haloti Ngata
.
Purdue's Kawann Short
(6-3, 310) has steadily improved throughout his career, earning first-team all-conference honors a year ago with career-highs in tackles (54), tackles for loss (17) and sacks (6.5) and as a two-time team captain has the intangibles scouts like to go along with his prototypical size and production. Short isn't as gifted as
Ohio State
underclassman
Johnathan Hankins
(6-3, 335) but is much more consistent at this point. Hawkins possesses remarkable athleticism for a man of his size. If he puts it all together in 2012, he could skyrocket up draft boards.
The story of the 2012 linebacker class was
Boston College's Luke Kuechly
and how much he stood out in comparison to everyone else. While
Notre Dame's Manti Te'o
and Texas A&M's
Sean Porter
aren't going to cause anyone to forget about Kuechly, the 2013 crop of linebackers, as a whole, appears to be a step up from a year ago.
At 6-2, 255 pounds Te'o has the bulk and power to operate on the inside for 4-3 and 3-4 teams.
Stanford's Shayne Skov
(6-3, 244), North Carolina's
Kevin Reddick
(6-2, 240) and
Kansas State's Arthur Brown
(6-1, 228) may have each warranted consideration as early as the second round a year ago and are in position to boost their stock with strong senior campaigns.
At 6-2, 230 pounds, Porter doesn't offer great bulk but his terrific overall athleticism could make him the most intriguing senior 4-3 outside linebacker of the 2013 draft. Teams operating out of a three-man front looking for stand-up pass rushers will certainly take a close look at
Florida State's Brandon Jenkins,
a 6-3, 265-pound defensive end for the Seminoles whose athleticism might allow him to switch positions in the NFL. An average OLB class could be boosted if talented underclassmen such as LSU's 6-4, 240-pound
Barkevious Mingo
and
Georgia's Jarvis Jones
(6-2, 242) elect to enter the draft early.
For teams needing help in the secondary, the 2013 senior class offers plenty of talent at safety but the pickings are slimmer at cornerback.
Southern Cal's T.J. McDonald
,
Texas' Kenny Vaccaro
,
Miami's Ray-Ray Armstrong
, Alabama's
Robert Lester
and Georgia's
Baccari Rambo
all considered leaving their respective universities a year early but by sticking around could give NFL teams a strong senior class with which to choose from in the 2013 draft.
Cornerback is a bigger concern. Only three of NFLDraftScout.com's top eight cornerbacks are seniors and, frankly, many of the underclassmen rated highly come with red flags.
Of the seniors,
Mississippi State's Johnthan Banks
offers intriguing size (6-1, 185) and legitimate cover skills to rival
Michigan State's Johnny Adams
(5-11, 185) as the top man-to-man pass defender of the 2013 class, but Banks has lacked the physicality scouts want in the running game and Adams is undersized. Frankly,
Iowa's Micah Hyde
is a better, more consistent football player at this point than either of them but there are enough questions about the 6-1, 185-pound Hyde's straight-line speed that some scouts wonder if he won't eventually be moved to safety in the NFL.
Of the underclassmen cornerbacks,
North Carolina State's David Amerson
and LSU's
Tyrann Mathieu
proved to be ball-hawks a year ago but scouts will want to see what each can do for an encore. Amerson simply led the nation a year ago with an eye-popping 13 interceptions and at 6-2, 193 pounds offers unique size for the position. So, too, does Mathieu but in his case, "unique" isn't a good thing as many teams will have a hard time overlooking the Honey Badger's 5-09, 179-pound frame. With "only" five career interceptions, Florida State's
Xavier Rhodes
isn't the same caliber of big-play specialist, but the 6-1, 215-pound Seminole certainly boasts the size, speed and physicality necessary to earn a high selection should he prove 100 percent following a knee injury that knocked him out of FSU's Champs Sports Bowl victory over Notre Dame.